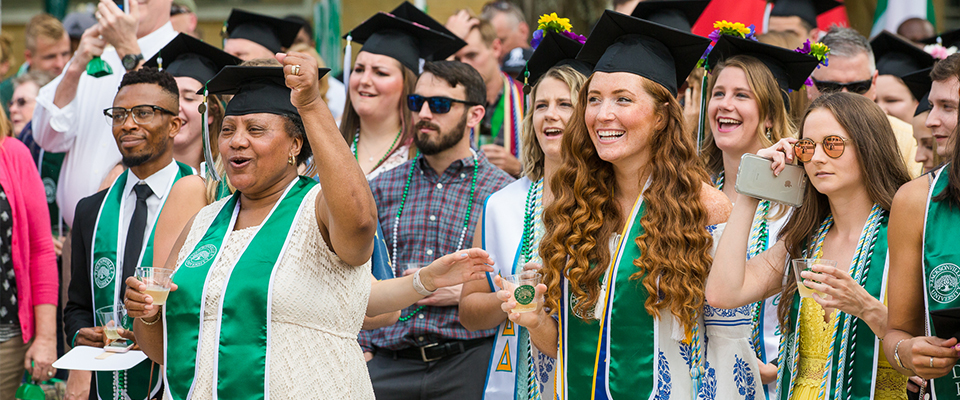 Senior Class Giving
The tradition of senior class giving at JU swells from a culture of service and giving back that has become ingrained in our Dolphin DNA. Despite the unusual circumstances of their final year, the graduating Class of 2021 is continuing this tradition and uniting for a final time as students to give back to the University, and to leave their mark on campus to represent their class for future generations.
This year especially, gifts from the graduating class are appreciated and the philanthropic impact of our soon-to-be alumni is a poignant example of the resiliency of spirit and support the Dolphin Family is known for.
Honor the Tradition of Philanthropy by Contributing to Your Class Gift
We are incredibly proud of the Class of 2020 and Class of 2021 seniors who have decided to give back to their university. Please help us in celebrating this new class of Dolphin Alumni!
Contact supportju@ju.edu for more information or to contribute to your class gift.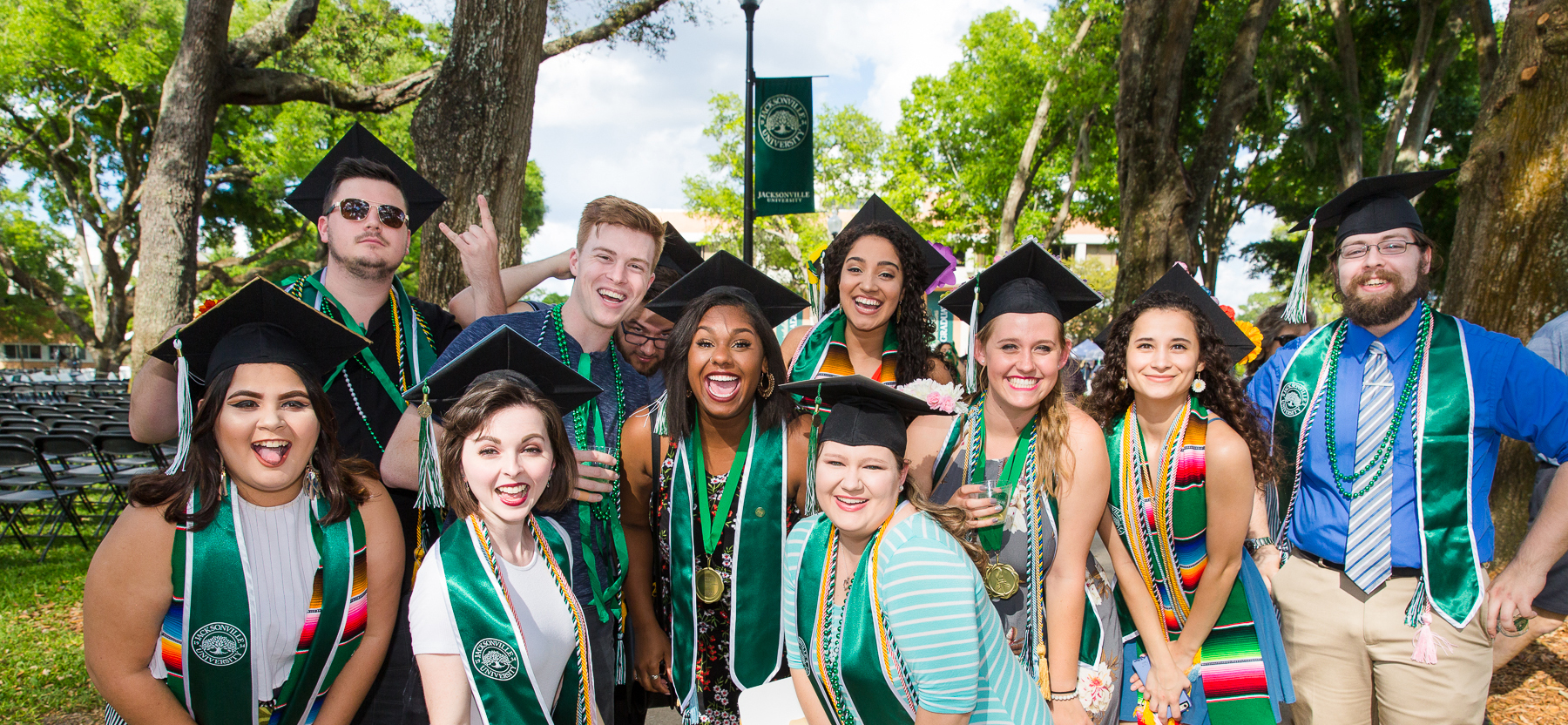 Thank you to these Class of 2020 graduates who have already supported the Class Gift:
Angie Acedera
Erica Adkison
BJ Aenchbacher
Blessing Akintunde
Bukola Akomolede
Demetris Aldridge
Francis Alip
Waleed Alsuhaibani
Alexander Amechi
Elorm Amegashie
Breanna Anderson
Taylor Baines
Mariah Batz
Jade Beasley
Tiffany Belton
Jackie Benedict
Joy Bercide
Grace Bertrand
Kayla Blaker
Matthew Bloch
Brittany Bowald
Leshan Bowe
Graham Bowman
Ryan Brooks
Analaygra Brown
Lauren Brown
Jack Burns
Teresa Charleston
Shannon Crowe
Michael Csorba
Peace Daniel
Megan Dugan
Katharine Duke
Brandon Echols
Antonio Espinoza
Tyra Gaston
Kelsey Gibson
Brooke Grant
Andrew Hamm
Chloe Harris
Leonna Howard
Michelle Howell
Jake Hunter
Caroline Ingoldsby
Affeya Jackson
Lillie Jentz
Taylor Jett
Douglas Knapp
Vicky Kopliku
Kate Krawczyk
Victoria Le
Ksenja Llazar
Meaghan Lohwater
Nikki Martin
Taylor McRae
Sade Meeks
Caroline Merritt
Walter Merz
Gabrielle Morgan
Samantha Nader
Camryn Neuner
Olivia North-Menthonnex
Carolyn O'Neal
Thomas Padilla
Janel Palomo
Annalyce Papo-Ramsey
Jeremy Parker
Madelina Pellegrino
Audrey Penny
Erik Peterson
Hannah Pippin
Sarah Pratico
Courtney Purcell
Petrina Reynolds
Emilia Santana
Vanessa Satterly-Vasquez
Alexandra Shami
Angela Sheppard
Alexandra Swift
Zoe Thompson
Austin Todd
Sean Turker
Alexander Turnock
Natasha Ubani
Mark Vilar
Laurel Wainwright
Sarah Wise
Bianca Wong Rodriguez
Kay Woodroof
Nicolette Worrell
Mary Jane Wrenn
Grace Young
Thank you to these Class of 2019 students and parents who contributed to last year's Senior Class Gift:
Eunice Aborishade
David Abraham
Kathryn Abrahamson
Emily Adams
Ruth Adeyemi
Helina Akpeti
Derek Andrake
N'gnangoran Assinzo
Nathan Babington
Cassidy Baker
Jacquelyn Baldwin
Karaline Bass
Christian-David Bayran
Erica Beal
Olivia Beech
Benjamin Bennett
Tonnette Bennett
Iris Benson
Sarah Berke
Trina Biringer
Kiana Blaylock
Emily Bradley
Jasmyn Brown
Sarah Buckman
Rachel Chaput
James Christian
Kyrstin Creswell
Zachary Crotty
Jason Cupit
Marissa Davenport
Shelby Daye
Igor De Magalhaes Ferreira
Summer Dees
Carmina Delfino
Amanda Detmer
Diego Diaz
Edita Dilic
Katharina Dinsmore
Brandon Echols
Ifeoma Eleweke
Nicholas Elliott
Megan Faircloth
Leana Farah
Essa Farhat
James Forbes
Bradley Fournier
Shaina Friedman
Elizabeth Gibson
Kelsey Gibson
Tiffany Gonzalez
Akieba Gooding
Lydia Goodman
David Grabke
Kristen Griffith
Kisstern Hagins
Ian Hall
Jazelle Hall
Morgan Hammett
Triston Hanson
Patrick Harding
Jenny Hayes
Hayley Hiatt
Karlie Hill
Bradford Holcombe
Megan Holmes
Lindsay John
Kalie Jones
Nikki Karadjov
Vicky Kopliku
Jessica Krawczyk
Darby Lane
Deborah Lane
Andrés Laplaceliere
Sa'Mandee Liburd
Nakeitha Liles
Jhoanne Limbaga
Leticia Limon
Daniella Lombardo
Sarah Long
Geneva Long
Ally Lupinetti
Anita MacInnis
Christopher Mandel
Jessica Maneja
Chase Manor
Samantha Martino
Jessica Mattingly
Erin McGuire
Davtrice McUmber
Hanny Mena Smith
Lillie Miller
Fallon Mincy
Michael Mitchell
Allan Morgan
Angelia Morris
Hira Mushtaq
Blake Myregaard
Emily Myslinski
Samantha Nader
Emma Napper
Shalonda Neely
Erin Nikitas
Abosede Olatunji
Esther Olivo
Terrance Orange
Rebecca Palmer
Noelle Parker
Emily Pate
Amelia Pedwell
Louise Persson
Courtney Pugh
Cheyenne Ramirez
Juan Ramirez
Abigail Remenapp
Zoe Rosas
Samantha Rounds
Daniel Ryan
Godgift Samuel
Steven Santiago
Lyric-Avri Schmalz
Steffanie Schultz
Jenny Shapiro
Angela Sheppard
Lauren Short
Eman Smith
Christopher Smith
Rajzieta Smith
Madison Snider
Deborah Soldo
Ryan Springer
Leslie Starnes
Lealofi Tamasese
Marcie Thomas
Lucy Thornton
Choice Tobon
Allison Troia
Shaynah True
Kristen Unzueta
Milouse Valcour
Deanne Villanueva
Trudy Walker
Karen Weaver
Preston Weinard
Brittany Wilcox
Kasey Williams
Justice Williams
Sean Wilms
Kelly Wolfe
Ossie Wood
Olivia Zerkowski