Senior Class Giving
​​​​The tradition of the senior class gift at JU swells from a culture of service and giving back that has become ingrained in our Dolphin DNA. The class gift gives soon-to-be alumni a chance to unite one last time as students to give back to the University that gave them so much, and to leave their mark on campus to represent their class for future generations.
The graduating Class of 2019 will be able to choose the campus program or area they are most passionate about and make a gift, leaving a philanthropic legacy behind. If graduating seniors choose to give a monthly recurring gift of $20.19 or more, they will automatically become a member of the GOLD Phin Society upon graduation.
Contribute to the Senior Class Gift
You've likely seen many class gifts around campus without even knowing it - including the green and gold JU sculpture in the Green Street roundabout in front of Brooks Rehabilitation College of Healthcare Sciences Building (c/o 2011) and some of our Brita Hydration Stations around campus (c/o 2015). Other classes have chosen to give back through gifts to their successors, through the Scholarship Fund or the Nellie Student Support Fund.
The class of 2018 did just that - they decided to pay it forward to future Dolphins by donating to the JU Scholarship Fund. Just as donors who supported their studies and helped them acheive their goals, now they have helped the next class do the same.
When making their class gift, students are encouraged to give their class year - so this year will be $20.19! Gifts can be made in honor of a student's favorite professor or coach, and parents are able to give in honor of their students as well.
Contact Jena Crews, Assistant Director of Engagement and Annual Philanthropy, at jkent3@ju.edu or (904) 256-7995 for more information or to contribute to your class gift.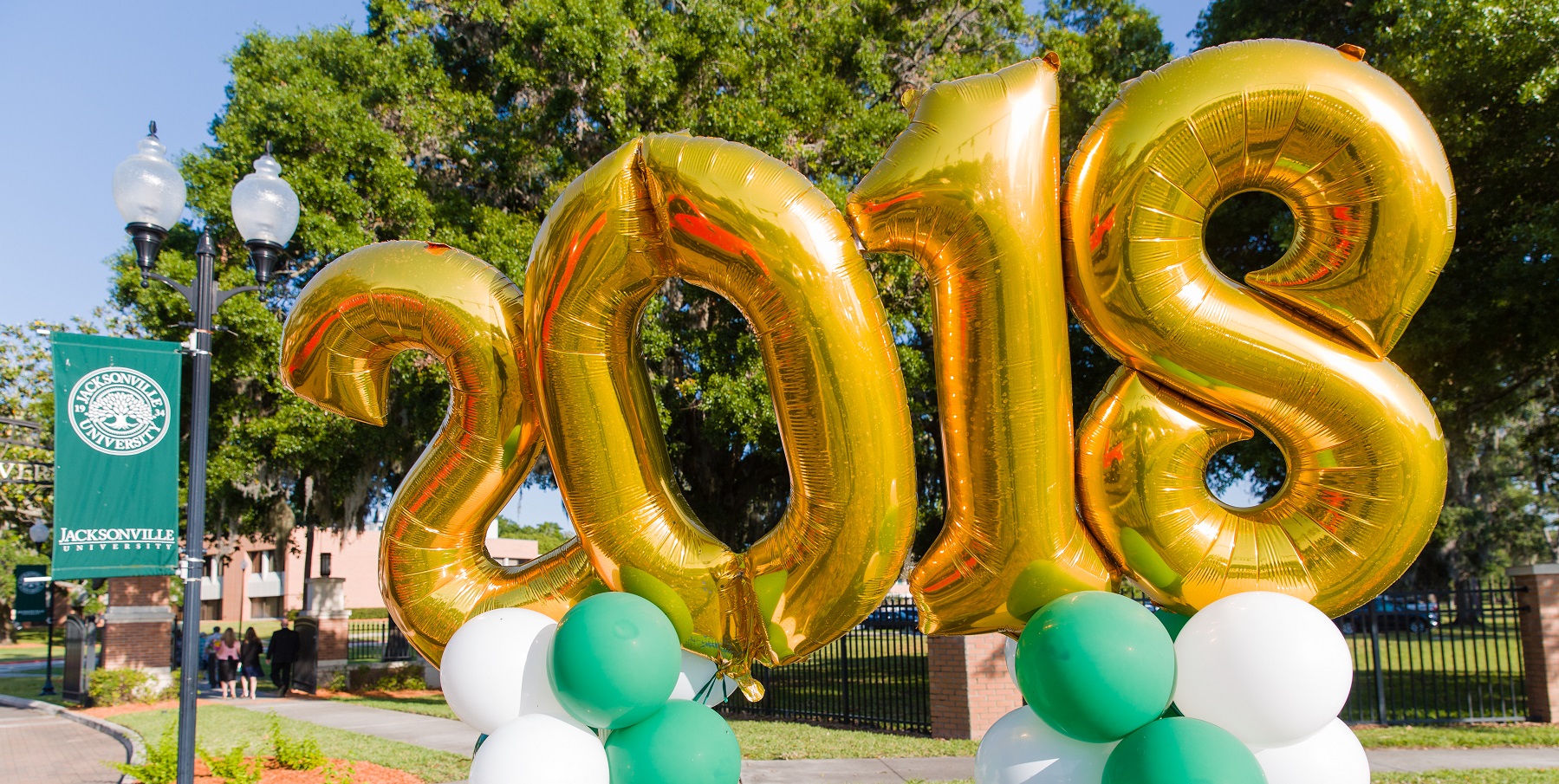 Thank you to these students and parents who contributed to the 2018 Senior Class Gift:
Aaron Jennings
Agnes Jakes
Alana Fautley
Alysha Hart
Alyssa McCaskey
Anastasia K. Carr
Anastasia Price
Andrea Foschi
Andrew S. Zavat
Ashlyn Sparks
Bailey Flynn
Brandi N. Buie
Brian Robotham
Brian Shimasaki
Brittney E. Boggus
Carley Levy
Carolyn MacIsaac
Christopher Nichols
Claire McLenna
Cody Helgeland
Courteney Miller
Courtney Pippin
Cristina M. Finan
Daniel E. Koorbusch
Eileen Clark
Ejiroghene Mrabure
Erin Farrell
Forrest S. Elledge
Fred A. Blaz
Gabriel C. Gumbayan
Jacob M. Capistran
Jacqueline E. Bruno
Jasmine J. Byard
Jean Hougland
Jenefer Giraldo
Jessica L. Cartwright
Jessica Schwartz
Jessica Shipkowski
Julia Kimbrough
Katarina E. Waldrop
Kayla Gordon
Kelsy Waack
La'karis Salter
Lilian M. Wright
Logan Prichard
Mackenzie Swan
Mamie Lue C. Small
Matthew S. Brinker
Maxwell Hartong
Melinda Assi
Melissa Rogers
Micaela Hill
Misha M. Chalkley
Morgan K. Lambert
Nakita A. Boyd
Nicole F. Story
Pascal Y. Rathle
Paul Jackson
Rachel C. Aus
Roy Starr
Savannah R. Distin
Savannah Vereen
Sean Karpf
Shawn Ewert
Shawna E. Coram
Shelby Mickler
Shelby T. Babowicz
Sina Y. Bennett
Sulhay Abernathy
Summer L. Chatelain
Taylor E. Bailey
Tianna Sparks
Victor Hicks
Victoria L. Culverhouse
Zachary Smith