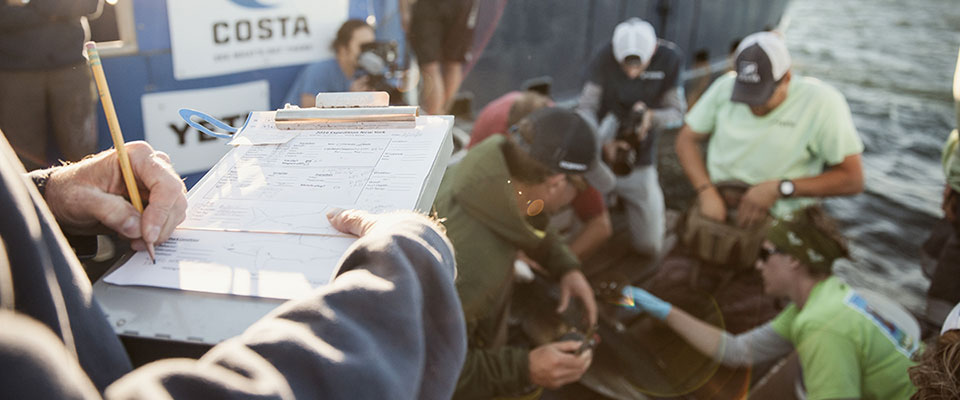 OCEARCH Science Symposium
We are excited to announce and invite you to attend the first OCEARCH Science Symposium to be held at Jacksonville University's Marine Science Research Institute. The symposium is designed to allow past OCEARCH research expedition participants and invited guests an opportunity to meet, exchange information, and expand collaboration.
Program
Wednesday, February 21
Opening Reception on board the MV OCEARCH in Downtown Jacksonville, or at MSRI in case of inclement weather
OCEARCH at JU and Lowcountry II Bryan Franks
Preliminary observations on white shark reproduction using nonlethal approaches James Gelsleichter
Movement patterns of large sharks from the northwestern Gulf of Mexico Matt Ajemian
Habitat use of young-of-the-year white sharks in three dimensions Michael McCallister
Regional Movement Patterns of Tiger Sharks in the Southeastern US Bryan Frazier
Antibiotic-producing bacteria as a health proxy for tiger sharks of Port Royal Sound Daniel Conrad
Antibiotic producing bacteria associated with sharks Kim Ritchie
OCEARCH in the Classroom: A STEM Based Inquiry Approach Jennifer Cotton
Nutrition and Feeding Ecology of White Sharks (Carcharodon carcharias) in the North Atlantic Lisa Hoopes
Visual Ecology of the White Shark and Short Fin Mako Christine Bedore
Creating baseline health parameters for free ranging Atlantic sharks Alisa Newton
Recent Advances in OCEARCH science infrastructure and productivity Bob Hueter
Keynote Address Chris Fischer
Adjourn for dinner on your own.
Workshop on OCEARCH and Future Research
Accommodations
We have arranged accommodations at the Courtyard Marriott I-295/East Beltway for a group rate of $129/night. Reservations must be made by February 9, 2018, to qualify for this rate.
Need help?
Contact us at OCEARCH@ju.edu.