Manatee Research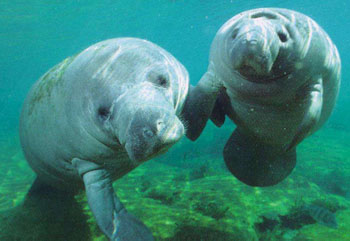 September 12, 2011 (below) ~ Stranded Manatees rescued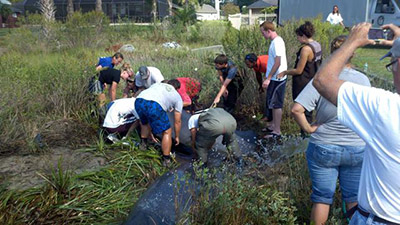 Video links:
Local Students Help Rescue Manatees with Dr. Quinton White, Executive Director, Marine Science Research Institute at Jacksonville University.
Stranded Manatees returned Home. Four manatees are back in the water - and doing well tonight. They got themselves into trouble this afternoon - and needed help from Fish and Wildlife with Dr. Gerry Pinto, Research Sciencetist Manatee Study at Jacksonville University.

**************************************************************
Please take a moment to review the link below; Dr. Quinton White at the Regency Library giving a presentation for the Navtive Plant Society on "Manatee in Northeast Florida" (11/18/2010). Scroll down this same link to view a few videos made by Larry Davis, TISIRI Team Member) snorkeling with the manatees.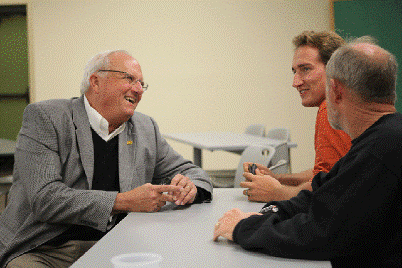 Dr. Q
uinton White side bar with Joe Kistel & Ed Kalakauskis (TISIRI Team Members)
**************************************************************​
Jacksonville University researchers have been monitoring manatee populations in the area for the last 15 years. Since 1993, the research has been used to develop and implement a Manatee Protection Plan. Funding for the work is provided by the City of Jacksonville Waterways Commission and the Port of Jacksonville. JU students are encouraged to take advantage of the opportunity to gain hands on experience with this multi-faceted research program which includes an ongoing approach to data collection with year round aerial surveys, vessel traffic and activity monitoring, and submerged aquatic vegetation and habitat mapping. In addition, education and public awareness are key features of the program and include the MaRCO web site (Manatee Research Center Online). Visitors can explore and learn more about these gentle creatures, as well as, local sightings information. Area schools are encouraged to use the site as part of their lessons on the environment, biology or ecology. Teachers interested in partnering with this project are encouraged to contact Dr. Quinton White at qwhite@ju.edu.​