Fraternity & Sorority Life
​​​Jacksonville University Fraternity & Sorority Life provides students with a safe, healthy, and collaborative environment which fosters personal growth, teamwork, individual leadership, and engagement within the community.
This cen​trifugal environment allows for students to accelerate their professional development by exercising newly learned skills that will attribute to their success after their collegiate career.​​
At Jacksonville University we have 10 social Fraternities and Sororities in three councils.
Our sororities​ are governed by​ the Panhellenic Council. The Panhellenic Council is the governing body that guides the collective action of the four NPC sororities on JU's campus. All women belonging to Alpha Delta Pi, Alpha Epsilon Phi, Delta Delta Delta, and Gamma Phi Beta are members of the Panhellenic Association.
Our fraternities are governed by the Interfraternity Council. The IFC as a liaison between the University and the fraternities' governing bodies to fairly promote and govern the fraternal community, which includes three fraternities: Sigma Chi, Sigma Nu, and Pi Kappa Alpha.
The National Pan-Hellenic Council at Jacksonville University serves as a liaison between historically African-American and multicultural fraternities and sororities, the University, and other student organizations. This council was designed to fairly promote and serve JU's three active recognized historically African-American and multicultural​ fraternities and sororities: Alpha Kappa Alpha​, Kappa Alpha Psi and Alpha Phi Alpha.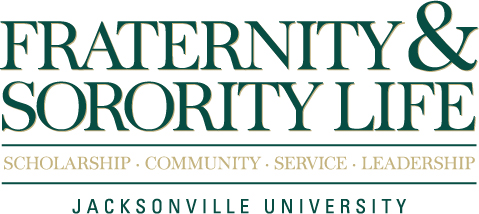 Interested in joining our growing community?
Join us at our 'Meet the Greeks' event on Monday, August 27, from 11:00 a.m. to 1:00 p.m. in the Kinne Banquet Hall.
Important Dates
Panhellenic Council ​Recruitment: Labor Day Weekend 2018. Register for recruitment.
Interfraternity Council Recruitment: September 2018
National Pan-Hellenic Council Intake occurs at the beginning of the Fall & Spring Semesters