Welcome Home!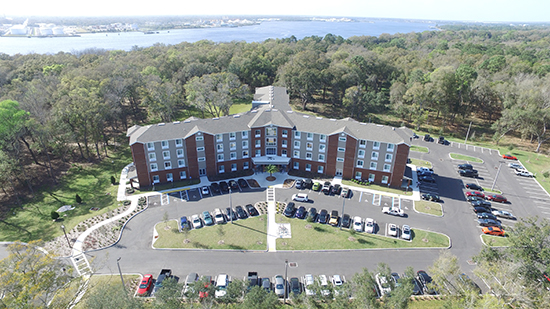 Welcome!
For your next adventure, your home will be a Jacksonville University residence Hall. Over the course of your first three years, you will be part of our exciting living community. Living on campus will connect you with multiple opportunities of making new lifelong friends and all the benefits JU has to offer. While living in the residence halls, you will find yourself involved in our many student organizations and groups and be part of all the exciting events that occur on campus – and it's all in your backyard!
Residential Life hosts many events throughout the year that encourages student engagement. The residence halls and apartments are supported by our campus facilities team to provide the most dynamic and comfortable living experience. Our talented and dedicated Residential Life staff are here to help and guide you during your time at Jacksonville University. We can't wait to have you on campus!
- Residential Life Staff
Mission
The mission of the Residential Life Office is to provide students with safe, comfortable housing and create living and learning environments to foster lifelong connections.
Vision
The vision of the Residential Life Office is to provide the most desired living experience for all students.
Beliefs
We believe in maintaining a positive physical environment.
We believe in creating an atmosphere where students learn, develop, and grow.
We believe in creating a supportive environment where students are challenged to make independent decisions.