What You Need to KnowMoving In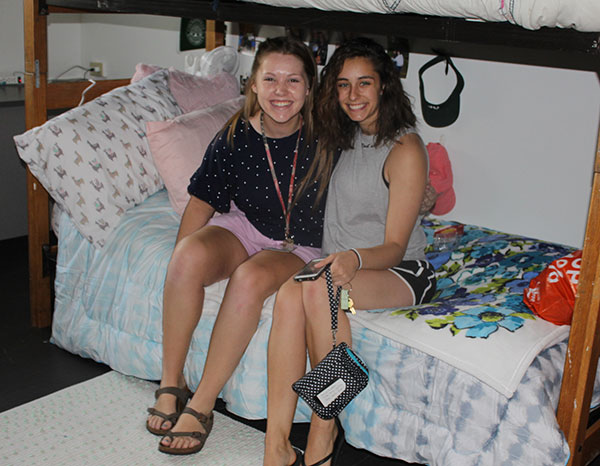 Welcome to your new home on campus!
We are thrilled to welcome you to your new home on the Jacksonville University campus. Please keep a close eye on your email for important updates, and don't hesitate to reach out if you have any questions.
2022 Freshman MOVE-IN
When: Tuesday, August 2nd
Where: Botts Hall, Williams Hall, Oak Hall (Freshman Rooms Only), North Hall (Freshman Rooms Only)
Details:
Welcome to JU! We are excited to help our new freshman move-in to their home here at Jacksonville University. Move-In is an opportunity to start well. The goal of our move-in experience is to honor one another in the way we begin community together!
Freshman will arrive to campus during a designated time slot based on the last digit of your room number. You can arrive to campus at anytime within your time slot! During this time, you will check-in to your room from the car and your vehicle will be unloaded by our incredible Move-in Crew! Please see below for your specific time slot. It is highly recommend that you label everything with your last name and room number.
9am-10am: Rooms Ending in 0, 3, 6
10am-11am: Rooms Ending in 2, 5, 8
11am-12pm: Rooms Ending in 4, 1, 7, 9
2022 Upperclassmen MOVE-IN
When: Friday, August 5th
Where: Oak Hall, North Hall, Village Apartments
Details:
Welcome back! We are excited to welcome you back to your home on campus. We are currently planning the time and details for our Upperclassmen Move-in. For now, save the date- Friday, August 5th for your welcome back to campus!
New Transfer students living in Oak Hall, North Hall, and Village Apartments are included in Upperclassman Move-in, as well as, our Graduate Students living in Graduate Housing.
Early Move-in
Jacksonville University does not offer an early move-in option for students other than those approved to move-in early due to a University sanctioned event.
If you are an athlete or student employee who is unsure of your need to move-in early, please contact your coach or campus employer.