Cuba: People, Culture and Art October 27 - November 4, 2019
Cuba is a trove of storied heritage, revolutionary history and vibrant culture. This eight-night People-to-People educational exchange, licensed by the U.S. Treasury Department, abounds with authentic, enriching experiences.
---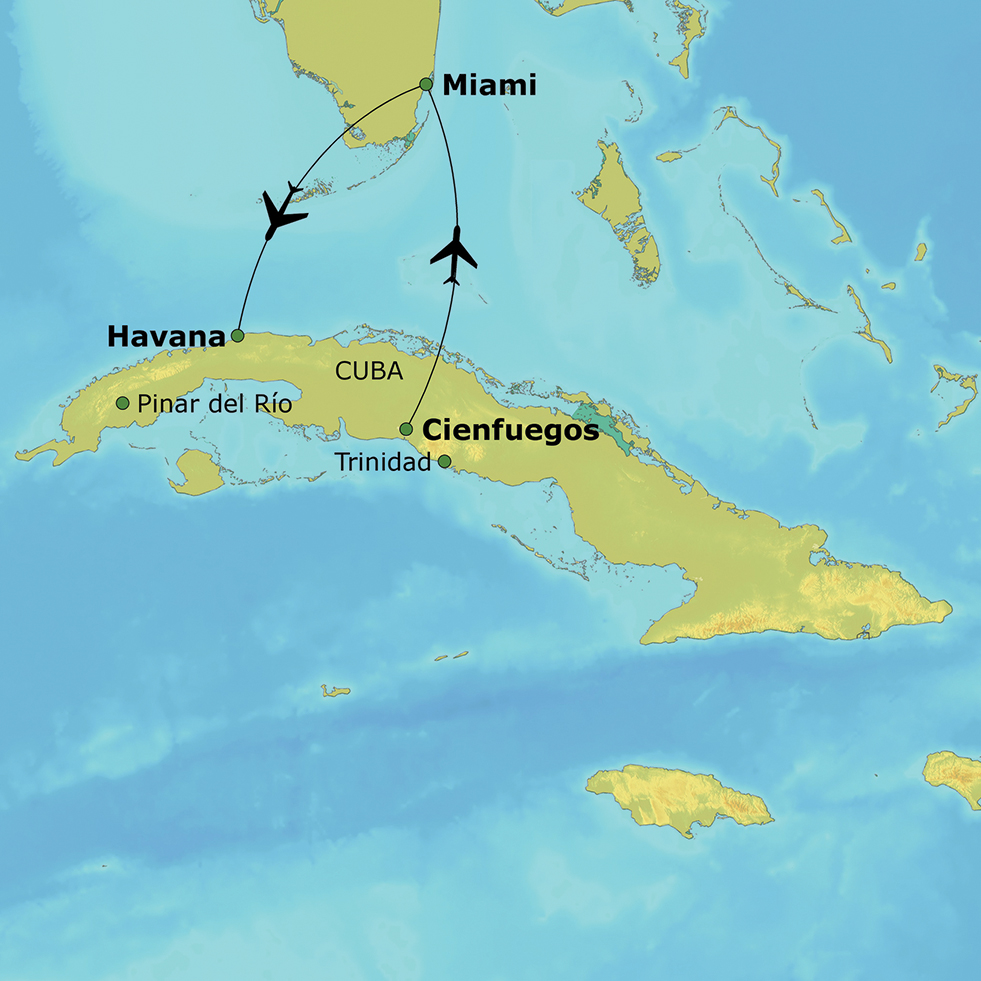 Request a Reservation Through AHI Travel
Itinerary
Day 1: Sunday, October 27
Location Miami, FL
Check in to the Crowne Plaza Miami International Airport in Miami, Florida. (Accommodations in Miami are included. Transportation to Miami is not included.)
Day 2: Monday, October 28
Location Miami, FL and Havana, Cuba
Depart for Havana, Cuba. Check in to the Hotel Mercure Sevilla. Take an orientation walk along Paseo del Prado, stroll to the seaside Malecón and visit Parque Central. Tonight, join fellow travelers for a Welcome Dinner at one of Cuba's oldest paladares.
Day 3: Tuesday, October 29
Location Havana, Cuba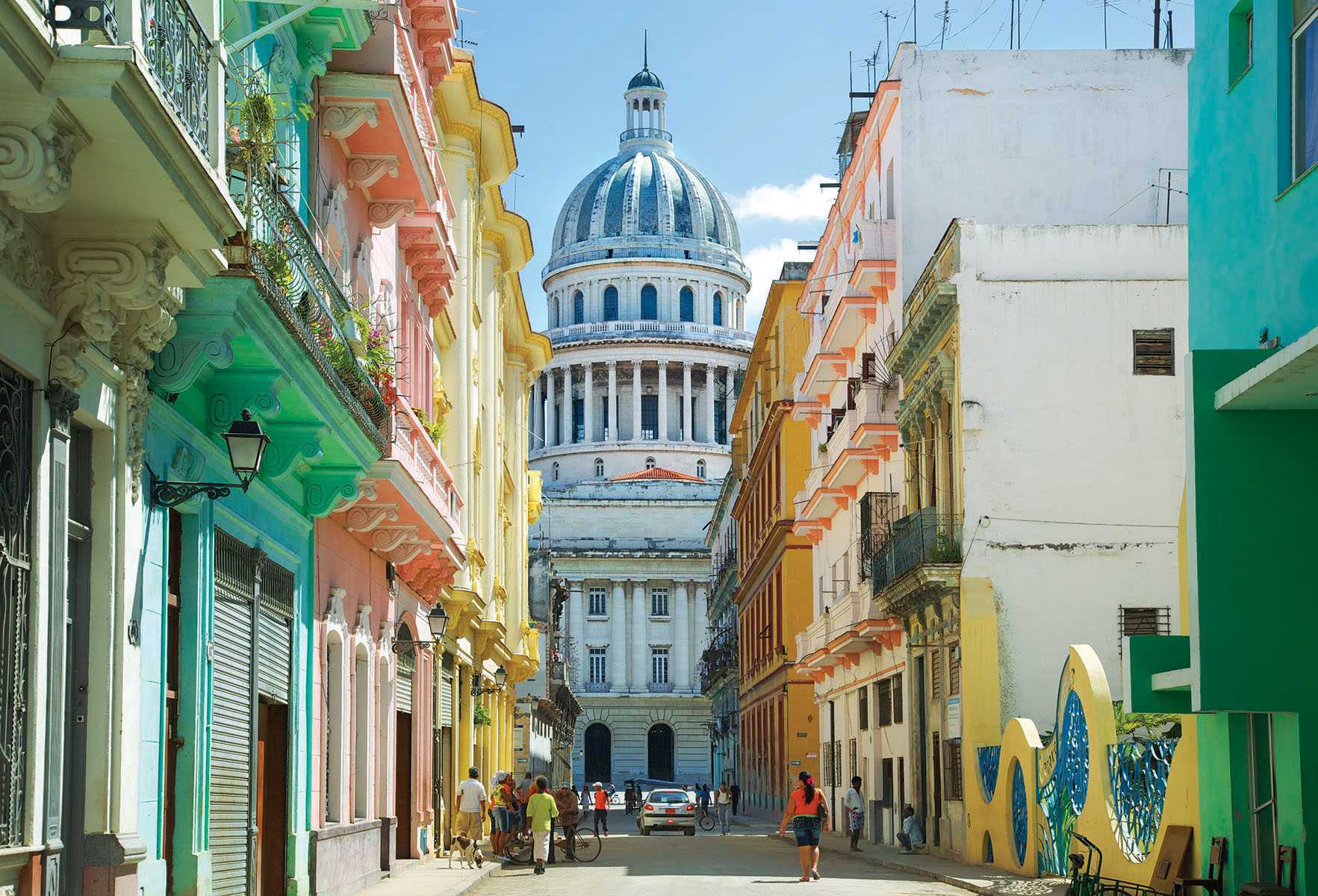 Discovery: Historic Havana. Enjoy your first taste of this unique UNESCO World Heritage site. Take in views of Plaza de Armas, the city's oldest square, and see the Palacio de los Capitanes Generales, residence of the colonial Spanish governors. Admire the 19th-century Fountain of Lions, see Plaza Vieja and discover Havana's busiest shopping street, Calle Obispo. This pedestrian-only thoroughfare has state-run shops, restaurants and cuenta propistas. Meet these entrepreneurs, who have turned open spaces into showrooms for their wares.
Enrichment: Urban Planning & the Architectural Challenges. Meet a Cuban architect to discuss contemporary city planning. Enjoy Cuban fare at El Templete.
Discovery: Revolutionary & Cultural Cuba. Linger in the Museo de la Revolución while browsing fascinating exhibits, including the Bay of Pigs. Then share experiences with the staff and children at a cultural center for youth. Enjoy dinner at a paladar. During a period of reform in the 1990s, many Cubans were allowed to open their own restaurants. Each paladar offers a unique setting and menu.
Day 4: Wednesday, October 30
Location Havana, Cuba
Discovery: Convertibles & Dance. Havana's streets are filled with classic American convertibles. These 1950s beauties, imported before the U.S. trade embargo began in 1960, still run due to the ingenuity of their owners. Climb aboard and enjoy a drive through Havana's historic quarter. At a contemporary dance studio, talk with talented dancers and watch a rehearsal. Pause for lunch at a local paladar.
Discovery: Higher Education. Tour the University of Havana, Cuba's oldest university. See the campus and discuss opportunities for higher education with a school representative.
Enrichment: U.S. & Cuban Relations. Join a professor for an enlightening discussion about the relationship between the U.S. and Cuba.
Day 5: Thursday, October 31
Location Havana, Cuba
LocationLocati
Discovery: Cuban Cigars & Art. The liaison of Cuba and cigars became known to the world soon after Columbus landed in Cuba in 1492 and introduced cigars to Europe. Learn more about their legacy and take a glimpse of this industry during a visit to a cigar factory. Then revel in Cuban art at the National Museum of Fine Arts.
Enrichment: Contemporary Art. Join Wilfredo Benítez— from the Ludwig Foundation, a nonprofit arts advocacy group — to discuss contemporary Cuban artists.
Discovery: Inside an Artist's Studio. Visit Casa Fuster, the home and studio of Jose Fuster. Join a local artist, discuss his work, and learn about the obstacles to opening a private studio and the opportunities for Cuban artists. Enjoy lunch at Casa Fuster.
Discovery: La Quinta Santa Venia. Visit a private home for senior citizens to engage with the residents and nuns who work there.
Discovery: Afro-Cuban Dance. Discover the delights of Afro-Cuban dance. Born and raised in Havana, these dancers were once part of many studios and troupes; now they teach others about their passion. You may try a few steps too! Tonight, savor a delicious dinner at La Foresta.
Day 6: Friday, November 1
Location Pinar del Río, Cuba
Discovery: Rural Cuba. Venture through rural communities and tobacco plantations to the Sierra del Rosario mountain range and Las Terrazas, a model socialist community established in the 1980s. Visit an elementary school and explore the town and an art studio. Dine on cuisine prepared with local, organic vegetables for lunch; discuss the agricultural industry with the chef; and meet the community gardeners at the organic garden. Discover your own dining pleasures during dinner at leisure this evening.
Day 7: Saturday, November 2
Location Cienfuegos, Cuba
Discovery: Hemingway & Sugar Cane. En route to Cienfuegos, visit La Finca Vigia, or "lookout farm," the home of author Ernest Hemingway. Travel to Australia, a former sugar cane factory. After being introduced by Spanish conqueror Diego Velázquez, Cuba became the world's largest sugar exporter in the 19th and 20th centuries. During a tour, meet former workers and mechanics. Relax for lunch at a local restaurant.
Discovery: Introducing Cienfuegos. See Parque Martí, and admire the pretty cathedral. Check in to the Hotel Jagua, and enjoy dinner at a local establishment.
Day 8: Sunday, November 3
Location Trinidad & Cienfuegos, Cuba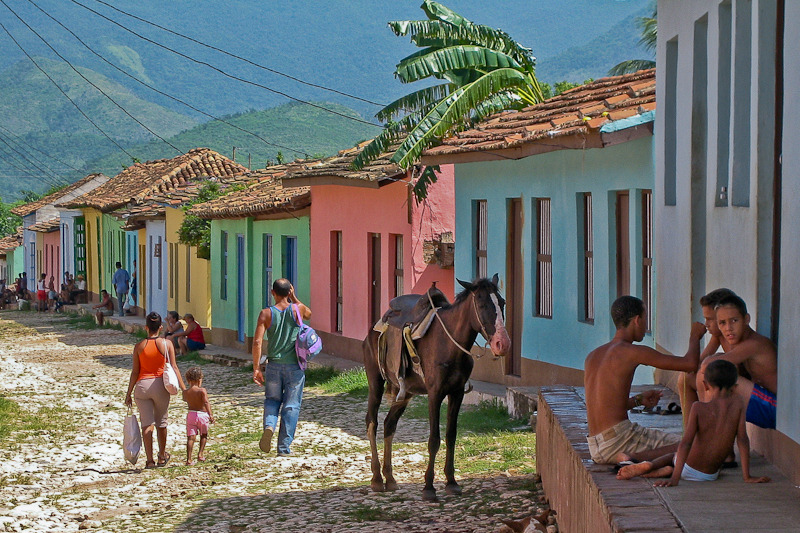 Discovery: Trinidad & Local Life. Explore the city of Trinidad, a UNESCO World Heritage site. In Plaza Mayor, see the Iglesia de la Santísima Trinidad, Cuba's oldest church; the Museo de Arquitectura; and the Museo Romántico de Artes Decorativas. Enjoy a visit with the Mata family in their home and learn about typical Cuban life. Savor a buffet lunch at the Plaza Mayor. Free Time: Enjoy leisure time near the Plaza.
Discovery: Musical Cienfuegos. At the Teatro de Cienfuegos, watch a foot-tapping musical performance by renowned musicians. Talk with members of the ensemble and learn about their music and training.
Enrichment: Meet the People. Gather for a Farewell Dinner at El Lagarto, and talk with the owners, Maylin Cruz Garcia and Antonio "Tony" Lleonart Ordones.
Day 9: Monday, November 4
Location Cienfuegos, Cuba and Miami, FL
Discovery: Health Care. After breakfast, visit a maternity home and speak with the medical staff about their country's health care system. Transfer to the Cienfuegos airport for the return flight to Miami.
Consistent with the requirements of the OFAC People-to-People license, this program features a full-time schedule of cultural exchange activities. This exchange does not involve tourist or self-directed activities.

Note: This itinerary is subject to change. If an event must be canceled, it will be replaced with another people-to-people event. During the walking tours, the sidewalks and other surfaces may be narrow, uneven or made of cobblestones.
Included Features and Program Cost
Accommodations
One night in Miami, Florida, at the first-class Crowne Plaza Miami International Airport
Five nights in Havana, Cuba, at the first-class Hotel Mercure Sevilla
Two nights in Cienfuegos at the first-class Hotel Jagua
Transfers
Round-trip flights between Miami and Cuba
All deluxe motor coach transfers in the Land Program and baggage handling
Extensive Meal Program
Seven breakfasts, six lunches and six dinners, including Welcome and Farewell Dinners; tea or coffee with all meals, plus a local beverage with dinner
Sample authentic regional specialties during meals at local restaurants
Your One-of-a-Kind Journey
Discovery excursions highlight the local culture, heritage and history
Expert-led Enrichment programs enhance your insight into the region
Clearly hear your English-speaking guide with your VOX headset
Tipping of guides and drivers
Guest Faculty Member
Vanessa Harper, Marine Science Research
Vanessa K. Harper has been working in Cuba and leading trips to the island for more than a decade. She is currently a Cuba Scholar in Residence at Jacksonville University where she works to facilitate collaborative agreements between the university and Cuban institutions in an effort to promote the nonpolitical, academic exchange of information. Vanessa has been photo-documenting subsistence farmers in the western mountains of rural Cuba since 2005 and is currently working on a multi-media project that shares the stories of these farmers beyond their borders. She holds an MS in Interdisciplinary Ecology with minors in Food & Resource Economics and Cuban Studies.
Costs
$4,995, per person, based on double occupancy
$995 Single Supplement
Deposit: $600. After the deposit is paid, you will make payment arrangements for the remainder with the tour company.
Request a Reservation Through AHI Travel
More Information
For more program and pricing information, or to make a reservation, please call the tour company directly at (800) 323-7373 and ask about the Cuba departure for November 10-18, 2019. Or contact our team at alumni@ju.edu or (904) 256-7928.