Clinical Mental Health Counseling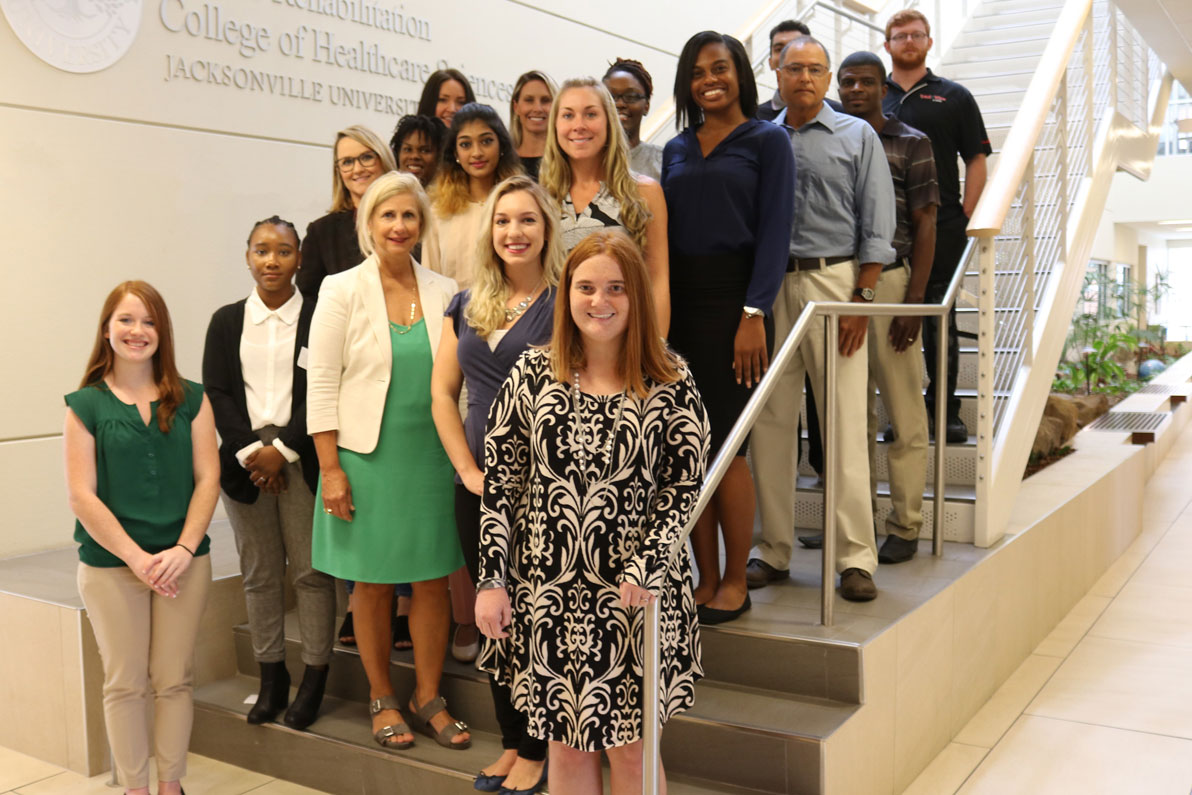 ​​​​​
Photo: 2018 CMHC cohort
​Jacksonville University offers a Master of Science in Clinical Mental Health Counseling (MS-CMHC) ​in the School of Applied Health Sciences, Brooks Rehabilitation College of Healthcare Sciences. This 60-credit-hour degree program meets the educational requirements for State of Flo​rida licensure as a Licensed Mental Health Counselor (LMHC) and state licensure as a Marriage and Family Therapist.
The Florida Department of Health Board of Clinical Social Work, Mental Health Counseling, and marriage and Family Therapy notified us that based on our course descriptions the JU MS-CMHC Program satisfies the statutorily required course content for Mental Health Counseling and Marriage and Family Therapy licensure.
Quick Links
Mission Statement
The mission of the JU SAHS Clinical Mental Health Counseling program is to provide an academically rigorous and supportive environment in which to prepare professional counselors to work in a variety of mental health settings including but not limited to, private practice, hospitals, community counseling centers, for profit and non-profit agencies, public health departments, and schools that offer therapeutic services. This preparation emphasizes creative learning, excellence in counseling skills and techniques, and ethical and professional integrity.
Accreditation
CACREP ACCREDITATION AND STATE LICENSURE INFORMATION
Jacksonville University's Clinical Mental Health Counseling Program is seeking accreditation through the Council for Accreditation of Counseling and Related Educational Programs (CACREP). We have followed the necessary protocol in program implementation and have submitted the required CACREP self-study following the 2016 standards. We submitted the CACREP self-study and had a successful site visit in February 2019. We will receive a final decision on accreditation following the next CACREP Board meeting in July 2019.
While the current program is not yet accredited, it does meet the state requirements for licensure.
For answers to common questions about what our status means for students, please refer to the CACREP Program FAQs:
Licensure
State of Florida Course Requirements for Licensure
JU's CMHC Core Curriculum has a specialization in clinical mental health counseling. It also offers an emphasis in marriage and family therapy. This degree meets the academic requirements for licensure as designated in the Florida Board of Clinical Social Work, Marriage & Family Therapy and Mental Health Counseling for both Clinical Mental Health Counseling and Marriage and Family Therapy. It is possible to work toward dual licensure.
Students are encouraged to review the state standards and guidelines and notify the faculty advisor of practice preference so that the appropriate site placement is secured for the practicum and internship.
View how JU's CMHC program meets Chapter 491 requirements for licensure in mental health counseling.
Contact Us
For more information, please contact:
Pamela D. Adrian, MS
Assistant Director, Graduate Admissions
Whitney George, PhD
Department Chair, Clinical Mental Health Counseling