Outcomes & Data
Cohort Demographics 2016 - 2017
Annual Report
The Clinical Mental Health Counseling program is continuing to make progress as it enters its third year. Our first cohort of students began in the spring of 2016 and graduated in December 2017. Following recommendations and beginning in the fall of 2016, we changed the admission semester to fall only admission. This resulted in having three cohorts of students this past fall. Moving forward each semester we will have two ongoing cohorts of 24 students in each cohort. Other changes included moving our addiction counseling course to the spring semester so students could gain this knowledge prior to entering their clinical experience.
As a recap of this past year, we hired Katie Stuart, a part time Clinical Field Site Coordinator who began in the spring of 2017. She has the responsibility for interfacing with our community partners to create affiliation agreements and outreach. She does live supervision with our student interns in their internship sites. She also assists with our annual internship fair and assists with student placements. Per our community outreach, Katie provided pro bono counseling services at the Community Health Outreach clinic for two semesters. During this time, she also supervised two interns; one a mental health counseling student and one psychiatric nurse practitioner student. Dr. Whitney George provided these counseling services in the previous fall term. Unfortunately, we are not able to continue these pro bono services due to the growth of our program. We are seeking additional funds to move Katie to a full time position so we can again outreach to the CHO and other agencies.
We also hired a new faculty member, Dr. Natalie Indelicato, who has the role of Clinical Director and works directly with Katie in our outreach efforts with our community agencies. Dr. Indelicato is playing a major role in getting our internship fair organized and has reached out to UNF to discuss options with a collaborative internship fair to better serve our community agencies and our students.
We were allocated three rooms to establish counseling labs. We have one room for individual, one for group and one for assessments and student processing. There have been no other substantial changes to the program.
The results of the CPCE exam results for cohorts one and two are located in the outcomes and data section of the website. We used the national non-exit mean total score of 81.86, with a standard deviation of 14.07 to determine pass rates for the inaugural cohort. Students were evaluated on their total score versus the individual eight core standards. Allowing for one standard deviation below the mean as a passing score, all students of the inaugural class passed the exam upon first attempt and for cohort two, 90% passed on the first attempt.
We recently graduated our initial cohort of eight students. The table below shows the status of each student regarding licensure, employment and career paths. At the inaugural graduation event, our eight graduates were inducted into Eta Upsilon Chapter of Chi Sigma Iota National Honor Society. Three awards were given: Rico Bodin, Leadership, Africa Pino, Advocacy and Cindy Williams, Clinical Excellence. Additionally, several of our students were inducted into Phi Kappa Phi national honor society.
As of January 2018, 75% of the graduates are employed or anticipating employment within the next month primarily at the site where their internship was completed. 37.5% of the graduates passed the NCMHCE in April and 63.5% the graduates are scheduled to take the NCMHCE in April. Two of the graduates have secured their Registered Mental Health Counselor Intern status from the Florida State Board.
We will do a follow-up alumni and employer survey in June which will be six months after graduation.
Student

NCMHCE Status

RMHCI Status

Student Career Paths
1
Taking in April
Registered

Currently employed at Gateway-Internship Site.
Working with the Opioid Pilot Project.

2
Taking in April
Currently employed with Daniel Kids-internship site.
3
Taking in April
Applied and waiting for confirmation of a position with Children's Home Society-internship site
4
Taking in April
Applying for the doctoral program in sexuality therapy.
5
Taking in April
Continuing with the Coast Guard and looking for a part time position.
6
Passed

Currently employed at the Youth Crisis Center-internship site

Applying for doctoral programs.

7
Passed
Registered
Accepted a counselor position with the Clay County Schools-internship site
8
Passed
Applied and waiting for confirmation of a position with Baptist Hospital-internship site

2017 Fall Cohort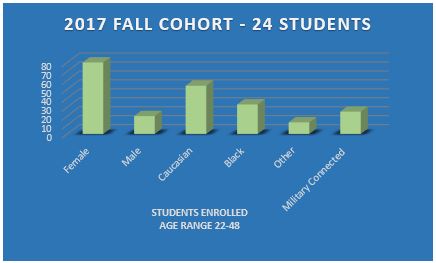 2016 Fall Cohort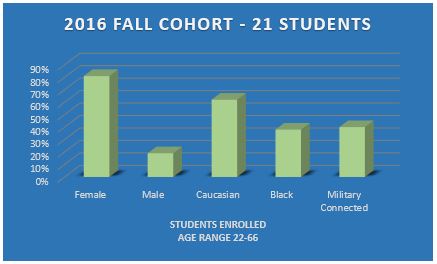 2016 Spring Cohort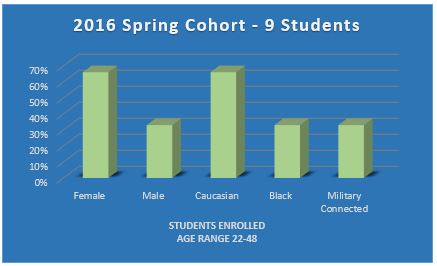 CPCE Statistics