Class of 2018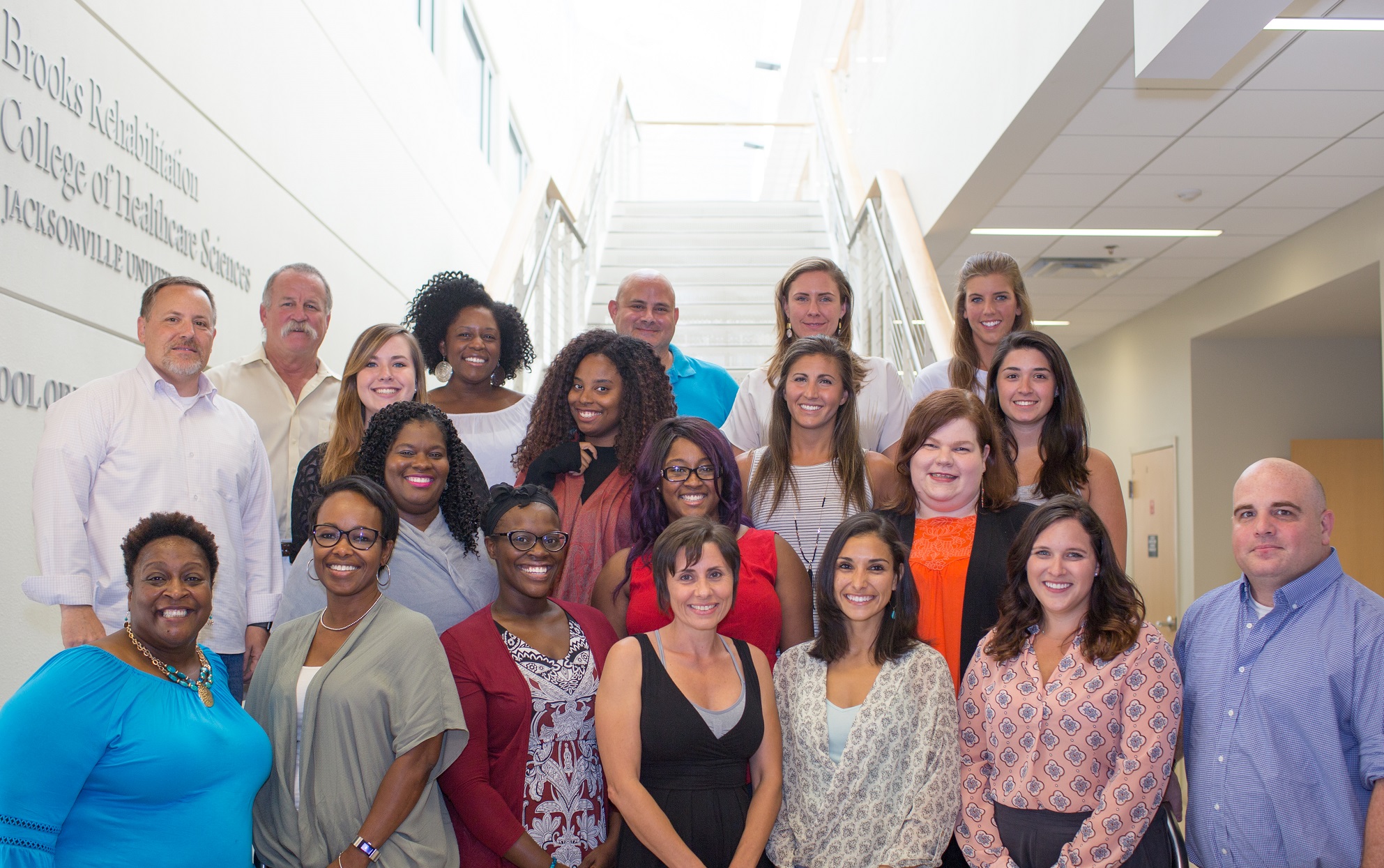 Class of 2018
Andrea Bailey
Andrea received a Bachelor of Arts degree in Psychology from the University of Hawaii Manoa in 2008. Shortly after, she moved back to her home state of Alaska where she worked as a director for a Head Start site in Anchorage. During this time she found herself doing more than her required responsibilities such as advocating for her students and providing needed resources for their families. Andrea decided she wanted to pursue a career in a type of therapy to help others in the community. She discovered the Clinical Mental Health Counseling program at JU upon moving to Jacksonville and immediately knew it was the perfect fit for her. Andrea's primary interest is working with clients who struggle with substance abuse/addiction and their families.
Krista Bittengle
Krista received her B.S. In elementary education from Youngstown State University. She is currently a fourth grade teacher at Beaches Episcopal School in Jacksonville Beach who is in pursuit of her Master's degree in Clinical Mental Health Counseling at Jacksonville University. She received her Bachelors of Science in Elementary Education from Youngstown State University in Youngstown, Ohio. She has been a professional educator for the last four years. In 2016, she represented her former school, Wards Creek Elementary School, as the Rookie Teacher of the Year in the St. Johns County School District. In addition, she has created and leads the G.I.R.L.S. group at her school that empowers elementary-aged females to Gain Independence, Respect, & Learning Self-awareness. With the perusal of her master's degree, she hopes to continue to be an advocate for youth and adolescents. At JU, she is currently working as a graduate assistant for Dr. Whitney George.
Lee Brown
Lee hails from Warner Robins, GA and received a Bachelor of Arts from Toccoa Falls College, and then a Master of Divinity from Southwestern Baptist Theological Seminary. Having served 30 years in the military, Lee chose Jacksonville University in order to jump-start his second career, taking advantage of the cohort model to learn the intricacies of the counseling profession. After graduation, he plans to work with marriages and families that are in crisis, in hopes to bring wholeness and healing.
Ashley Carpenter
Ashley is a Graduate student in the Clinical Mental Health Counseling program at Jacksonville University. Born and raised in Jacksonville, Ashley graduated with a B.A. in Psychology with minors in Education and Sociology from Jacksonville University in 2010. She is currently working as a middle school teacher at Duval Charter at Southside teaching 7th and 8th grade math. This experience in education sparked her interest in becoming a licensed mental health counselor.
Diana Davis
Diana Davis is pursuing a second career, through JU's CMHC Master's Program. She obtained her undergraduate degree from Boston College and then went on to UCLA School of Law. Post-graduation, she worked for the State Attorney's Office and Jacksonville Legal Aid. She left the law field to care for her two young sons, and she is now excited about learning everything she can about counseling and mental wellness. Her dream is help guide individuals and families on the path to wellness.
Christine Gottschalk
Christine is currently enrolled in the Master's program at Jacksonville University in pursuit of a Master's degree in counseling. Her B.S. is from Jacksonville University, with a focus in Psychology and Sociology with a minor in Management. She is currently a Student Representative of BRCHS Curriculum Committee. Working in the community, Christine is currently a Targeted Case Manager for mental health services for lower income, disabled adults.
Lea Herbert
Leah graduated from Pitzer College in Los Angeles with a Bachelor of Humanities in Human Biology and Public Health. She completed a year-long fellowship with the health- educational non-profit City Year Jacksonville, providing ample human capital in underserved areas. Currently, Leah is a graduate student attending Jacksonville University, studying Clinical Mental Health. During her master's degree, Leah's research interests include reproductive health interventions and education in resource-limited settings, socio-behavioral epidemiology, cultural competent mental health and spirituality, empowerment of disadvantaged individuals, and community-based health programs in resource-limited settings that focus on maternal and child health. Leah plans to support mental health policy and consult across public and private partnerships to increase and improve the quality of psychological services to underserved populations.
Dave Jedrziewski
Dave currently works as trainer and executive coach for the top 200 talent of a global bank. He works as an advocate for women and minority talent, preparing them for their next role in the organization. In addition, he is the Chairman, Board of Trustees for the Casey M. Jedrziewski Memorial Scholarship Fund a 501(c) (3) charity created in the name of his daughter after her death, and an IRS recognized charity that has raised funds to provide dozens of scholarships for deserving students. Dave also serves on the Board of Trustees/Advisors for Insights, Inc. a British company offering a detailed personality assessment and profile based in Carl Jung theory. Dave has been recognized for lifetime achievement by the US Presidents Volunteer Service Program for donating over 7,000 volunteer hours for various community agencies. As an artist, Dave has had nearly two dozen one-man shows, and has work hanging in public galleries and private homes across the country.
Dave has a BA in Fine Arts from Penn State, MFA and MEd from Idaho State and is currently working towards a MS in Clinical Mental Health Counseling at Jacksonville University, with the goal of becoming a licensed Mental Health Counselor. Dave has had successful careers and owned or managed businesses as commercial artist, college teacher, restaurant and hotel management, corporate training, and executive coach. Dave is a classically trained Chef, published author and an accomplished artist. He is a certified practitioner in multiple individual and team assessments including Personalysis, MBTI, 5 Dysfunctions of a Team, Emotional and Social Competency Index (ESCI), Hogan, DISC, and Insights.
Fatima Conley Johnson
Fatima is a Professional Service Coordinator at the Jacksonville Housing Authority serving multifamily, disabled, and elderly residents. Fatima holds a BS in Business Management from the University of Phoenix and is currently enrolled in the Clinical Mental Health Counselor Program at Jacksonville University. Fatima has over 23 years of experience working in the social services arena. She has worked with Families in Prevention Services (providing intense case management to parents to keep children out of the foster care system) and Reunification (reunifying children that were in foster care to their parents) through the Family Builders Program at Children's Home Society. Fatima has a strong passion to help others; she is active with the youth and finance ministry at North Jacksonville Family Worship Center. She also volunteers and serves as a board member with the Justice League of Fitness- I Will Work out Inc. A program that provides fitness and nutritional services to communities that are plagued with obesity, financial hardships, and daily life stress through certified volunteer trainers at no cost to the attendees. Fatima has a desire to serve the Veteran population to address the various challenges they may face from illnesses (mental and/or physical), isolation, substance abuse and/or traumatic life experiences.
Victoria Alyssa Jones
Victoria was born and is a current resident of Jacksonville, Florida. For the majority of her elementary school career she has attended a Title I school. She was a witness to the unfairness that are present in these schools and these environments. After overcoming the feeling of powerlessness, Victoria decided to become the difference that she wanted to see. She graduated with honors from Robert E. Lee High School and graduated Magna Cum Laude from Jacksonville University with degrees in psychology and sociology. A notable mention is that Victoria was awarded the Outstanding Student of the Year award for psychology in 2016. Victoria used her advanced education to be more efficient in volunteering at the Title I school that she previously attended. During her undergraduate career, Victoria also completed a semester long internship with Communities in Schools, where she worked with students who were considered at-risk at a local middle school. Victoria is currently completing her degree at Jacksonville University for Mental Health Counseling.
Brianna Kane
Brianna graduated Cum Laude with a Bachelor's of Science in Psychology and minors in Family, Youth and Community Science, and Educational Studies from the University of Florida in 2015. Brianna chose to attend the Clinical Mental Health Counseling program at JU because the reputation of the staff and the innovative hands-on class structure. She enhanced her journey to become a counselor by working with survivors of domestic violence in Gainesville at Peaceful Paths Inc., volunteering at the Alachua County Crisis Center, and working as a Registered Behavior Technician (RBT) after graduating from UF in Jacksonville. Brianna is interested in working with the emerging adulthood population on a University level. She is an intern at JU's Counseling Center starting Fall 2017.
Jason Kugel
Jason was born in Germany and grew up in Newark, Delaware. Jason joined the Navy right after high school and reported to Recruit Training Command Great Lakes in January 1991. The last thing he heard on the radio before entering boot camp was the United States had begun shelling Iraq in retaliation for the invasion of Kuwait. Jason spent 10 years as an aircraft electrician and 11 as Master-at Arms, retiring in 2011 as a Chief Petty Officer. After retirement, he realized what he missed most about the Navy was the opportunity to mentor and assist junior sailors as they embarked on their own Navy journeys. Looking for ways to re-connect with the military, he completed his AA in Criminal Justice in 2013 and entered Jacksonville University in 2014 to work towards a BS in Psychology. On campus, he met many veterans from all the branches of service and he realized there is an entire generation of service members who do not understand how their service affected them. Nearly all feel like there is something off about life as a civilian and almost all were equally surprised to be told they were having normal reactions to abnormal situations. It was at this point that Jason decided he wanted to become a Mental Health Counselor and focus on working with military members, active and retired, and their families.
Tina Mayer
Tina's path to the Mental Health Counseling Program is long and winding, but rich in experience. She graduated from Northwest Nannies Institute in Portland Oregon in 1988, received and AA from Florida Community College of Jacksonville in 1994, and finished her BA at Randolph Macon Woman's College in 1998 with a double major degree in Philosophy and Religion. For the last 14 years, she has owned her own personal assistance and organizing business. This encompassed a million odd jobs and an equal number of personalities, all of which had some degree of caring and counseling worked into them, so the transition to working in the mental health field makes perfect sense. She is a volunteer Guardian ad Litem and mediator who would like to enhance those skills using therapeutic approaches.
Michele Mitchell
Michele a Daytona Beach, Florida native has spent the last decade working to improve the educational success and mental health of her community. A graduate of Emory University in Atlanta, GA, she double majored in Neuroscience and Behavioral Biology and Psychology while working in a behavioral sciences center studying and supporting children struggling with Fetal Alcohol Syndrome. Upon graduation, she joined the 2008 Teach For America Houston corps and transitioned to Houston, TX where she would teach 8th Grade Science for three years. Her time in the classroom opened her eyes to the myriad of psychological burdens resting on the shoulders of children living in low-income, at-risk neighborhoods, fueling her desire to both gain and impart the knowledge and resources needed to make a positive difference in the lives of the children she had pledge to serve. Following her time in the classroom, she worked in a couple of entry level mental health service positions before transitioning to her current role on the Teach For America Jacksonville staff, supporting local alumni while serving as the regional Mental Health Liaison. She is currently pursuing her Master's Degree in Clinical Mental Health counseling in hopes of one day serving as a resource to help combat the plethora of mental illness struggles in the African American community.
Gwanda Parker
Gwanda's undergraduate degree is in Elementary Education and I hold a Masters of Divinity degree. I chose the JU program because of the hybrid method coupled with the fact that I have always wanted to pursue a counseling career. The hybrid method allowed me the opportunity to maintain my current life while going to school. For me, the best thing about the program is EVERYTHING. I love the content; I am learning and connecting dots to questions I have pondered about counseling, people, addictions and general mental wellness. I am enthralled with my professors. Each one of them adds a special touch to my learning experience and our cohort is forming into an extended family. I chose this career because I have always been interested in Mental Health and I have wanted to make a difference in the lives of those I see struggling. As a pastor and educator, I am inundated with people experiencing stressors and sometimes diagnosed with Mental Illness, I want to be equipped to serve this population better, and this program will help me do this. After graduating, I would love to pursue a higher degree in a specialized area. I envision doing conferences, seminars, writing books and building a hope center for those in need of care and support.
Anna Katherine Payne
Anna Catherine Payne is a 22-year-old from Graceville, Florida. She studied at Chipola College and Stetson University before pursuing her Masters of Science in Clinical and Mental Health Counseling at Jacksonville University. She currently works at Jacksonville's Community Transition Center as a Correctional Counselor with River Region's Matrix House. With this position, she counsels inmates who battle with substance abuse in a 120-day period within their incarceration sentence. She plans to obtain her License in Marriage and Family Therapy. She is excited to see what all this field has to offer, as she is always ready to take on an adventure.
Jessica Pollard
Jessica is from North Carolina and received of her both Bachelor of Biology and Public Health at The University of North Carolina at Greensboro. Jessica choose to complete her Master's degree at JU because of the hybrid structure and the extra component of coaching and getting my license in Marriage and Family Counseling. Jessica loves that the program gives her the opportunity to interact with her cohort in an open and safe environment but also allows her to work full-time. "I fell in love with the counseling profession through being a Victim Advocate for a Domestic Violence Center where I am currently working." After graduation, Jessica hopes to work with families, specifically minority families, and remain a part of the domestic violence movement.
Jessica Thomas
Jessica received her Bachelor of Arts degree from East Carolina University where she studied Psychology and minored in Family Relations. She chose the Master's degree at JU because of the hybrid structure and the ability for her to focus on her areas of interest in art therapy and marriage and family therapy. She is doing volunteer services with adolescents at River Oaks Recovery High School. She also plans to complete both her practicum and internship with this student population. She plans to secure licensure in mental health counseling and marriage and family therapy. Jessica is a lively student who is motivated about her future as an LMHC.
Vickey C. Walker
Vickey grew up in Chicago, Illinois. She is a graduate student in Master's of Science in Clinical Mental Health Counseling and Marriage and Family therapy at Jacksonville University (anticipated graduation 2018). She has a bachelor's degree in Business Administration from Jackson State University. Vickey has been a Cosmetologist and entrepreneur of 24 years. Vickey have dedicated her life to serving others in various ways with the mindset of helping and making our community and world a better place. She has proven to be successful and continue to sustain continual growth by acceptance as an entrepreneur within the Northeast Florida community by providing private counseling and services to individuals that are experiencing hair loss due to various health conditions as a Hairstylist for 24+ years. Vickey demonstrates excellent leadership skills, proven as a small group leader at Impact Church and Concession's manager at University Christian School. Vickey plans to leverage her passion for counseling and coaching to teach younger generations and families to cope with major life changes such as grief, suicide, anxiety, and depression.
Howard E Weightman III
A native of West Chester PA Howard Weightman attended College in New York City at Marymount Manhattan College from 1995 until 2000. Howard decided after the terrorist Attack of 9-11 to join the military. He entered the service in September of 2003 and proudly served for 14 years. Howard has proudly served his country and is a veteran of the war in Iraq and Afghanistan. He has always believed in service and now wishes to serve in a different capacity. Inspired by the Heroin epidemic in America Howard Weightman plans at the conclusion of his time at Jacksonville University to work with both those who suffer from Addiction. In addition to his work in the field of substance recovery, he plans to one day have a small private practice to assist Sailors, soldiers and Marines, as well as their families to deal with the additional stresses called on by service in the military. He has dedicated his life to service and feels that mental health and substance recovery field is the unspoken war in this country. He plans to incorporate the skills of the military with the tools he has gained at JU to work and help those who need him.
Kayanna Williams
Keyanna earned a bachelor's degree in Psychology from the University of North Florida. She chose the Jacksonville University program because of the hybrid model, which allows the student to maintain full time employment while earning a degree. What Keyanna appreciates most about the program is the accessibility and support of the faculty. She chose this career path because of the inadequate services provided to the mentally ill population currently. Keyanna currently facilitates psychosocial rehabilitation at the Mental Health Resource Center. After graduation she plans to work with a community agency to provide counseling to individuals that would be otherwise be unable to receive services.