Jacksonville UniversityCollege of Law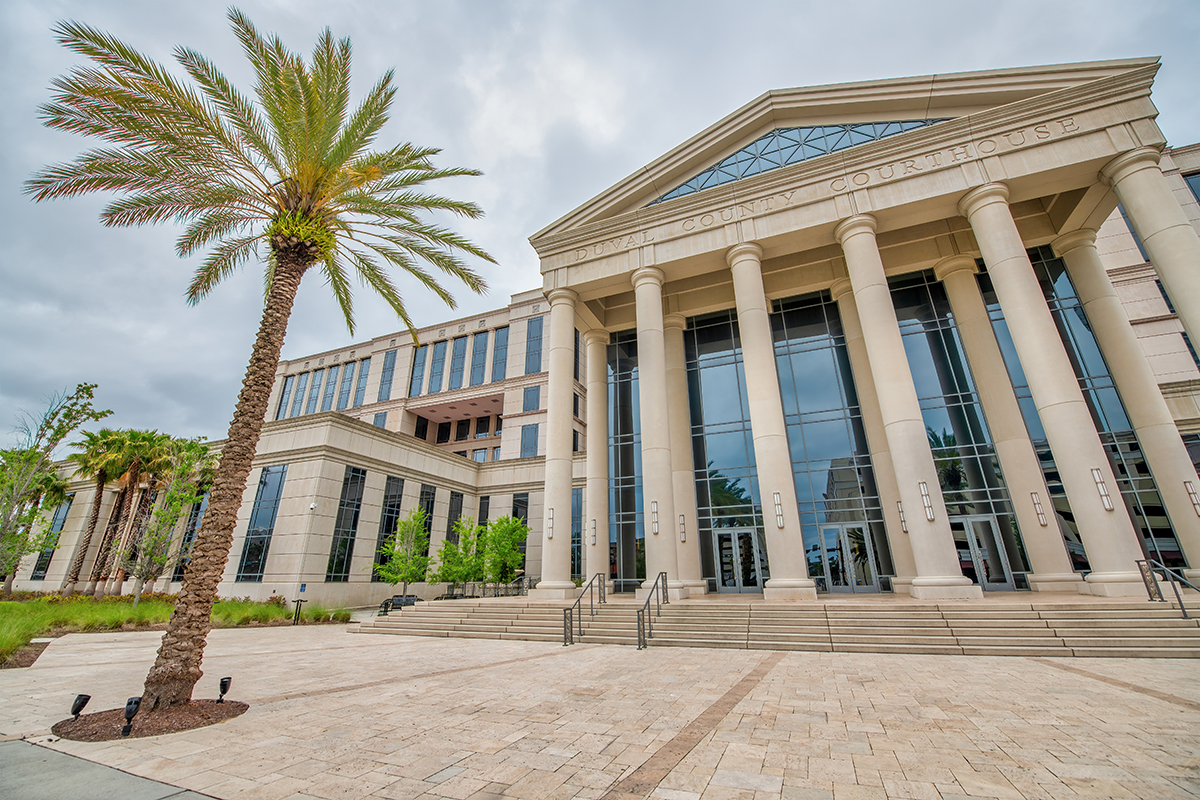 The Next Step in Jacksonville's FutureBuilding Tomorrow Together
For nearly a century, Jacksonville University has pursued bold opportunities that create waves of good in our community. We are proud to partner with the City of Jacksonville to establish the Jacksonville University College of Law in the heart of downtown. With public investment to accelerate its launch, JU's College of Law will meet a pressing need for quality legal education in northeast Florida, while strengthening the pool of educated professionals and future leaders in our community.
The College of Law's full-time Juris Doctor program offers small class sizes designed for individualized attention, externships at prestigious organizations, easy access to the City of Jacksonville's greatest legal resources, and strong community connections. Additionally,
Jacksonville University's proven approach to a 360-degree education leverages natural connections and career paths that expand beyond the field of law.
College of Law students will have unique opportunities to augment their education with interdisciplinary graduate certificates through existing programs at the University, in fields such as business, healthcare, fine arts, marine science, technology, public policy, and more.
Learn more about our Juris Doctor program.
Start your application
Our Fall 2023 term is now open!
Virtual Information Session
Attendees will have the opportunity to meet with an admissions counselor to learn more about the program and learn how to strengthen their applications for law school.
Thursday, April 13, 2023
6:00 p.m.
Register Now
Bold Moves
October 6 - The Jacksonville Bar Association gifts the JU College of Law with $10,000 to help ease the cost of quality legal education for our students
October 25 - The JU College of Law welcomes Chief Justice Carlos Muniz of the Florida Supreme Court to campus to meet and take questions from students
November 18 - Inaugural class successfully completes their first semester of law school
December 5 - Dr. Scott DeVito's paper On the Death of Diversity Jurisdiction: An Empirical Study Establishing That Diversity Jurisdiction Is No Longer Justified was published in the Indiana Law Review
February 9 - The College of Law hosts executives and attorneys from GuideWell, Florida Blue, and Cravath, Swaine & Moore LLP for a panel discussion and Q+A session with our students; President Tim Cost announces that the three organizations have pledged $125,000 to the College for scholarship funding
Preparing Students For A Bold FutureCommunity Need, Local Solution
The Jacksonville University College of Law will fill a gap in the city's legal education market by preparing students with a unique, hands-on learning experience to become high-quality lawyers.
By positioning the College of Law within JU's downtown location in VyStar Tower, which is just a 10-minute walk to the Duval County Courthouse, our law students are at the center of a bustling city. Students are mere steps away from prominent legal organizations, active courtrooms, and the courthouse's extensive legal library, which is accessible to JU students. Jacksonville University is also considering all students in the College of Law for merit scholarships up to $14,400. The University is committed to providing students opportunities to succeed in their education and future careers.
Our community extends beyond the Jacksonville city limits; it is wherever our students and graduates reside. The Jacksonville University College of Law aims to educate future lawyers, lawmakers and leaders by providing the knowledge, skills, and resources they need to succeed and make a difference in their communities.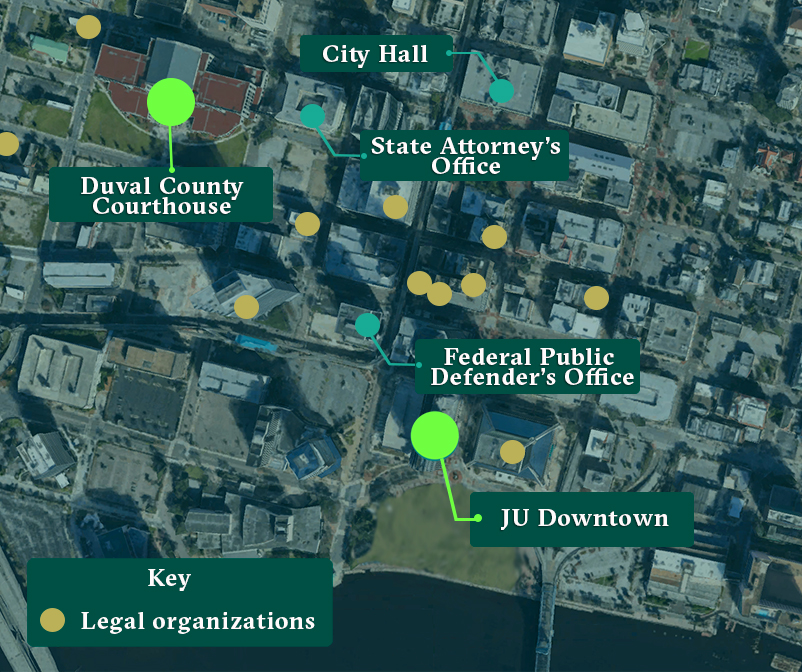 Immersive Education
Jacksonville has been recognized as one of the fastest-growing cities in the Southeast, and according to Forbes Magazine, Jacksonville is ranked as the second-best city for young professionals. Our bustling downtown is home to the Jacksonville University College of Law. Centrally located in VyStar Tower, JU Downtown and the College of Law are mere steps away from the city's greatest legal resources for students.
Within 10 minutes, students can walk to more than 20 prominent legal organizations where they can secure externship and mentorship opportunities, or observe public legal proceedings at the Duval County Courthouse.
Jacksonville University and the College of Law have connections and partnerships all over the city and throughout the nation through our Dolphin Lawyer Association.
Pursue Your Passions
"Any major that develops your critical thinking skills is the right major to prepare you for law school. Whether it's business or history, music or biology, English or engineering, any major you are passionate about will provide you with a valuable perspective as you begin your legal career."
News from the College of Law
Accreditation
Consistent with accreditation protocol dictated by the American Bar Association (ABA), the Jacksonville University College of Law will begin the accreditation process in the spring of 2023. Our goal and highest priority is to achieve provisional accreditation by the time our first class of students graduates. The College of Law is not currently approved by the Council of the Section of Legal Education and Admissions to the Bar of the ABA and makes no representation to any applicant that it will receive approval from the Council before the graduation of any matriculating student.
In the last decade, Jacksonville University has received full accreditation for over 30 programs ranging from healthcare to business administration, and is fully accredited through the Southern Association of Colleges and Schools Commission on Colleges (SACSCOC).
Request For Information
Loading...
Contact Information College of Law
VyStar Tower, 18th Floor 76 South Laura St. Jacksonville, Fla. 32202

Email: graduateadmissions@ju.edu
Quick Links