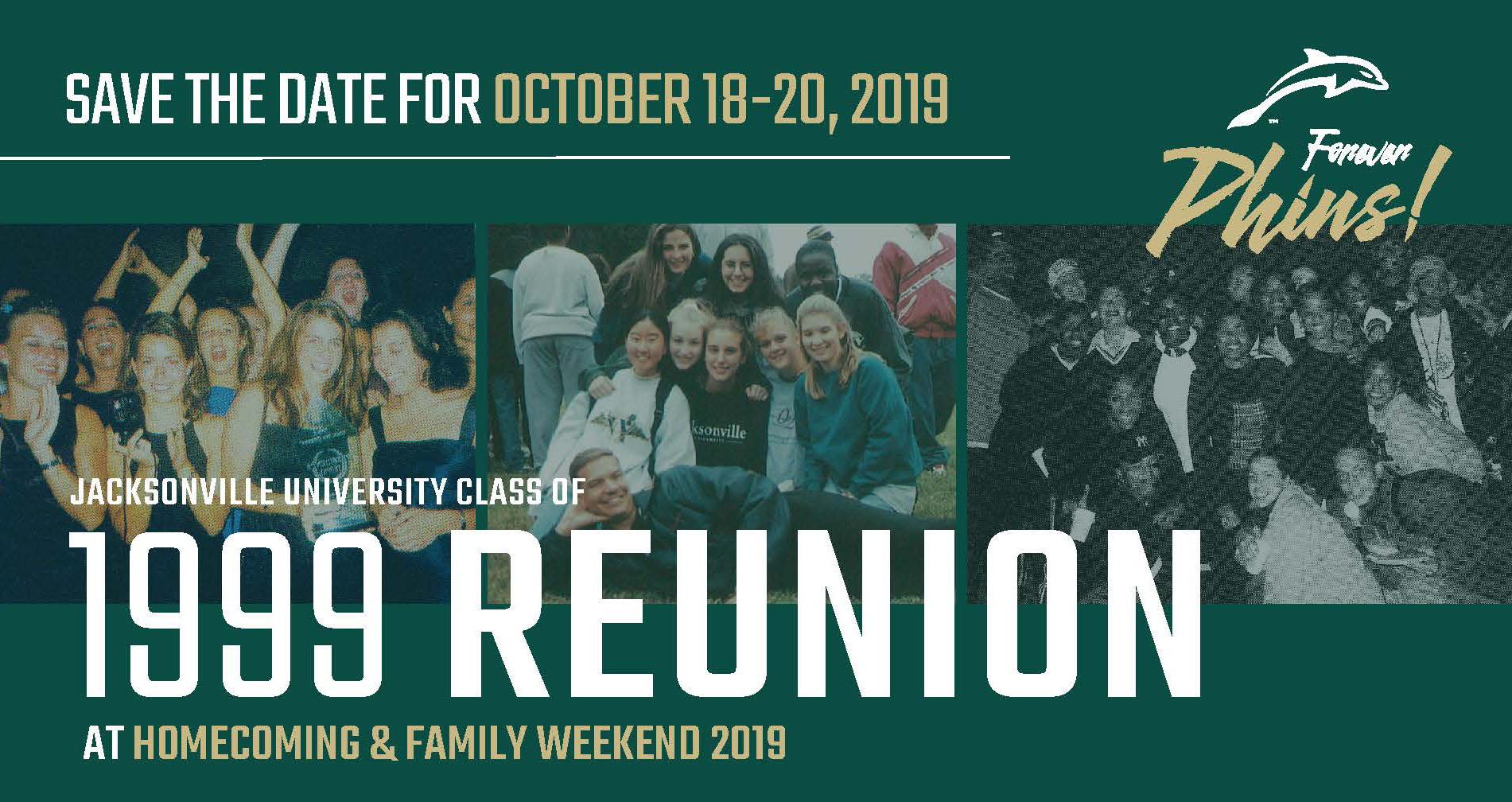 Class of 1999 20th Reunion
It's hard to believe that it has been 20 years since you graduated from Jacksonville University! Get ready to relive fond memories, catch up with old friends and make new ones.
You are cordially invited to celebrate your 20th reunion during Homecoming & Family Weekend October 18-20, 2019 to experience the exciting progress at your alma mater.
Your Reunion Contacts
Thank you to the Class of 1999 20th reunion volunteers!
Jeff Glauser '99
Michale (Gonzalez) Dudley '99,'11
Sheldon Hanson '99
Mike Santarone '99
Joe Bove '99
For reunion information or volunteer opportunities, please contact the assistant director of engagement, Chelsea Shackelford at (904) 256-7202 or alumni@ju.edu.
Connect with classmates and get updated reunion information by joining the Class of 1999 group on Facebook.
Homecoming & Family Weekend Registration
Homecoming & Family Weekend registration is live now! Check out the full schedule of events, find accommodations and things to do in Jacksonville and more at www.ju.edu/homecoming.
Be sure to add the Class of '99 Reunion at Saturday on the St. Johns ticket to your cart before checking out.
Register For Homecoming & Family Weekend
See Who's Coming
Check back regularly for a list of your classmates registered to attend the weekend.
Joe Bove '99
Brian Dudley '96/'05
Michale (Gonzalez) Dudley '99, '11
Jeff Glauser '99
Brian Joyce '88
Mike Santarone '99
Robert Sullivan '01
We look forward to seeing you in October!
Accommodations
Traveling from out of town? Check out our accommodations webpage to be sure you receive the discounted rate. While rooms may be available after the release date, the discounted rate is not guaranteed after the registration deadline.
Class Gift
Give Back with the Class of 1999
Your 20-year reunion is a time to celebrate and give thanks, and you may wish to recognize JU's role in your life by helping other students as they join the Dolphin Family.
Commemorate your legacy and make a gift to the JU Scholarship Fund. Reunion gifts help provide financial aid, much-needed support for faculty, and funding for innovative academic programs and student life. Any gift made in 2019 counts towards your class fundraising goal. We are hoping to raise $20,000 for your 20th reunion to go toward the JU Scholarship Fund!
Alumni News
We want to hear about you and your accomplishments!