Adult Gerontology Acute Care Nurse Practitioner Post-Master's Certificate
The Adult Gerontology Acute Care Nurse Practitioner (AGACNP) post-graduate certificate is for the training of advanced practice nurses to manage adults with critically complex and acute episodic illnesses experienced in both the clinic and hospital setting.
This certificate is available for nurses who already hold a MSN degree or nurse practitioners who are licensed as family or adult nurse practitioners. The AGACNP certificate can be incorporated as part of the DNP program or as a stand alone post-masters certificate.
This certificate will satisfy requirements for taking the AGACNP certification exam from the American Nurse Credentialing Center (ANCC) or the American Association of Critical Care Nurses (AACN).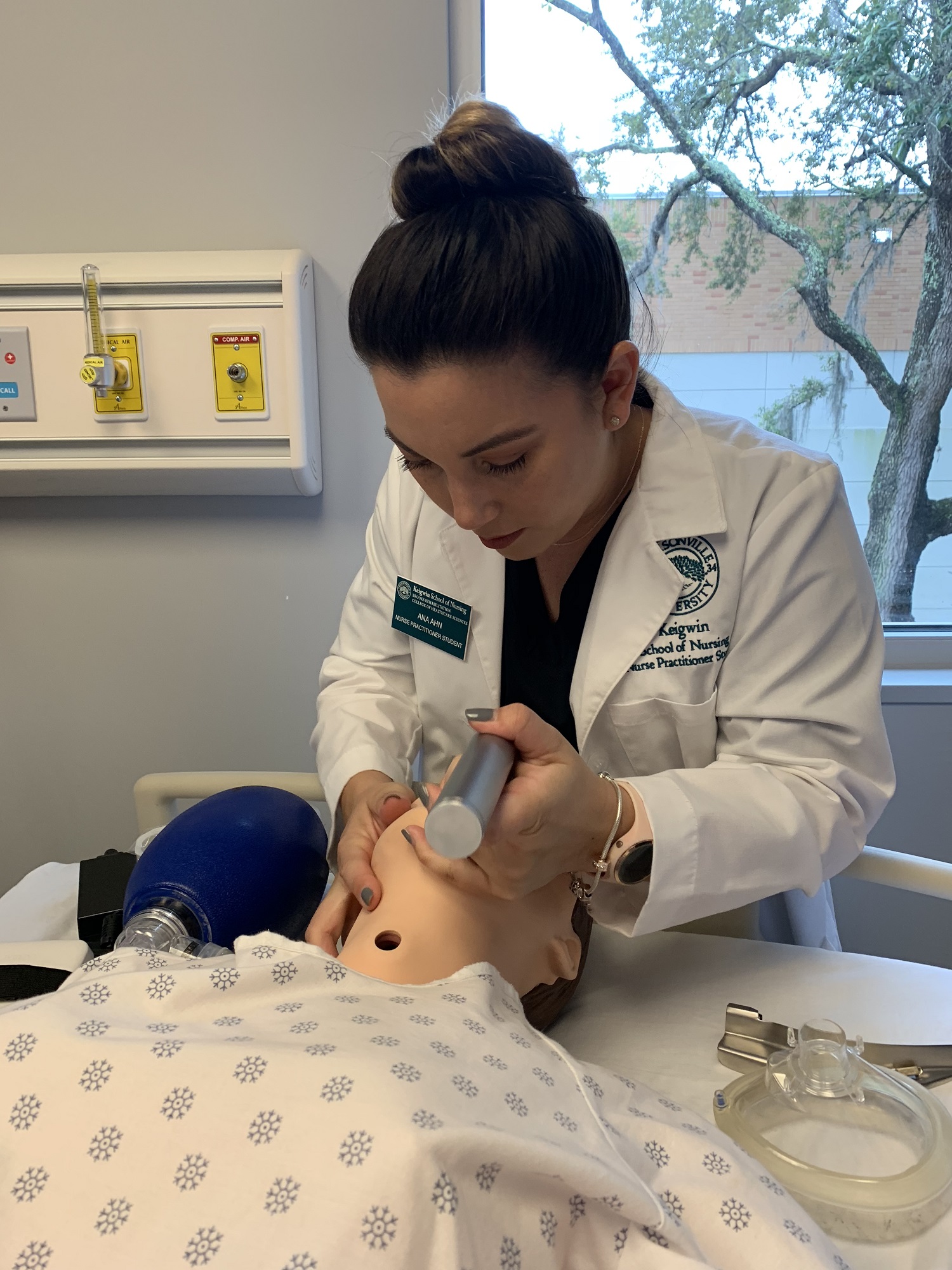 Admissions
The AGACNP Post-Graduate Certificate Progression for those who are RN's with MSN degrees begins one time per year in the fall semester only. The application deadline is February 1.
The AGACNP Post-Graduate Certificate Progression for those who are already licensed FNP's or AGPCNP's begins one time per year in the spring semester only. Applications should be submitted by the February 1 application deadline alongside all other candidates.
Applicants who are qualified for the AGACNP Post-NP Certificate only, can submit an application and materials between February 1st and October 1st each year to be considered for a January start term if there is still space available for the January classes. All AGACNP Post-NP Certificate applicants must submit all required application materials like all other applicants.
Admissions Requirements
Completed online application
$50 non-refundable application fee
Official transcripts from MSN degree
3.0 graduate nursing GPA on a 4.0 scale
Graduation from a CCNE, NLN or ACEN accredited MSN program
Official GRE scores of 290 or higher

The requirement of official GRE scores will be waived for all applicants who have a 3.0 or higher undergraduate nursing GPA

Three letters of recommendation (a minimum of two should be professional references)
Resume or CV
Statement of Intent

A personal statement describing your reasons for pursuing an advanced degree and detailing your professional goals. Should not exceed 2 pages.

Copy of valid Florida RN or APRN License

Out of state applicants must have valid RN or APRN license from a US state and be eligible for license endorsement in the state of Florida.

Two years of work experience in a critical care setting is required
If the applicant's primary language is not English, the TOEFL or IELTS exam will be required

For score requirements, please reference this page here

On campus Interview required for all APRN program candidates who are qualified
For APRN programs, background checks are required for all students participating in clinical practice. Information on the background check may need to be released to clinical agencies for permission to participate at the clinical site. If clinical placement is denied by the agency, and an alternate site cannot be obtained, the student will not complete the program.
Curriculum
Total credit hours: 25
NUR 501: Advanced Assessment (3) †
NUR 502: Advanced Pathophysiology (3) †
NUR 504: Advanced Pharmacology (3) †
NUR 563: Acute Care Nursing I (3)
NUR 564: Acute Care Nursing II (3)
NUR 565: Advanced Acute Care Pharmacology (1)
NUR 566: Advanced Acute Care Clinical Skills (1)
NUR 567: Advanced Acute Care Discharge Planning and Health Promotion (1)
NUR 568: Acute Care Nursing III (3)
NUR 553: Advanced Role Practicum Capstone (4)
† All students who are currently licensed as an APRN are eligible to bring in transfer credit for these courses, reducing the certificate to 16 total credits required.
AGACNP Post-Master's certificate program has met ANCC's (American Nurses Credentialing Center) certification eligibility educational requirements. Students who complete this program, in its entirety, have the educational preparation to sit for the ANCC certification in this role and population.
Contact Us
Tonya Alford
Assistant Director of Graduate Admissions
Email address

talford1@ju.edu
Stacie Butts
Assistant Director of Enrollment and Advising for Graduate Nursing
Email address

sbutts@ju.edu