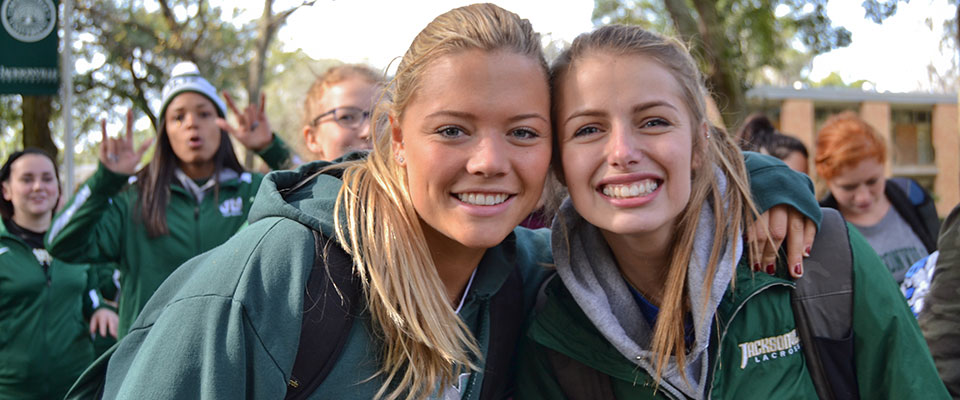 Frequently Asked Questions
What is the application deadline?

Jacksonville University uses rolling admission with soft deadlines, which means there is no official deadline for application submission. However, if the number of qualified applicants exceeds available space, we will close enrollment for that academic year.

By applying early, you are setting yourself up for academic success and scholarship availability. If you are applying for the Spring semester, submit your application prior to December 30. If you are applying for the Fall semester, submit your application prior to August 1.

The Jacksonville University Office of Admissions suggests that high school seniors should apply in the fall semester of their senior year. The application generally opens August 1st of your senior year, and the first round of decisions are released in the month of October. Students applying after that point should not be discouraged from submitting their application, as Admissions will continue to enroll students until enrollment is closed.

Students interested in the NROTC program should apply as early as August, especially if they are interested in the NROTC scholarship. The Freshman Nursing program also only accepts a certain number of students, so they should apply early on for maximum consideration. If interested in the Honors Program, students must be accepted, nominated and have a completed Honors application and official documents submitted by December 30. Please note that nomination to apply to the Honors program is contingent on students' GPA and their ACT and/or SAT scores.

What is the application fee?

The nonrefundable application fee is $30 for all undergraduate applicants. Application fee payments may be made online with credit card or electronic check. Fee waivers are accepted and must be acquired from their current high school guidance counselor, and may be either mailed or faxed in to the Office of Admission.

Is an essay required for applicants?

Yes. Jacksonville University does require an admission essay and prompts are given on the application to assist the student with what to write. Students are welcome to submit supplemental information, such as resumes, or letters of recommendation to enhance their application file.

Does JU require students to submit SAT or ACT scores?

No. Jacksonville University is a test optional school. This means that SAT and ACT scores are not required for admission to the university. However, the Honors Program, the 4+1 Program and the Freshman Direct-Entry Nursing Program, are select programs at JU that do require test scores.

Self-Reported Test Scores
Beginning with students applying for summer 2019 admission and moving forward, we will accept self-reported SAT/ACT test scores as official when submitted with your application. Examples of acceptable SAT/ACT self-reported scores include:

• Test scores included on a transcript
• Screenshot of test scores (email to documents@ju.edu)
• Scores reported in the testing section of either the Common Application or Jacksonville University Application
• Official counselor email with test scores (email to documents@ju.edu)

We will also consider self-reported test scores for JU programs where test scores are mandatory, such as the Honors Program, the 4+1 Program and the Freshman Direct-Entry Nursing Program.

The office of undergraduate admissions will only require and verify official SAT/ACT test scores for students that enroll at Jacksonville University and have selected to have their test scores considered in the evaluation of their application.

How long does it take for a student to receive an admissions decision?

The first round of application decisions are typically in the month of October. After that, admissions decisions are typically made within 4 weeks of receiving all student documentation. Students may call their admissions counselor and check on their status at any time.

Do you look at the writing section of the SAT or ACT?

No. Students may submit the version of the tests with the writing section, but we typically do not consider it as part of the application review process.

Is it better to only send JU the highest ACT or SAT score if a test is taken more than once?

No. Jacksonville University considers the highest combined SAT or composite ACT score on file. There is no disadvantage in sending multiple test scores to the Office of Admissions since the lower test scores are disregarded.

Does JU super-score for the SAT and ACT?

ACT – No. SAT – Yes.

What if applicants want to change the senior year course schedule listed on their application?

JU does not "accept" or "decline" course schedule changes; however, students should notify the university if a course schedule does change and should be aware this change may affect their admissibility or offer of admission. The most important thing to remember is the student needs to earn the proper credits to receive a high school diploma from their current school.

Do students apply directly to an intended major?

Students are not required to declare a major until junior year, but if they know what major they are interested in, they may list it on their application.

Does Jacksonville University accept pre-college credits from Advanced Placement (AP) and the International Baccalaureate (IB) Diploma Program?

Yes. High school students can receive credit through AP examinations and through the IB Diploma Program. The student should have examination scores sent directly to the Office of Admissions for review. Strong scores may allow for a course waiver or course credit.

Does Jacksonville University accept dual-enrollment credit?

Yes. High school students who are in a dual enrollment at a regionally accredited college or university may be eligible to receive credit for coursed work completed at that institution. Since evaluations are made on a course-by-course basis, we cannot tell you what JU credit you will be receiving until you submit the dual enrollment college transcripts to your admissions counselor.

What are the minimum requirements for acceptance to JU?

The average academic profile of the middle 50% of entering freshman is currently:

High school GPA: 3.58 weighted
Composite ACT: 21-27
Critical Reading + Math portions of SAT: 1050-1230

These numbers are not minimum requirements for admission; however, students within or above these ranges are most competitive. Jacksonville University is test optional. However, the Honors Program requires ACT and/or SAT scores. Please submit your self-reported test score if you believe it is competitive based on the above.
---