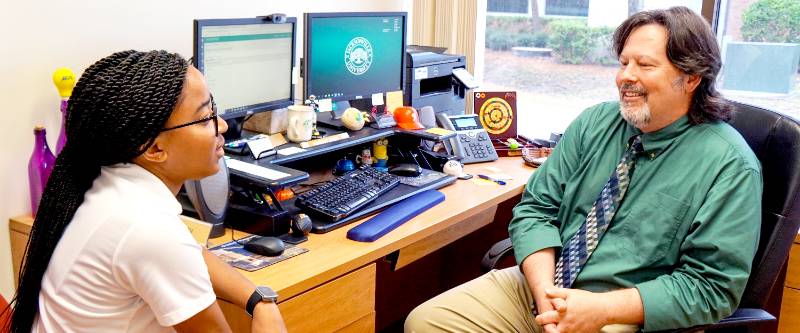 Who is My Advisor?
Advisor assignments are determined by academic level and program
Freshmen, Sophomores, and Pre-Nursing Students: you will be assigned an advisor within the Academic Advising Center by major. Please see list below.
Juniors and Seniors (58 credits or more): You will be assigned to a faculty advisor within your department. To identify your faculty advisor:

Self-Service: log in to MyJU - Self-Service - Student Planning - Plan & Schedule - Advising. You will see your advisor(s) listed under "My Advisors." See how.
Starfish: Click on "My Network" and locate your faculty advisor.
College of Arts & Sciences
Deciding
Education for Instruction
History
Political Science
Psychology
Sociology
Social Sciences
Sustainability, Geography, and Environmental Planning
Biochemistry
Biology
Chemistry
Marine Sciences
Mathematics
Davis College of Business
Accounting
Aviation Management
Aviation
Business Administration
Business Analytics
Finance
International Business
Management
Marketing
Sport Business
Communication
Computing Science
Cybersecurity
Electrical Engineering
Mechanical Engineering
Physics
Linda Berry Stein College of Fine Arts
BFA in Animation
BFA and BA in Art, Concentration in Visual Design
BA in Film
BFA in Art, Concentrations in Ceramics, Glass, Illustration, Photography, Sculpture
BA in Art, Concentrations in Art History, Ceramics, Glass, Illustration, Photography, Sculpture
English & World Languages
Philosophy
Spanish
Dance
French
Music
Theatre
Brooks Rehabilitation College of Healthcare Sciences
Communication and Sciences Disorders
Health Sciences
Kinesiology
Any Advisor:
Pre-Nursing and Freshman Nursing