Facilities & Resources
Facilities
The Phillips Fine Arts Building is an acoustically designed structure that houses a gallery/recital hall, a pipe organ, an recording studio, digital piano/computer laboratory, practice rooms, studios, classrooms, rehearsal rooms, the Alexander Brest Museum and Gallery, musical instruments, and equipment for the Division of Music.
Terry Concert Hall, seating 400 persons, is the venue for ensemble concerts and solo recitals. It provides the finest acoustical setting for small concerts in the area.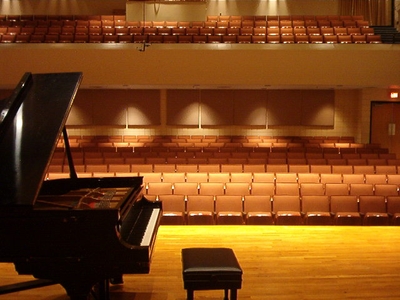 Swisher Theater, seating 400 person, is the venue for operas, musicals, and other staged productions. The venue boasts a computerized rigging system, sound system and new costume shop, scene shop, design studio, makeup room, greenroom, and classroom.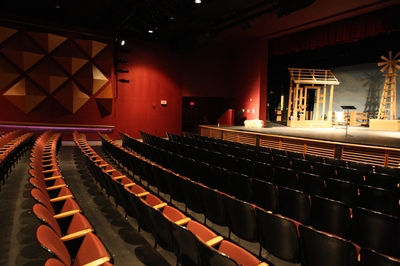 Swisher Library houses an excellent music collection of 20,000 musical scores that covers a wide range of styles from different time periods. The collection also includes more than 3,000 classical compact discs.
Equipment
Recording producers and engineers in the Commercial Music and Music Business programs use the "Hit Pit" recording studio, most often for releases on Dolphinium Records. Equipment highlights include a Neve mixer, 12 channels of Neve Microphone pre-amps, Otari ½" analog mixdown, Pro Tools, JBL Room Mode Correction Monitors, and processing using UAD Quad-core card using plugins including Manley, Neve, SSL, Studer, EMT. The microphone closet features mics by Neumann, Sennheiser, SE Electronics and Shure.
A Kawai Epic Institution
The recent acquisition of 31 Kawai and Shigeru Kawai pianos has been a landmark event for Jacksonville University. In addition to our concert, studio, and rehearsal pianos, students benefit from access to a suite of new, state-of-the-art electronic keyboards in our computer-equipped music lab.
"We chose Kawai as our piano fleet partner for their impeccable craftsmanship, durability, and artistic expression," said Dr. Scott Watkins, Associate Professor of Piano and Coordinator of Jacksonville University's Keyboard Studies Program. "Our investment in these new instruments, like the investment our dedicated students make in a quality education, is one which will last a lifetime. Potential students immediately recognize our commitment to their success, and our alumni know that where they earned their education is worthy of their attention. We are proud to have earned Kawai's EPIC designation, and expect our new fleet of exceptional pianos to attract talented musicians for a long time to come."
Music Business and Commercial Music Instructor Dr. Thomas Harrison added, "anytime that an institution makes significant upgrades to instruments and equipment, you proving to current and potential students that a high level of commitment to relevancy is important to everyone associated with music there. The partnership that we have with Kawai helps students becomes more proficient using the pianos or the keyboard workstations in our music technology laboratory. As a composer, I love writing using the Shigeru and Kawai lines as I find them inspirational as I create."
Exceptional tone, touch and consistency have made Kawai pianos a preferred choice of professional pianists and music educators for generations. The elite Shigeru Kawai grand pianos are acclaimed worldwide for their quintessential tone and performance. The Elite Performing Instrument Collection (EPIC) is a program made possible by the Shigeru Kawai Endowment.