​​​​​​​Veterans and Military Resource Center
The Jacksonville University Veterans and Military Resource Center ​combines the resources of many of the university's offices, including Admissions, Academic Advising, Registrar, Controller, Financial Aid, Career Services, and the Veterans office.
Your primary point of contact for the VMRC will be our Veteran Student Coordinator, Mike Mitchell, who acts as a campus advocate for military and veteran students. He will work with you to ensure your unique needs are met by coordinating with offices of various services such as academic advising, tutoring, counseling, disability accommodations, veterans benefits informa​tion and assistance, as well as facilitating referral to state and federal resources and services. Mike can be contacted at 904- 256-7638 or mmitche26@ju.edu.
Defender's Den
​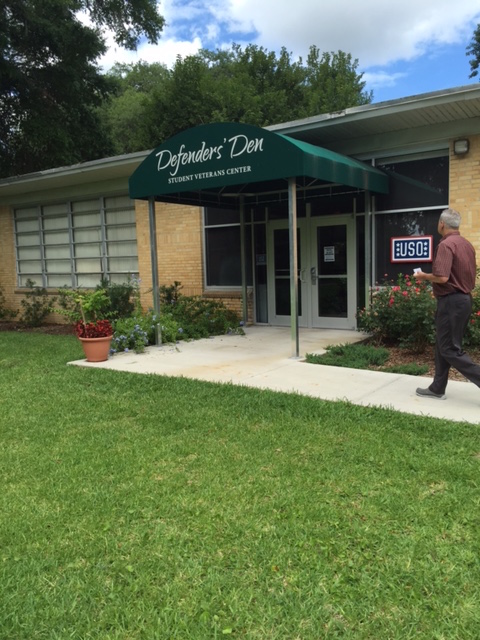 The Military and Veterans campus meeting place is called the Defender's Den, and it is a space dedicated to our campus military community. The "Den" is centrally located on campus in the Founders Building. It is a unique gathering place, with a quiet study area and an open meeting room for events or just relaxing between classes.
To see more of the Defender's Den, check out this Facebook gallery of the space's dedication in March 2014.
We are privileged to have the Greater Jacksonville Area USO http://jaxuso.org/ providing comfort and support to our military students in the Defender's Den.
Additional On Campus Resources