Campus Resources
​​​​​​​Veterans and Military Resource Center
The Jacksonville University Veterans and Military Resource Center ​combines the resources of many of the university's offices, including Admissions, Academic Advising, Registrar, Controller, Financial Aid, Career Services, and the Veterans office.
Your primary point of contact for the VMRC will be our Director, Mike Mitchell, who acts as a campus advocate for military and veteran students. He will work with you to ensure your unique needs are met by coordinating with offices of various services such as academic advising, tutoring, counseling, disability accommodations, veterans benefits information and assistance, as well as facilitating referral to state and federal resources and services. Mike can be contacted at 904- 256-7638 or mmitche26@ju.edu.
Defender's Den
​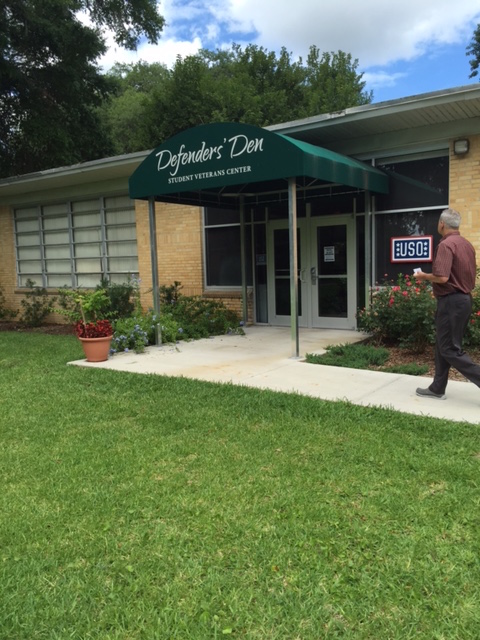 The Military and Veterans campus meeting place is called the Defender's Den, and it is a space dedicated to and exclusively for our campus military community. The "Den" is centrally located on campus in the Founders Building. It is a unique gathering place, with a quiet study area and an open meeting room for events or just relaxing between classes.
To see more of the Defender's Den, check out this Facebook gallery of the space's dedication in March 2014.
We are privileged to have the Greater Jacksonville Area USO providing comfort and support to our military students in the Defender's Den.
Student Veterans of America
The Student Veterans Association (SVA) is a nationwide organization with a mission is to provide military service members and veterans with the resources, support, and advocacy needed to succeed in higher education through graduation. Jacksonville University has an award-winning SVA Chapter that promotes communication and interaction to encourage veterans helping veterans. We sponsor organizational operations and social events and networking opportunities that include family, loved ones, and veteran supporters. Our Chapter plans and supports events that will aid in the recognition of national holidays and members of the armed forces. The Chapter's contact is SVA@jacksonville.edu, and we are located in the Defenders Den in the Founders Building on the JU campus.
​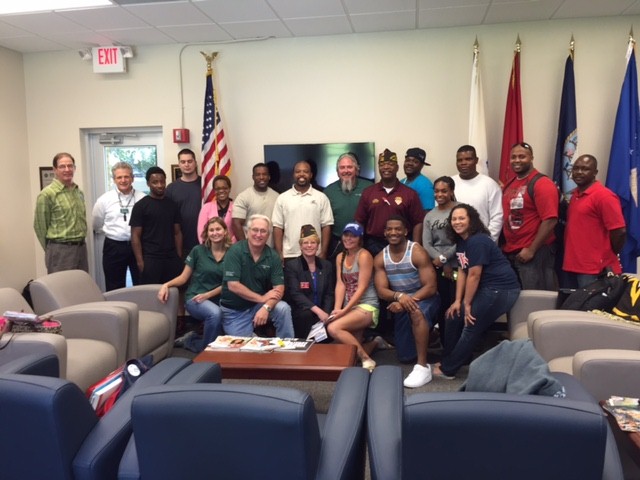 Helpful Links
Additional On Campus Resources