Understanding My Bill
Charges are applied when you register for classes. Your bill will include tuition for the semester or the term you just registered for, as well as other applicable charges and fees. Charges may also be applied throughout the semester in the form of fines and penalties, registration activity, prorated room and board, updated financial aid awards, etc. You should check your account statement online regularly to stay informed about your account and avoid overdue charges.
Financial Aid
NOTE: Approved financial aid will be subtracted from your balance automatically. If you are expecting financial aid that does not appear on your bill, please contact Student Financial Services.
Costs & Fees
Professional Studies Costs & Fees ⇒
What are these charges for?
Book Bundle: Term fee, charged during each term of your enrollment. The Dolphin Direct Textbook Program provides all undergraduate students access to required textbooks and access codes for an affordable flat rate per semester. Learn more about the Book Bundle.
Document Fee: The document fee covers notary services provided by the Registrar's Office, transcripts, education verifications, and other documents requiring official signatures and the University seal. This fee also covers the first diploma printing and mailing costs. This a one-time fee and eliminates the per transaction fees for these services.
Late Payment Fee: Charged at the end of the month for each month your account carries a past-due balance.
Payment Plan Fee: Charged when you apply for a payment plan. This fee is $75.
Student Health Insurance: Term fee, charged during each term of your enrollment. All students who do not have equivalent insurance must enroll in Student Health Insurance through the University. Learn more:
Student Success Fee: Term fee, charged during each term of your enrollment (Fall and Spring only). Only undergraduate students pay this fee, which helps to improve campus amenities, including the academic technology used by our faculty, Career Management facilities to support student career planning, and our technology infrastructure throughout campus.
Student Wellness Fee: Term fee, charged during each term of your enrollment (Fall and Spring only). The Student Wellness Fee supports the Student Health Center, which provides a full range of primary health care services and assists with referrals to specialists as needed.
Subscription Fee: Course-specific fee. Students in some graduate and professional studies healthcare courses pay a subscription fee for specific courses that require clinical access. Courses that require a subscription fee are listed on the tuition page.
When are bills issued?
Upon registering for classes, electronic billing statements will be sent via JU email on the 15th of each month. Student financial statements can be viewed anytime on the self-service portal.
Authorized users – parents or guardians whom students have authorized to view their billing statement and to make payments on their account – receive statements on the 17th of the month. Learn more about Authorized Users and how to set one.
Anatomy of a Bill
This is a fictionalized example of a student bill. If you have questions about your own account, please contact Student Accounts at studentaccounts@ju.edu or (904) 256-7080.
1. Top of the Bill
The top portion of your bill will always have student ID number, your name, and the amount that is due.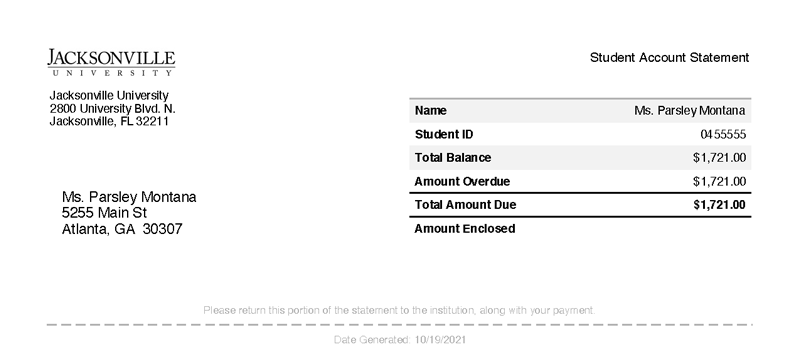 2. Summary
The next section shows a quick summary of your charges and credits.

3. Course Schedule
Your bill then shows the courses you are registered for, including the number of credits associated with each. Tuition for most programs at Jacksonville University is charged by the credit hour, so this section helps to show you why your tuition is what it is.

4. Account Activity Deals
This area provides a slightly more in-depth look at your charges each semester.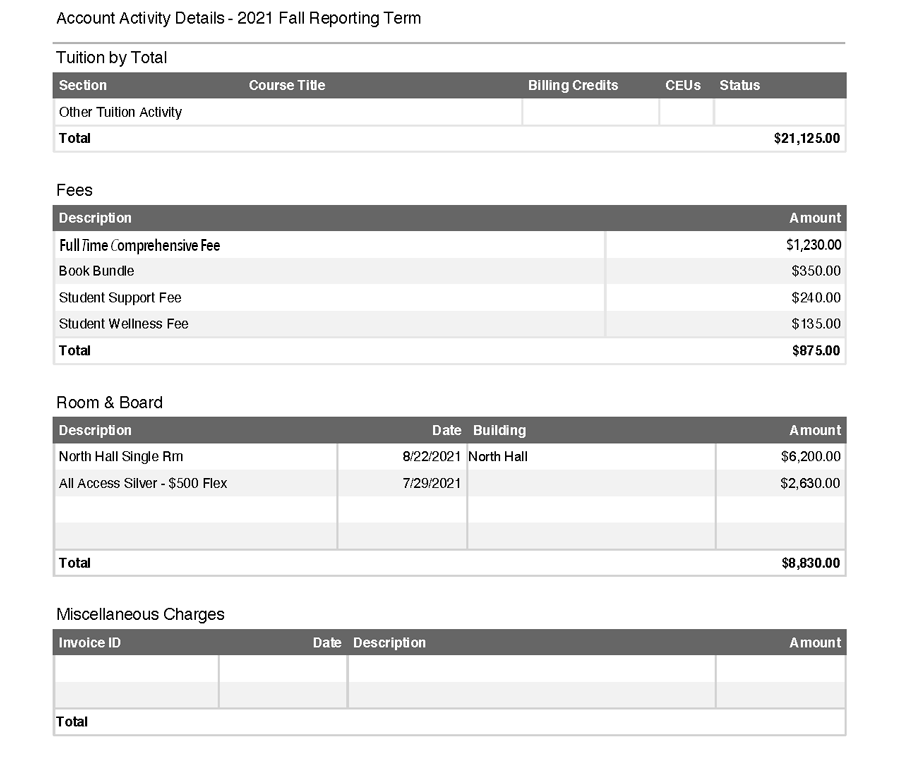 5. Payments
This section reflects the payments you have made against your balance during the current term.

6. Financial Aid
The next section shows the financial aid you have been approved for, item by item.