Start Your Healthcare CareerPractical Nurse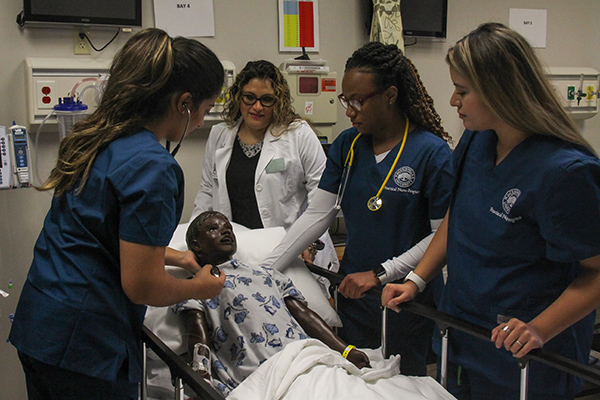 Take Your First Step in HealthcareBecome A Practical Nurse
Start your healthcare career with Jacksonville University's Practical Nurse (PN) program! In just 12 months, students of the Practical Nurse program will prepare for the exciting field of nursing by gaining the skills and knowledge needed to succeed. This program will be located at Jacksonville University's Healthcare Simulation Center (HSC) on Beach Boulevard, just south of JU's Arlington campus.
This program is not currently accepting applications.
The Jacksonville University AdvantageWhy Choose Our Program?
Students of the Practical Nurse program will learn the necessary healthcare delivery skills in a strategic, purposeful and flexible model from expert faculty at our state-of-the-art Healthcare Simulation Center. Jacksonville University faculty will guide, mentor, and prepare you to successfully enter the nursing profession upon completion of the program.
Graduates of this program are eligible to sit for the National Council Licensure Examination (NCLEX) to become a Licensed Practical Nurse (LPN).
The Practical Nurse program is approved by the Florida Board of Nursing and SACSCOC.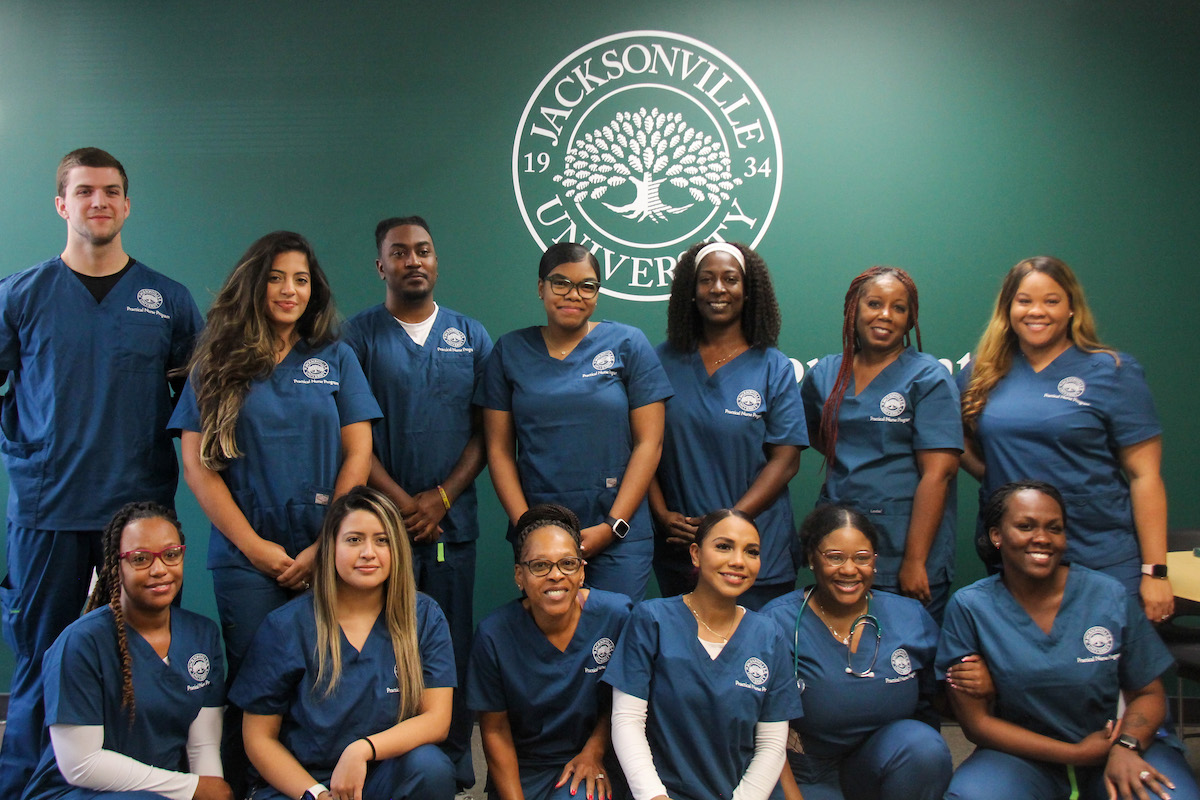 Healthcare Simulation CenterSimulated Scenarios, Real Experience
Practical Nurse students will learn the skills and knowledge they need to excel in their healthcare career by earning a hands-on education at the Jacksonville University Healthcare Simulation Center (HSC).
"Our high-fidelity medical manikins are incredibly lifelike and responsive," said Dr. Kathleen Kavanagh, executive director of JU's HSC. "These manikins breathe, blink and respond as real patients do, which allows trainees to practice clinical scenarios in a realistic environment."
Jacksonville University Healthcare Simulation Center
[Dr. Kathleen Kavanagh]
Medical errors are a huge problem for our healthcare industry. There's about 400,000 medical errors a year.
[Dr. Christine Sapienza]
You have things like maternal death on the rise. You still have things occur like falls in hospitals. You still have issues with infection control. All of this is better trained when you can repeat and repeat process, and that's best done in simulation.
[Dr. Kathleen Kavanagh]
Simulation training helps to provide a safe environment for healthcare professionals to work together collaboratively as a team and then also practice in a safe environment where they can't harm a patient. If there is an error made within that training environment, they can review it debrief on it, correct it, and then increase the quality of care when they are in the actual healthcare setting.
[Dr. Christine Sapienza]
You're in a low-risk environment you're not dealing with human patients you're dealing with mannequins. So in simulation that allows us to be able to tackle some of these more pressing issues.
[President Tim Cost]
Great thing about coming to this brand new simulation center is it fits the vision not only of the university, it fits the vision of the healthcare providers in this region. You come in here and it is as lifelike a representation of the environment as you could want to have and that's what we're trying to do. We're trying to teach applied. You come into a place like this it's not a place with classrooms this is a place where you're walking through a true simulation center feels like you're in a hospital.
[Dr. Kathleen Kavanagh]
Our high-fidelity mannequins provide a very realistic environment for a learner to practice on. The high-fidelity mannequin represents the most humanistic type of patient that we could have and as the learner is practicing using these types of mannequins we are able to change that mannequin to represent what that learner's action does. So if the learner does something incorrectly, if they give a medication that they shouldn't have given and it should drop their blood pressure because they gave that medication, then we changed the mannequin to do that.
[Dr. Christine Sapienza]
The mannequins really serve as the pseudo patient and this is this is happening really globally. Simulation centers are being built in universities and medical centers all over the world.
[Dr. Kathleen Kavanagh]
We do want healthcare professionals or learners to make mistakes in this safe environment this is a positive environment we encourage our learners to always feel comfortable here never to feel threatened or insecure. If a mistake is to occur we want it to happen in this environment so it is not on a real person and that is the benefit of training in this healthcare center.
[Dr. Christine Sapienza]
It's a special place for Jacksonville because we don't have anything like this in our community. One central location that could serve all different types of clients to learn, repeat, gain knowledge, and skills on practice patterns.
Eligibility & Requirements for Admission
This program is not currently accepting applications.
Nursing Start to FinishContinuing Your Education
Jacksonville University has a proven track record of preparing nurses for the exciting career ahead of them. For over two decades, JU and the Keigwin School of Nursing have stayed committed to the success of each student by providing high-quality, well-rounded education and ensuring they are prepared for the ever-changing environment of healthcare. With Jacksonville University, you can choose the right track for your healthcare career with a variety of degree options.
Request More Information
Loading...