Online Submission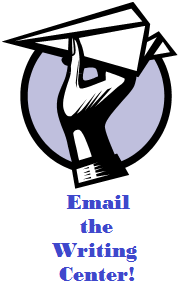 If you are an online or ADP student here at JU, you may want to consider submitting your work online.
In order to do so, you should:
Use the link on the right to email your paper to wcenter@ju.edu

Include your name, title of course, and instructor in the email

Attach your essay/writing assignment as an attachment

Include assignment directions either as an attachment or by describing them in detail
Generally, we try to respond to submissions within two of our 'open' days (M-TH during the school year). Submissions will be reviewed in a first-come, first-served manner with preference being given to students who visit the center. The essays will not be 'edited,' but feedback will be offered as well as in-text comments.