Student Profiles, Class of 2024
Jasmine Agadzi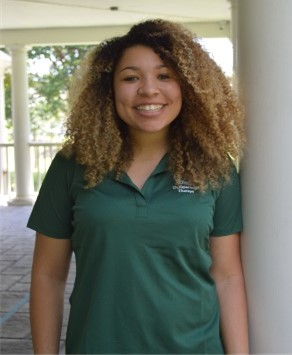 Jasmine Agadzi is originally from Pensacola, FL and graduated from the University of West Florida with an undergraduate degree in Psychology. She chose JU's OT program because of the superior care and attention given by the faculty towards the student's education. Also, because of the excellent audiovisual and interactive opportunities provided by the program, which is especially beneficial during the pandemic outbreak. Jasmine has seen firsthand how important therapy really is. Having traveled and witnessed the lack and need of therapy in developing countries sparked an interest in this field. She volunteered at the Sacred Heart Autism Center under an OT in her hometown, where she worked with children, and saw the benefits that therapy had. After she graduates, she plans to work in pediatrics.
Hannah Bateman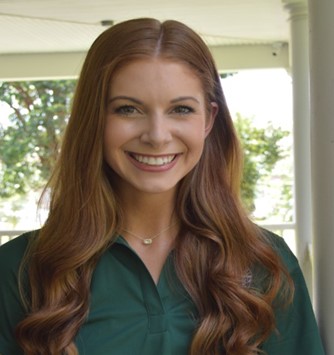 Hannah Bateman is originally from Summit, Mississippi, and graduated from Mississippi State University with her Bachelor of Science in Kinesiology in May 2020. Upon graduation, she spent time working with children on the autism spectrum as a Registered Behavior Technician for Applied Behavior Analysis (ABA) Associates in Troy, Alabama. Hannah was exposed to the field of occupational therapy while in elementary school and has pursued this career path ever since. Fueled by her innate desire to help others, Hannah has spent 14 years volunteering at Camp Sunshine in McComb, Mississippi, which is an overnight summer camp for special needs children and adults. In addition, she has advocated for individuals with autism by using her platform as a contestant in Miss Mississippi to propose plans to the Mississippi Legislature for a school-to-work program within the Mississippi public school system, as well as working to broaden community inclusion and outreach for this population. Hannah chose to attend JU for the unique curriculum design, availability to new technology, and well-versed staff. She looks forward to exploring the many settings of occupational therapy while at JU with plans to one day open her own practice.
Kaitlyn Burke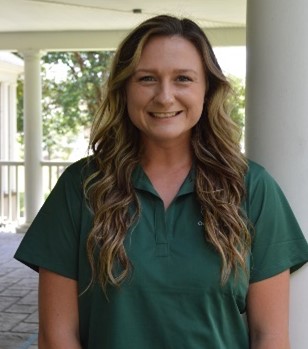 Kaitlyn Burke is originally from Interlachen, Florida. She received her bachelor's degree in Exercise Science and Health Promotion at Florida Atlantic University. Kaitlyn chose JU OTD because of the location, small class size, and the diverse faculty that give experience and knowledge of different settings of occupational therapy. She has internship experience at the Veterans Affair Medical Center in Gainesville, Florida working with veterans in stroke therapy, and volunteered with Miracle League bringing joy and guidance to children with disabilities whilst playing baseball. After graduation, she would like to pursue a career in a Veterans Affair hospital and work with disabled veterans.

Rachel Cain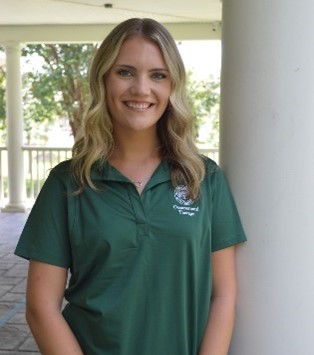 Rachel Cain is originally from Fort Myers, Florida. She graduated from Florida State University with a Bachelor of Science in Family and Child Sciences with a minor in Psychology. She chose JU's OT program because she loved the intimate school feeling where the staff felt like a family that would be supportive, encouraging, and committed to her graduate career. Additionally, she was impressed with the faculty's extensive background and dynamic curriculum. She was first introduced to OT through her childhood friend who has autism. This friend became an extension of her family through Youth Group, summer camps, and holiday gatherings. Over the years, she saw him grow as a result of therapeutic interventions and hopes to have the same impact on her future patients. During her internship with a pediatric outpatient center in Tallahassee, she experienced the positive effect of occupational therapy. This opportunity strengthened her passion for children as she was able to see first-hand how OT improved the quality of life for others. Of the many aspects of OT, she appreciates its plasticity, adaptability, and creativity to support each unique individual. She hopes to bridge the gap between someone's future and their diagnosis by building meaningful relationships. After graduation, she plans to work with children with special needs and advocate for early intervention for children with autism.

Emma Casalino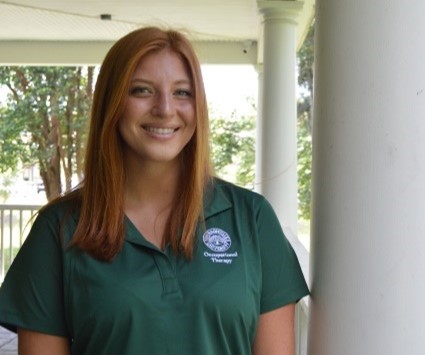 Emma Casalino is originally from Charlotte, North Carolina and graduated from the University of Florida with a BS in Applied Physiology and Kinesiology. I chose JU's OT program because of the smaller class size, as well as the opportunity to learn with state-of-the-art technology. I was originally exposed to OT when my cousins were diagnosed with ASD and have appreciated the profession ever since it made such a great impact in their lives. Throughout my undergraduate experience, I was very involved in Best Buddies International, which focuses on promoting inclusion and demonstrating friendship for those with intellectual and developmental disabilities. In my senior year at UF, I spent a semester interning at a Hand and Upper Extremity clinic, exposing me to the specialty. I plan to continue to explore hand therapy or pediatrics (or both) as a career path upon graduating from Jacksonville University.
Camryn Diss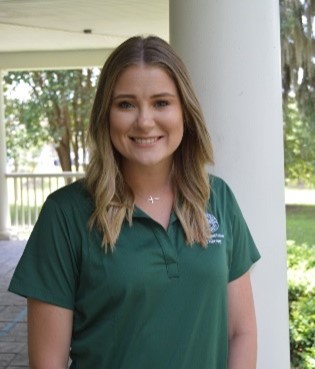 Camryn Diss is originally from Bradenton, Florida and graduated from Florida State University with an undergraduate degree in Psychology and a certificate in Developmental Disabilities. She chose JU's OT program because of the small class size and knowledgeable professors from all areas of the field. Camryn was originally exposed to OT when she was a patient in hand therapy after a wrist injury. As an undergraduate, she volunteered with Dance Marathon at FSU, raising money for children with chronic illnesses. After graduation, she plans to work in a NICU or pediatric setting with children who have developmental disabilities.



Katie Faulk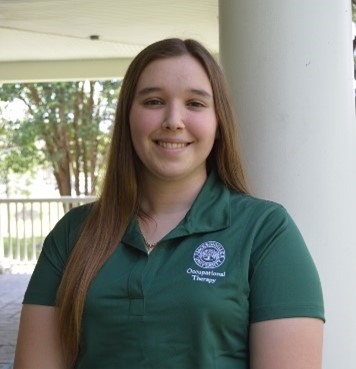 Katie Faulk is originally from South Louisiana. She received her Bachelor of Science and a minor in Psychology from Nicholls State University. Katie chose JU because of the doctorate level education, the small cohort, and the beautiful campus. She became interested in OT as a teenager while helping teach children with special needs. Then, in her last year of college she got hands on experience working with patients at a local hospital. After she graduate, she hopes to return home and work at a pediatric hospital.
Amanda Haltiwanger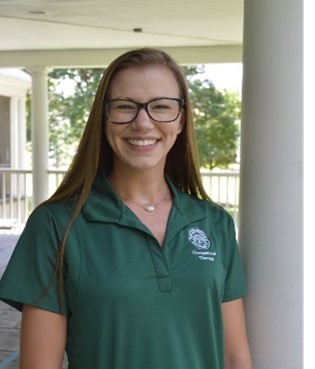 Amanda Haltiwanger has grown up living in Jacksonville, Florida. She has received her bachelor's degree from the University of Florida in Health Science. She chose JU because of the smaller class sizes, the location of the campus, and the advanced technology they have for their students to use. She was exposed to OT while taking classes in her undergrad and has falling in love with the profession ever since. She gained more exposure of OT while shadowing at Mayo Clinic here in Jacksonville, where she learned how important it is for individuals' to be able regain their ability to be independent again with common everyday activities. She has grown up working with children through engaging in Best Buddies, babysitting, working in a childcare facility, and tutoring a young boy with Cerebral Palsy. After graduation, she would love to work with the pediatric population, specifically regarding those with developmental disorders.
Selena Harris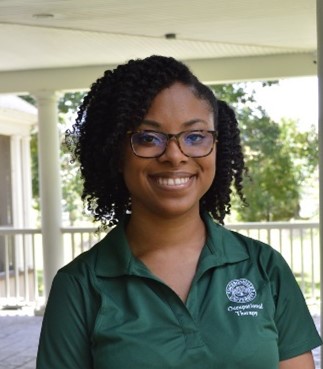 Selena Harris is originally from Stockbridge, GA. She graduated from Augusta University with a Bachelor of Science in Biology (Pre-Occupational Therapy track) and a Bachelor of Art in English and Foreign Language, Spanish concentration. She also graduated from Georgia Institute of Technology with a Master of Science is Applied Language and Intercultural Studies in Spanish. After narrowing down a few universities of interest, she chose JU's OT program because of the smaller campus and class size, the available technology, and the distinctively specialized faculty. During her initial time in undergraduate studies, Selena explored a few different health-related career options. After some research and a few shadowing experiences, she realized that OT was the right career path for her which incorporates her passion of helping people in a genuine and individualized way. Following graduation, Selena would like to work in the pediatric population with a specific focus in Transitional Youth and Mental Health while using the Spanish language skills she's developed to provide access to more culturally diverse populations.
Adilene Hernandez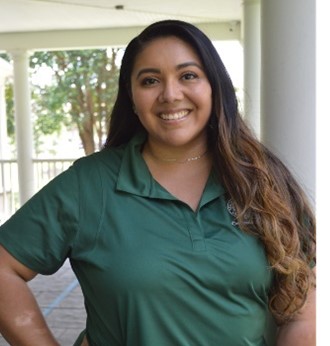 Adilene Hernandez is originally from West Palm Beach, FL and graduated from the University of Florida with an undergraduate degree in Family, Youth, and Community Sciences and a minor in Health Disparities. She chose JU's OTD program because of small cohort size, location, and faculty's professional and extensive experience. Adilene was originally exposed to OT through her position at Early Steps— an early intervention program helping families with babies at risk for developmental delays. Currently, she is interested in combining pediatrics with another practice area. As an OT she hopes to make a positive impact and help her patients gain their independence. After graduation, Adilene is interested in working in a hospital setting.
Dana Jones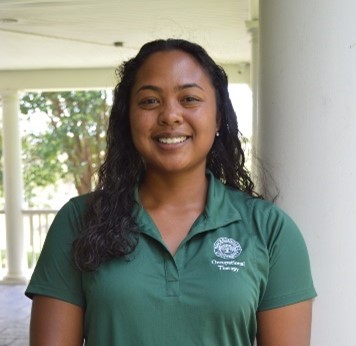 Dana Jones is originally from Tampa, FL. She completed her undergraduate studies with a Bachelor of Science in Health Science and a minor in Psychology from Florida Gulf Coast University. Dana chose JU's Occupational Therapy program because of their emphasis on leadership and community engagement. She aspires to create relationships with her clients, while advocating for individuals who seek independence and strong confidence in the occupations they desire. Dana's passion for OT solidified when she was working at a nonprofit school for children with special needs. She is inspired by the therapists and educators who insist on creating opportunities for individuals who desire to reach their full potential. Creating a safe space and positive environment for clients, as well as other professionals, is what she hopes to achieve as a practitioner. After graduation, she hopes to continue to make a positive and meaningful impact in the lives of everyone she interacts with.
Sydney Karas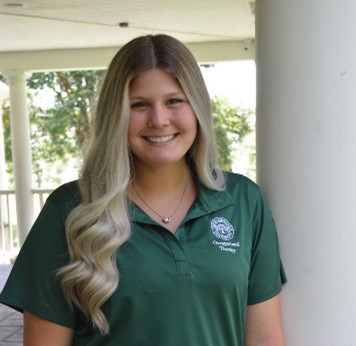 Sydney Karas is originally from Mingo Junction, Ohio. She graduated from Miami University with a Bachelor of Science in Kinesiology and Health with a focus on the aging population. She chose JU's OT program because of the committed and enthusiastic staff as well as the high level of technology available to assist in learning. The small cohort size and the welcoming student body were also appealing. Sydney was originally exposed to OT in high school through the experience of being a student trainer, where she was able to observe athletic training, physical therapy, and occupational therapy. She fell in love with the world of OT because of the positive environment and the high level of meaningfulness associated with the career. She has always had a love for giving back to her community and its members, and she hopes to make a significant impact on whoever may need help. After graduation, Sydney hopes to work with a range of age groups and pursue her interest in hand therapy.
Zoe Kennedy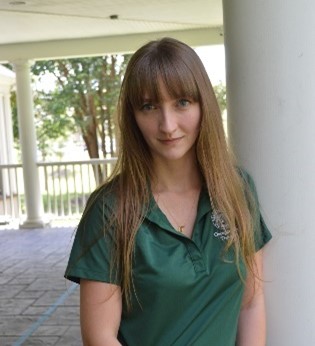 Zoe Kennedy is originally from Jacksonville, FL and graduated from the University of North Florida with a Bachelor of Science degree in Psychology with a concentration in Child Psychology. She chose JU because of the school's communal connections, location, cohort size and the diverse professional backgrounds of the faculty. She was initially introduced to Occupational Therapy while working for a local non-profit school for children with developmental disabilities. Zoe believes that Occupational Therapy provides the perfect opportunity to utilize creative problem solving while addressing the physical and psychological needs of the individual. As an undergraduate, she served multiple roles working with children with special needs including working as a registered behavior technician, teacher's assistant, respite care provider and academic tutor. After graduating, Zoe intends to continue to work in pediatrics, ultimately combining her personal interests in nature; animals and pediatric care to conduct research on the benefits of Animal Assisted Therapy.
Dawson Kuhn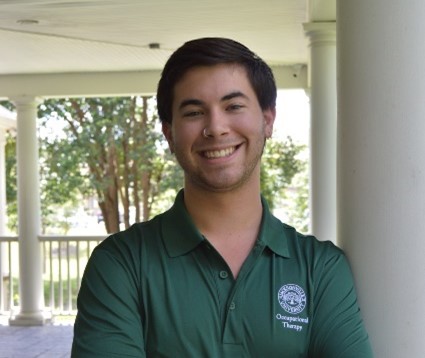 Dawson Kuhn is originally from just outside of Atlantic City, New Jersey and graduated from JU (2021) with a Bachelor of Science in Psychology. During his at time at JU he was affiliated with many on campus organizations and worked for the office of admissions for 3 1/2 years as a student ambassador. I plan to tear down the stigma around mental health as an occupational therapist and do some major work to improve the lives of others. My positivity and perseverance should enable me to be the best person for any job and any patient and I'm excited for what the future holds!
Sarah Lechner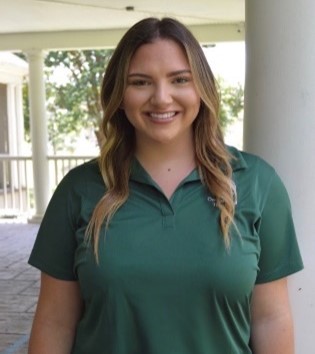 Sarah Lechner is originally from St. Augustine, FL and graduated from Florida State University with a bachelor's degree in Family and Child Sciences. She chose JU's OT program because of the tight-knit cohorts and community relations the program shares with healthcare systems in Jacksonville. Knowing she wanted to do something in the medical field, Sarah was exposed to OT through her own research and fell in love with the profession during a shadowing experience in acute care. During undergrad, Sarah worked in an administrative position at a private practice where she learned the importance of professional communication, clinical reasoning, and client-centered treatment. After graduation, Sarah looks forward to starting a life-long career in the field and hopes to work in acute care with individuals of all ages.
Emmy Makic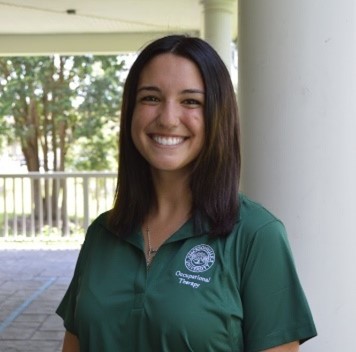 Emmy Makic is originally from Jacksonville, FL and graduated from the University of Florida with a Bachelor of Science degree in Health Education with a minor in Disabilities in Society. She chose JU's OT program due to it being so close to home, as well as experiencing a smaller cohort size to develop closer relationships with the faculty and students. Emmy was initially exposed to OT when volunteering at UF Health Rehab Center for Kids during undergrad. This experience solidified the career path she wanted because of the creativity and impact within each session. After graduation, Emmy is currently planning on working in Hand Therapy, due to an internship experience that really opened her eyes to a new OT path. However, she is open to differing experiences and a change in her post-graduation plan.
Elizabeth Murphy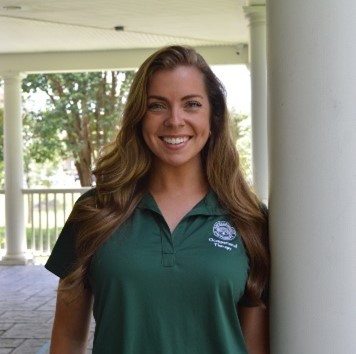 Elizabeth Murphy is from Chapin, South Carolina and attended Clemson University (Go Tigers!) where she received a bachelor's and master's degree in Recreational Therapy. While at Clemson, Elizabeth gained monumental experience working with individuals with varying impairments through adaptive sports, which culminated in her master's thesis regarding her work implementing an international adaptive sports training program in efforts to understand its impact on Thai attitudes towards individuals with disabilities. After graduating, she began working with Brooks Rehabilitation's Adaptive Sports and Recreation program. While working with Brooks, Elizabeth witnessed the impact that meaningful occupations, adaptations, and community have on health, well-being, and quality of life which led to her decision to pursue occupational therapy. Elizabeth decided to continue her education at Jacksonville University (JU) because of the robust technology, community involvement, intentional faculty and staff, and partnerships with world-class healthcare organizations throughout the Jacksonville area. While she is fascinated in neurological diseases across the lifespan, she is eager to explore other populations throughout various settings. Elizabeth is grateful for the opportunity to continue pursuing her passion of serving individuals with impairments through JU OTD program.
Haley Pitman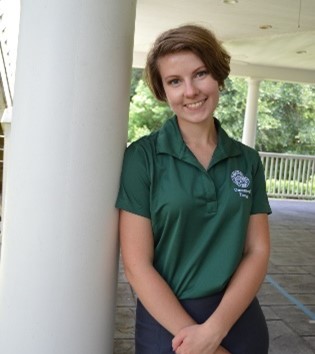 Haley Pitman is a Jacksonville native and graduated from the University of Florida with a Bachelor of Science in Health Education, specializing in Community Health Promotion. She chose JU's OT program because she wanted the individualized attention and deeper relationships that a smaller cohort could offer, and she wanted an engaging, collaborative educational experience that allowed her the opportunity to give back to her hometown. She chose the field of OT after repeated exposure to it, once after surgery when she was young and once after she third-degree burned her hand back in 2019. That experience led her to consider specializing in burn rehabilitation, and she looks forward to learning more about it. As an undergraduate, she volunteered at a local elementary school, shadowing their physical and occupational therapists to learn more about adaptive learning in a school setting. After graduation, she began volunteering at Horseplay Therapy Center, learning about interdisciplinary pediatric hippotherapy. She still volunteers there to this day. After graduation, she plans to work in burn rehabilitation, equine-assisted therapy, or both.
Melanie Risola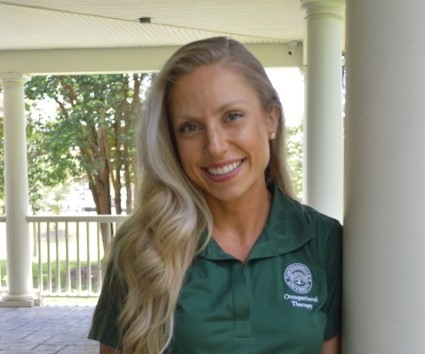 Melanie Risola is a Florida native—born and raised in the small historic town of Tarpon Springs. She earned her bachelor's in science degree from the University of Central Florida in Orlando, where she completed her honors undergraduate thesis in nutritional intervention as cancer therapy. She discovered her love for Occupational Therapy when she observed a school setting, where she witnessed productive play in a sensory gym. Many experiences with the field helped her see that OT was not just a career but a calling. She has experience coaching among diverse populations, where she continued to develop her passion for nutritional intervention and the holistic approach, particularly among the autism community. Melanie chose to pursue her Doctor of Occupational Therapy degree at Jacksonville University because of the variety of community partnerships, the opportunity for advanced clinical experience, extraordinary faculty, and family feel. She plans to continue exploring her research interests in behavior, quality of life, and therapy outcomes involving nutritional intervention. Her goal as a future practitioner is to advocate for individuals with task limitations and potentially open a practice with inclusivity as the focus.
Bailee Schroeder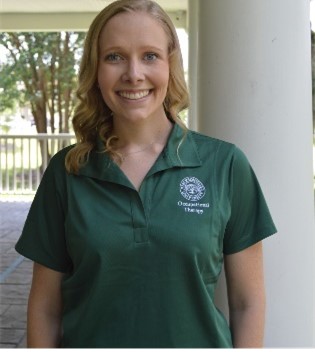 Bailee Schroeder is originally from Clearwater, Florida and graduated from the University of Central Florida with an undergraduate degree in Health Services Administration. She chose JU's OT program because the small class sizes lead to close-knit relationships with professors and peers within the program. Throughout her undergraduate degree, Bailee was a program assistant at the Conductive Education Center of Orlando working with children with cerebral palsy and various motor disabilities. There she was exposed to OT where she helped transform the lives of these children, assisting them with their daily activities. After graduation Bailee plans to work with adult patients recovering from brain or spinal cord injuries but has a very open mind and would love to work with all populations and abilities.
Sierra Smith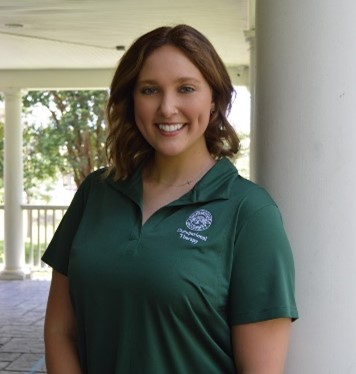 Sierra Smith is from Cape Canaveral, Florida. She graduated from the University of North Florida with a Bachelor of Science degree in Athletic Training. Sierra personally had experience with OT when she was in the hospital recovering from a liver transplant in 2020. She was in the process of applying to OT school while doing her therapy and states that the experience made her even more sure that occupational therapy was right for her. Sierra was initially exposed to occupational therapy at 13 years old when she watched her grandma regain her independence and identity back after suffering from a stroke. Between those two personal experiences and hours of shadowing and volunteering, she knew her passion was to pursue OT. She wants a career that will greatly impact people's lives and the things they love to do; Sierra says she can't think of a more rewarding career than occupational therapy.
Amber Snyder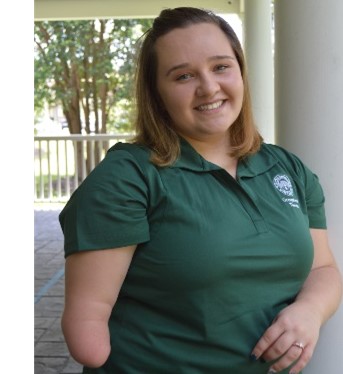 Amber Snyder is originally from Audubon, New Jersey and graduated from Rowan University with a Bachelor of Arts in Health and Exercise Science with a Specification of Wellness Management and a minor in Psychology. She chose JU because of the diverse backgrounds each faculty member has in OT and the curriculum, which has focuses on mental health and the ability to specialize in desired fields. Amber was born a congenital amputee from her right elbow down. With the help of Occupational Therapy throughout her life, nothing has slowed her down. She has 8 years of experience working with the non-profit organization called Nubability Athletics and takes on a key role as Junior Varsity Head Coach which allows her to mentor children ages 4-17 to achieve greatness through adaptability on and off the softball field. Amber believes Occupational Therapy paves the way for adaptation and has the strength to normalize disabilities throughout society. Amber has seen how Occupational Therapy has positively impacted her life in everyday activities as well as through sport and she is motivated to give back to the community that help her strive and become independent. After graduating from JU, Amber is dedicated in continuing to work with pediatrics and young adults to promote and make life altering changes through her passions of adaptation and assistive technologies such as prosthetics.
Kyla Wagoner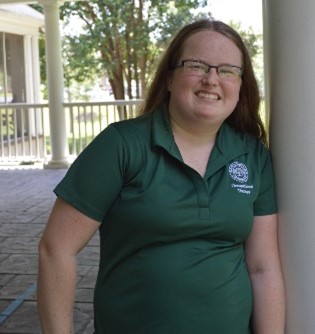 Kyla Wagoner is originally from Talala, Oklahoma and graduated from the University of Arkansas with a Bachelor of Science degree in Kinesiology. She chose JU's OT program because of its location, small class size, and the committed faculty. She was originally exposed to OT through the impact it had on her own life after a car accident. As an undergraduate, she shadowed at an outpatient clinic that primarily saw patients who have had a stroke or brain injury. After graduation, she plans to pursue OT within inpatient or outpatient facilities, specializing in TBIs and strokes.
Warren Wall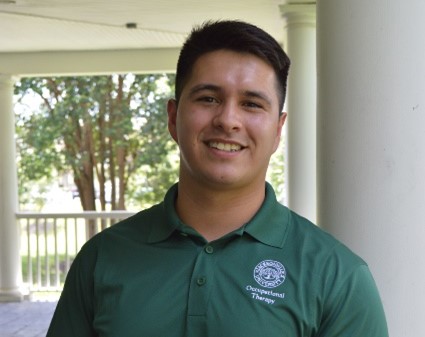 Warren Wall is originally from Defiance, OH and graduated from Bowling State University with a Bachelor of Science degree in Exercise Science, Sports Medicine. He chose JU's OT program because of the professor to student ratio, bringing him comfort in the opportunity to have close relationships with fellow students and professors. JU's innovative and compelling utilization of virtual reality was also another reason for choosing the program. Warren was originally exposed to OT through his shadowing experience for both PT and OT during his undergraduate career. After seeing how fun OTs and their environment can be, along with just how meaningful applied interventions were to clients, it became a no brainer what he wanted to be. After graduation, he has somewhat of an idea as to the specific OT settings he is interested in. However, Warren is mostly looking forward to just positively impacting and changing the lives of any presented client.