Course Sequence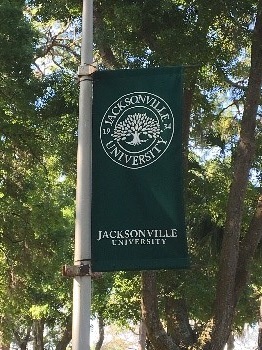 The OTD program is an entry-level, 105 credit hour, post-baccalaureate, professional degree. This program is designed for students who do not have a degree or certificate in occupational therapy, but have a baccalaureate degree from a regionally accredited institution, and are seeking an entry-level graduate program in occupational therapy. The program does not have a preference as to the background or type of bachelor's degree. The program is offered in a full-time, traditional classroom and laboratory environment. The OTD curriculum follows a fixed course sequence.
Students pursuing an OTD at Jacksonville University can expect to be in school for a minimum of 9 academic semesters or three (3) academic years. The educational program consists of academic coursework, two full-time supervised fieldwork experiences and a 14 week doctoral capstone experience.
The fieldwork experiences are comprised of three (3) one week full-time mostly observational experiences and two twelve (12) week sessions. The doctoral capstone experience occurs in the Spring semester of the final year of study.
At the successful conclusion of all academic requirements and ACOTE accreditation, our OTD students will qualify to sit for the national occupational therapy certification exam (NBCOT).
Course Sequence
Year 1
Summer
OTD 590: Introduction to Occupational and Rehabilitation Science Theory (3 credits)
OTD 580: Applied Functional Anatomy (5 credits)
Fall
OTD 581: Applied Neuroscience for the OT (4 credits)
OTD 582: Functional Biomechanics and Kinesiology for OT (4 credits)
OTD 650: Health Promotion, Wellness, and Participation in OT (3 credits)
OTD 601: Occupational Performance Assessment and Evaluation (3 credits)
OTD 602: Professional Reasoning and Communication in OT (3 credits)
Spring
OTD 651: Pediatric Theory and Practice in OT (4 credits)
OTD 583: Pathophysiology in OT (3 credits)
OTD 660: Principles of Research in OT (3 credits)
OTD 640: Principles of Rehabilitation Engineering and Assistive Technology in OT (3 credits)
OTD 652: Neurorehabilitation and Disability Science Theory and Practice in OT (4 credits)
Year 2
Summer
OTD 653: Mental Health Theory and Practice in OT (3 credits)
OTD 661: Evidenced-Based Practice and Translational Research in OT (2 credits)
OTD 654: Principles of Orthopedics in OT (3 credits)
Fall
OTD 655: Geriatric Theory and Practice in OT (3 credits)
OTD 656: Occupational Rehabilitation and Ergonomics (3 credits)
OTD 680: Guided Research I in OT (2 credits)
OTD 641: Functional Cognition in OT (3 credits)
OTD 701: Case-Based Learning I (2 credits)
Spring
OTD 750: Leadership and Management in OT (3 credits)
OTD 770: Elective- Advanced and Emerging Practice Skills (3 credits)

Advanced Practice in Geriatrics From Chronic Conditions to Successful Aging
Advanced Practice in Orthopedics: Hand Therapy and Upper Extremity Rehabilitation
Advanced Practice in Pediatrics: Early Childhood Tantrums, Toils, and Triumphs

OTD 751: Interprofessional Seminar (1 credit)
OTD 681: Guided Research II in OT (2 credits)
OTD 752: Program Development and Evaluation (2 credits)
OTD 702: Case-Based Learning II (2 credits)
OTD 622: Level I Fieldwork in OT (1 credit)
---
Year 3
Summer
OTD 771: Professional Seminar in OT I (1 credit)
Fall
OTD 772: Professional Seminar in OT II (1 credit)
OTD 753: Principles of Teaching and Transformative Learning in OT (2 credits)
OTD 780: Comprehensive Exam for the Occupational Therapist (1 credit)
Spring
OTD 791: Professional Development Seminar in OT (2 credits)