Current Students
Class of 2021
Shelby Auer
Shelby Auer is originally from Mobile, Alabama. She received her Bachelor of Science in Kinesiology with an emphasis in Kinesiotherapy from The University of Southern Mississippi. Shelby chose JU's OTD program because of its facilities, especially the NORTH Center, home to JU's OTD program. Shelby has working experience within hippotherapy and pediatric autism. Additionally, she has written a thesis on 'the effects of including physical activity in classrooms with students who have language disorders. Upon graduation and licensure into the field, Shelby wishes to start her own hippotherapy practice.
Ashley Beall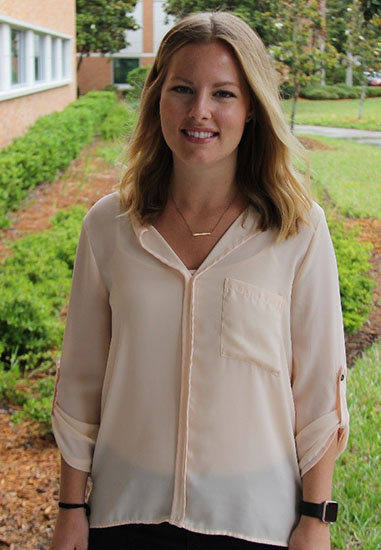 Ashley Beall received her Bachelor's degree in Psychology from the University of North Florida, concentrating in Child Psychology. She chose JU because of its location in Jacksonville, FL, the small class sizes, and the opportunity for community involvement and collaboration. Ashley currently works at North Florida School of Special Education as a teacher and views the field of OT as an opportunity to help individuals achieve independence. Upon graduation, she sees herself working within the special needs community in a pediatric setting or with those transitioning to adulthood.
Eleanor Corbett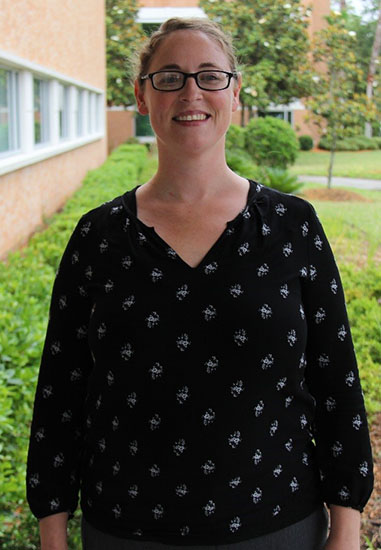 Eleanor Corbett graduated with a Bachelor's degree in Business Administration from Seattle University. She chose JU because of its reputation, as it frequently lists at the top of the regional best schools. Eleanor has seen the difference an OT can make in the lives of others through working with the geriatric population in settings which include day health, assisted living, and sheltered workshops. After graduation, Eleanor desires to continue her work with the geriatric population and/or with veterans, due to her prior experience within the United States Air Force.
Claire Cote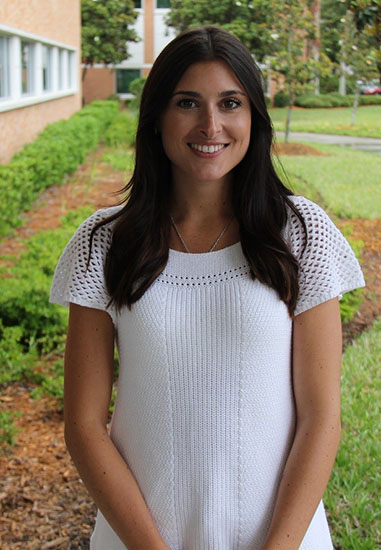 Claire Cote is originally from Robins, Iowa and received her Bachelor's degree in Human Development & Family Studies from Colorado State University. Claire chose JU because of the OTD program's leadership and research emphasis. She states, "JU's curriculum allows you to focus on the discipline of OT you most desire." Claire has experience working as a registered behavioral technician and upon graduation, desires to work in a pediatric OT clinic, ultimately opening her own practice.
Emilee Flispart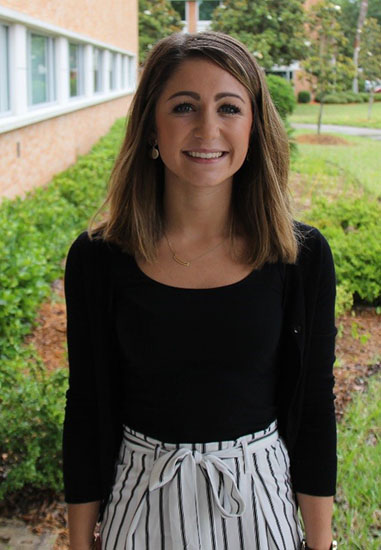 Emilee Flispart joins us from Jeffersonville, Indiana. She graduated from Belmont University with a Bachelor's degree in Exercise Science, minoring in Psychology. Emilee chose the field of Occupational Therapy to watch individuals grow stronger as they learn to go about their activities of daily living. Emilee is very involved in the National Down Syndrome Associated and has worked as an advocate for Best Buddies and Autism Speaks. She is also a member of Changing Health, Attitudes + Actions to Recreate Girls (CHAARG) and the American College of Sports Medicine (ACSM). Emilee currently works as an ACSM certified personal trainer and looks forward to working as an OT in the near future.
Janine Herrera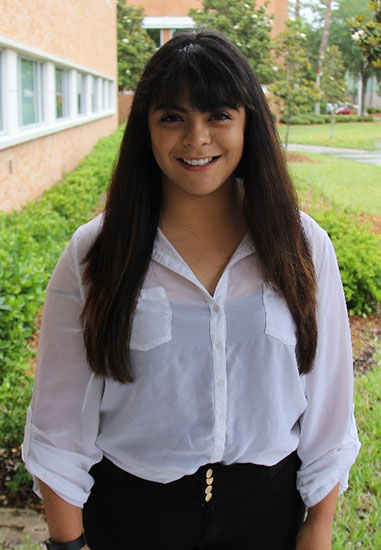 Janine Herrera graduated from the University of North Florida with a Bachelor of Science degree in Psychology, concentrating in Child Psychology. She chose JU to collaborate with the faculty members who are very knowledgeable as they are developing state-of-the art facilities. Janine is from Jacksonville, FL and has experience working at Brain Balance, as well as, in a retail setting. In her spare time, she has volunteered with the Special Olympics and hospitals in the area, including UF Health. After graduation, Janine wishes to join the service, working as an OT for the U.S. Navy.
Micaela Hill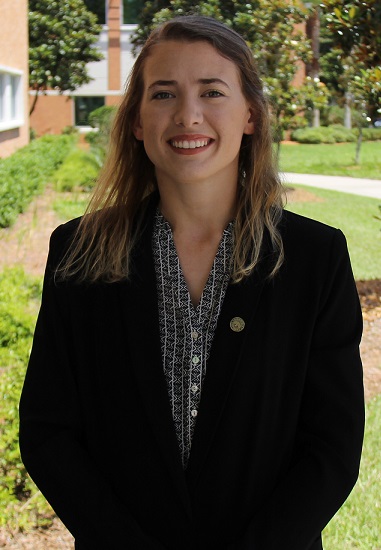 Micaela Hill, originally from Floral City, Florida completed her undergraduate studies in Kinesiology from Jacksonville University. Her undergraduate educational experience at JU with friendly faculty and small class sizes supported her in the decision to enroll for a professional doctorate within occupational therapy at JU. Micaela has always found interest in the ability to help people get back their lives after injury. She currently works and volunteers at Jacksonville Orthopedic Institute as a Rehabilitation Technician. In her spare time, Micaela also volunteers at Brooks Rehabilitation within pediatric brain injury patients and adaptive rowing.
Bridget Jones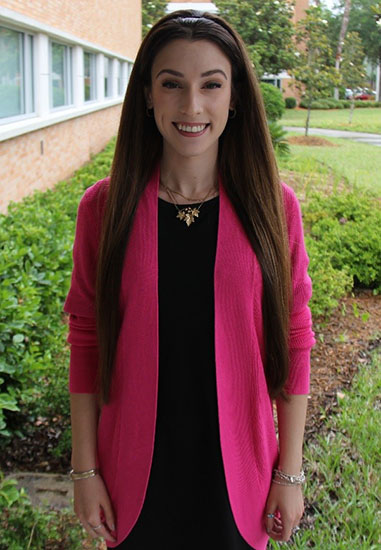 Bridget Jones is from Port Orange, Florida and received her Bachelor of Science degree in Pre-Clinical Health Sciences from the University of Central Florida. Bridget chose JU because of the quality faculty and intra-professional curriculum design. She brings a wealth of experience within professional figure skating, serving as a coach and choreographer. Additionally, Bridget was very involved in health awareness/advocacy programs, as well as, an international medical outreach society during her undergraduate studies. Upon graduation, she will pursue working with U.S. military veteran affairs, specializing in hand therapy and TBI.
Erica Lyons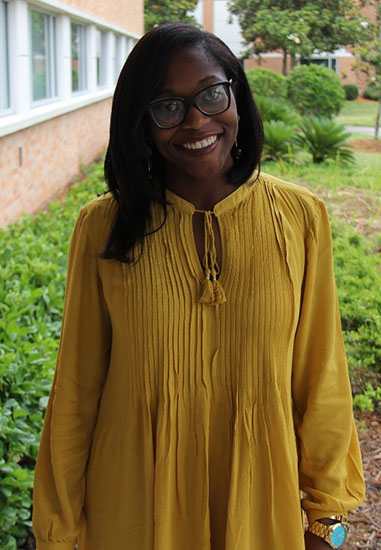 Erica Lyons is from Brunswick Georgia. She received her Bachelor of Science in Kinesiology degree from Georgia Southern University in Exercise Science. Erica chose JU due to the unique clinical partnerships established within the Brooks Rehabilitation College of Healthcare Sciences. Prior to joining the OTD program, Erica worked at a senior living facility serving as a Healthy Lifestyles Director. She also has spent time volunteering with organizations such as Habitat for Humanity, Relay for Life, and The Longest Day, which brings awareness to Alzheimer's disease. Upon graduation, Erica wants to specialize in hand therapy and working with the geriatric population.
Tiffany Nguyen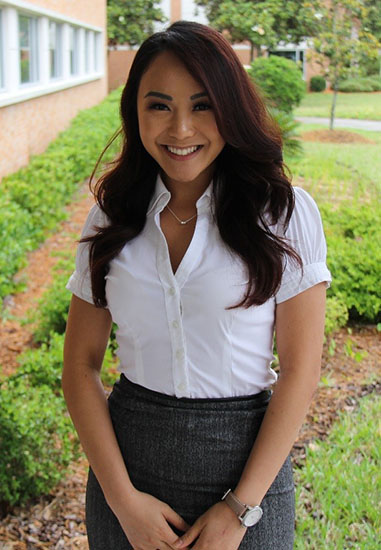 Tiffany joins JU from Houston, Texas with a Bachelor's degree from Texas A&M University (TAMU) in Kinesiology, specializing in Motor Behavior. Tiffany chose JU due to its small class size. "I am coming from one of the largest institutions in the state of Texas. The small and intimate classroom setting is very refreshing." Tiffany is passionate about teaching a holistic view of the body. She believes that an OT can help others beyond the surface level and provide a path to contribute her passion in both mind & body. Tiffany is a certified yoga instructor and during her time at TAMU helped grow the specialty yoga program serving the student body. Upon graduation, Tiffany wishes to gain experience in a clinical setting serving the pediatric population, while pursuing hand therapy certification. Long term, she wishes to open her own clinic for OT and yoga therapy.
Sheila Norris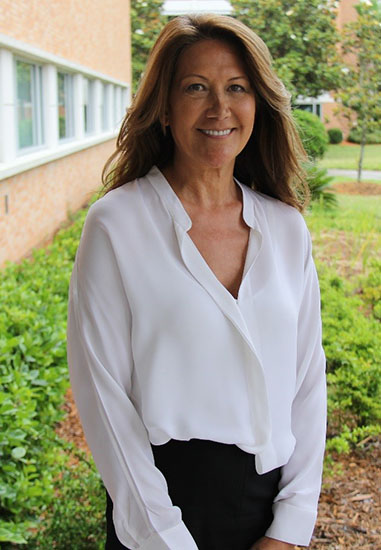 Sheila Norris graduated from the University of North Florida with a Bachelor of Science in Nutrition and Dietetics. Sheila chose JU's program due to its location, reputation and their OTD program vision. She is a co-founder and board director of an international portable storage business and hopes to use her experience in program development, problem solving and motivating others to help her future clients achieve their goals. In her spare time, Sheila volunteers as a master gardener, educating the public on residential landscapes and gardening practices. Upon graduation, Sheila plans to stay in the First Coast area and hopes to explore the areas of TBI and neurological diseases, as well as program development.
Brooke Page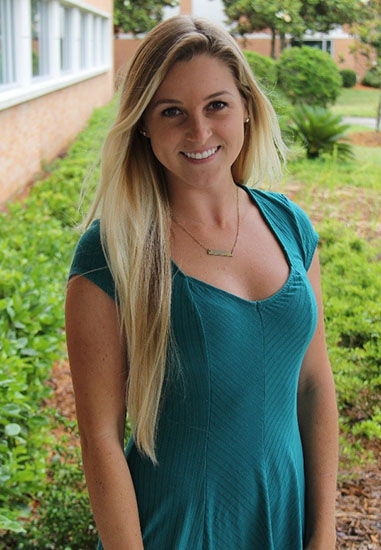 Brooke Page received a Bachelor's Degree in Exercise Science from the University of North Florida and chose the field of OT because of its endless career opportunities to help others restore their confidence in everyday living activities. Brooke currently works at an inpatient facility, Brooks Rehabilitation, serving as a Therapy Technician. Brooke enjoys travelling and experiencing different cultures. Upon graduation, she desires to become a traveling OT specializing in the pediatric population.
Marcella Price
Marcella Price is originally from Bossier City, Louisiana. She received a Bachelor of Science degree in Public Health, with a minor in Psychology from Dillard University. Marcella chose JU's OTD program because of the program's values and vision, as she is excited to be a part of a family orientated environment, as well as, join alongside a faculty with very diverse backgrounds. In the past, she has helped with community development by participating in clothing and food drives. Marcella plans to utilize optimism throughout her therapy providing motivation through her slogan SMILE (Strengthen, Motivate, Inspire, Lead, Educate) helping others gain confidence in rehabilitation to perform daily activities.
Nicole Reiter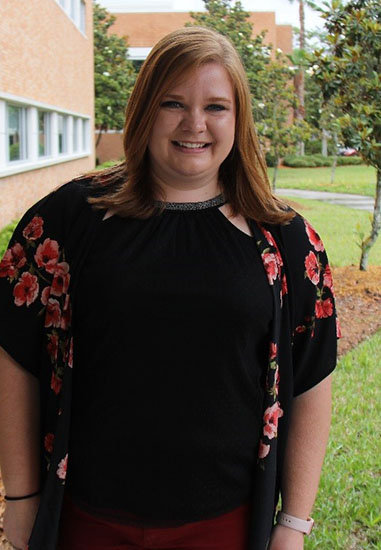 Nicole joins the OT program from House Springs, Missouri. She graduated from McKendree University with a Bachelor's degree in Psychology. Nicole chose JU because of its curriculum to receive her doctorate degree and licensure within 3 years; their reputation within the community and the endless possibilities it will offer because of their facilities and faculty. During her spare time, she volunteers at a therapeutic equestrian riding center. Upon graduation, Nicole wishes to work in the hospital setting serving the pediatric population.
Brooke Whitley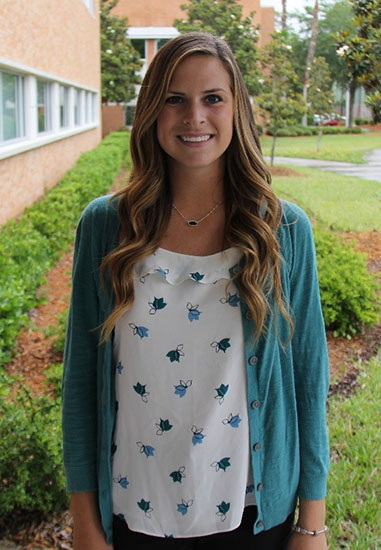 Brooke Whitley is originally from Courtland, Virginia and received her Bachelor's degree from North Carolina State University majoring in Psychology. Brooke chose the field of occupational therapy after personally discovering how an OT helped her grandfather after he was diagnosed with Alzheimer's disease. During her undergraduate studies, Brooke was active in program's surrounding autism, as well as, a therapeutic equestrian riding center. Upon graduation, she plans to practice occupational therapy in the pediatric setting.