Services
General Health Services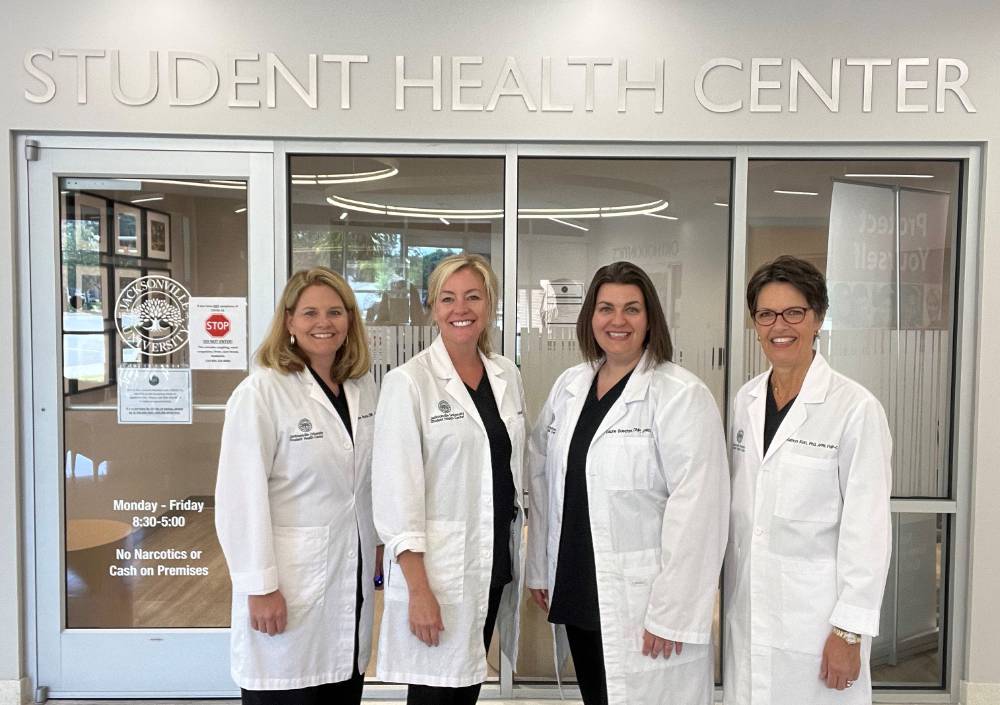 Nurse practitioners are available by appointment for evaluation and treatment of common medical illnesses, preventative health screenings and physical exams for health promotion, women's health services, injury evaluation, immunizations, and chronic disease. For medical services beyond the scope of practice of the Student Health Center, students will be referred to local specialists with guidance and coordination of care by a Student Health Center provider.
Some medical conditions commonly evaluated and treated in the JU SHC include (but are not limited to):
Allergy symptoms
Asthma
Back pain
Bronchitis
Eating Disorders
Emotional Health Concerns including depression and anxiety
Gastroenteritis
General dermatology including acne, concerning moles and rashes
Headache
Minor lacerations
Mononucleosis
Pink eye (conjunctivitis)
Pneumonia
Rashes
Sexually transmitted infection
Sore throat
Sprains and strains
Upper Respiratory Tract Infections including ear, sinuses, and throat
Urinary Tract Infection
Vaginal infections
Viral Infections
Wound care
We encourage you to make an appointment with one of our nurse practitioners even if you just want to discuss a health concern or ask some questions.
Women's Health Services
Having a regular gynecological examination is an important part of responsible and preventative health care. The Center for Disease Control (CDC) recommends annual chlamydial screening for sexually active women under the age of 25. The CDC also recommends that women between the ages of 11 and 26 years be vaccinated to prevent cervical cancer caused by human papilloma virus. The JU SHC offers annual gynecological exams and educational information regarding women's health concerns including:
Breast exams/breast lump evaluation
Pap smears for cervical cancer screening and routine pelvic exams
Pregnancy testing, counseling, and referrals
Screening, diagnosis, and treatment of STDs and vaginitis
Evaluation and treatment of acute gynecological health problems
Management of chronic pelvic pain and other complex women's health issues
Contraceptive counseling, prescription, and management
IUD Consultation, insertion, and removal
Nexplanon Consultation, insertion, and removal
Allergy Injections
The Student Health Center is able to continue allergy injections after you have received your first injection at your allergist's office. Your allergist must submit all orders on the JU SHC Allergen Immunotherapy Order Form (located in the Patient Portal). Upon receipt of your allergy serum(s) and allergen immunotherapy order form, please schedule an appointment with a Student Health Center provider to review your medical history prior to receiving ongoing injections. You will have to schedule a separate appointment with the nurse for your injections. There are no walk-in appointments for allergy injections. The student is responsible for hand-carrying serums to the Student Health Center. SERUMS MUST NOT BE MAILED TO THE STUDENT HEALTH CENTER.
On the day of injection, if you are prescribed an EpiPen, you are required to bring it with you to the appointment in order to receive your scheduled allergy injection. It is important for you to tell the nurse if you are not feeling well on the day of the scheduled injection, if you had a reaction from a previous injection, or if you are taking any new medications.
You are required to remain at the SHC for 30 mins after receiving the injection for monitoring. This is a safety precaution to observe for any reactions and provide care if needed. The nurse will check your injection site prior to leaving and document the results.
Chronic Disease Management
The Jacksonville University Student Health Center offers "Get to Know You" appointments for students with a chronic health issues (example: Type 1 or 2 DM, Asthma, Hypertension, Thyroid Disease, Crohn's disease, Spina Bifida, etc.). These appointments offer you and the provider the opportunity to build a strong patient-provider relationship, document a good health history, update medical information, and gather specialist emergency contact information to use if needed. A comprehensive evaluation of your health and current information is essential to providing care and assisting in coordination of care when you are ill. We encourage all students with chronic health issues to schedule an annual visit early in the semester or when you have a significant change in your health or chronic medical condition. We encourage you to continue seeing your healthcare specialists on a regular basis as the Student Health Center is closed on weekends and during campus breaks.
Treatment of Minors
Students under the age of 18 must have a Consent for Treatment form and a HIPAA form signed by a parent or legal guardian prior to evaluation in the Student Health Center. Log into the Patient Portal to download printable forms. Once the forms are completed it can then be scanned and uploaded through the Patient Portal.
Immunization Requirements
The State of Florida requires that all students attending school within the state comply with health and immunization laws to protect public health. An immunization form is required of students who have been accepted to and will enroll at Jacksonville University. It must be completed, submitted, and signed by a healthcare provider and the enrolling student or the student's parent or guardian (if under 18 years of age) prior to registration. To obtain the JU immunization form, please register with MedProctor and download the required document. Once completed, upload the immunization form and any supporting documents to MedProctor. If you need a copy of your immunization records after graduation contact Medproctor.
Tuberculosis (TB) Screening
TB testing services are available at the Student Health Center Monday-Friday, except on Thursday. A TB skin test requires two visits with a nurse trained to perform and read TB skin testing. On the first visit the test is administered; on the second visit the test is read. If your test is positive, you will be scheduled for evaluation by a Student Health Center Provider to determine if further work-up is needed.
Laboratory Testing
The Student Health Center laboratory offers a variety of laboratory tests. Costs vary per test. Our on-site rapid testing includes, but is not limited to: strep, infectious mononucleosis, influenza, COVID-19, urinalysis, and pregnancy. In addition, we send certain tests to a reference lab for processing.
Referral to Healthcare Specialist
If your condition requires referral to a specialist, the Student Health Center will assist you with making those arrangements. Referral services are provided to most healthcare specialists. Students are responsible for contacting their insurance company to see if the medical specialist or healthcare facility is listed as a participant with their health insurance company.
Fees charged by a specialist are independent of the Student Health Center. If you have specific questions related to the cost of the visit, check with the provider's office and/or your health insurance company.
Student Health Center Patient Portal
The Student Health Center uses an electronic medical record system that offers a variety of online options to improve the patient-provider experience. The Patient Portal improves patient access to SHC services, facilitates communication between patients and their providers, and streamlines the patient experience at the Student Health Center. The Patient Portal can be used to:
See upcoming appointments
Fill out required forms prior to your appointment
Securely communicate with a health care provider
View and print your SHC billing history/statement
Access assigned patient education information
The Patient Portal is a secure way to communicate with your provider about non-urgent medical issues. Data that you provide cannot be viewed by anyone else and is securely maintained by industry standard encryption.
Request for Charges or Statements
An itemized patient statement for charges for services and supplies are available at the time of check-out at the Student Health Center or online in the Patient Portal. The actual charges for the services or supplies will vary based on the medical evaluation and other factors associated with performance of the services. For any questions related to charges or statements, please contact the Student Health Center at 904-256-8080.
Release of Records
All JU Student Health Center records are retained for 7 years after graduation. If you would like a copy of any portion of your Health Record, please complete the PHI Release Authorization Form located within the Patient Portal. If you are less than 18 years of age, the document will need to be downloaded, completed by a parent or guardian, and then uploaded to the Patient Portal.
Class Excuse Policy
The SHC does not provide medical excuses for missed classes, exams, or assignments. If the student is seen by an SHC provider a secure message can be sent to your patient portal confirming the appointment but approval of the absence or missed assignment is up to the professor.
If a student is hospitalized, experiences a prolonged illness or is recovering from a serious injury, the student needs to contact the Division of Student Affairs or Disability Support Services.