Faculty & Staff Directory
Directory Links
Contact
College of Arts & Sciences
2800 University Blvd N
Jacksonville, FL 32211
Mon – Fri, 8:30 a.m. – 5:00 p.m.
If there is a problem with your profile or information, or if you want to opt out of inclusion in the directory, please let us know.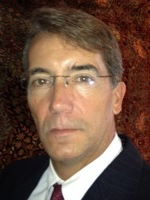 Dr. Erich Freiberger
Office location
Council Bldg., 128
Erich Freiberger received his B.A. in Philosophy from Georgetown University and completed his Ph.D. in Philosophy at Boston College. Dr. Freiberger is a Professor of Philosophy in the JU Humanities Department. While his specialization is in Modern and Contemporary Philosophy, he has also published on ethics, psychoanalysis, Plato and political philosophy. He is currently working on a book on Shakespeare and Plato. He has been part of the Jacksonville University faculty for 14 years.
Course
PPOL 512. Ethics and Public Policy
Accomplishments
Dr. Erich Freiberger, associate professor of philosophy, presented a paper titled "Spinoza's Decisive Role in Sartre and Lacan: Lacan as a Spinozist Critic of Sartre" at the annual Modern Language Association convention in Philadelphia on Dec. 28, 2006 The paper was part of a panel on "Spinoza's French Legacy."
Office:
Council 128