Oyster Reef Assessment Ongoing Project
Harvesting of oysters in Northeast Florida was halted when the monitoring stations used to assess the health of the beds were discontinued over 15 years ago. There is growing interest in reopening the beds to commercial and recreational harvesting. Students and professors from the Marine Science Research Institute (MSRI), the School of Aviation, and Geography and the Environment are collaborating to develop a cost-effective method of monitoring the health of oysters reefs in Duval County.
Collaboration
Aviation School students and professors will fly unmanned aerial systems (UASs), sometimes referred to as "drones," at low tide over oyster beds​identified by MSRI, gathering photographs, videos, and latitude and longitude. A database will be created and maintained by MSRI.​
Geography will use various technologies, including Global Positioning System (GPS) and Geographic Information Systems (GIS), to map the information.
MSRI will use the UAS videos and photographs and GIS maps to conduct "ground truthing." This process will allow MSRI to verify that the UAS-collected measurements are accurate by comparing them with actual measurements taken on the ground.
The Aviation School will deploy UASs periodically to update the database.
Computing Science will use Linux​ open source code to create orthomosaic maps of the oyster beds and teach Aviation students this skill.
MSRI will use the information provided by these disciplines to assess changes to the reefs over time and make recommendations to governmental entities about reopening the oyster beds for harvesting.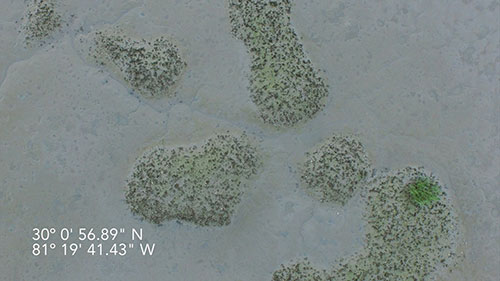 A view of oyster reefs from an Unmanned Aerial System (UAS).
Industry and Governmental Involvement
A project partnership will be established with governmental agencies such as the U.S. Navy, Department of Environmental Protection, Florida Fish and Wildlife Commission, Florida Department of Health, and/or St. John's Water Management District.
Sustainable, Cost-Effective Solution
The use of UASs for monitoring the health of oyster beds in Duval County allows database information to be collected in an efficient, low-cost, and environmentally friendly manner. UASs represent a low carbon footprint solution as compared to manned aircraft; the risk of hazardous waste spill from UASs is low; and the time and resources required to collect the data are significantly reduced.
Professors/Disciplines Involved
Quinton White, Ph.D., Professor of Biology & Marine Science; Executive Director of the Marine Science Research Institute (MSRI)
Capt. Matt Tuohy, Director, School of Aviation
Ross Stephenson, Asst. Professor, Aviation
Ashley Johnson, Ph.D., Resource Professor, Geography and Sustainability; Program Director of Sustainability Program
Anne Acker, Asst. Professor of Computing Science
Learn More
To learn more about the programs involved in this Collaborate JU project, visit: