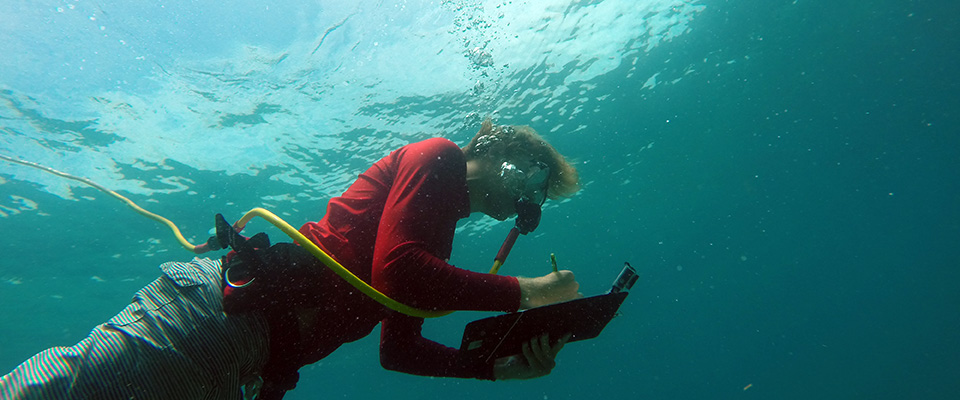 Collaborate JU
Related Links
​​Collaborate JU is part of the Florida EPIC Program at Jacksonville University, which focuses on Entrepreneurism​​, Policy, Innovation, and Commerce.​ The EPIC Program is housed in JU's Office of Research & Sponsored Programs.
Jacksonville University understands the value of collaborative real world experiences. Working as a team on Collaborate JU projects, students and professors from multiple disciplines join forces with industry experts to solve challenging problems. Through these experiences, students become engaged, active participants in their education and are better prepared to enter the workforce.
The benefits to students include:
Becoming conversant in multiple disciplines
Gaining a more in-depth understanding of their major
Expanding options as to potential careers
Learning to function in a team setting
Appreciating the value of diverse perspectives
Using creativity to solve challenges
Sharpening critical thinking and analytical reasoning skills
Improving interpersonal communication skills
Developing leadership and project management abilities
Networking with industry experts
​Recent Events
"The Big Collaborate" Student Presentations 2017
On October 6, 2017 from 3-5 p.m., as part of the Homecoming events, twelve interdisciplinary groups successfully presented, in the Davis College of Business, the current progress of their Collaborate JU projects and received feedback from panelists of Jacksonville's community and business leaders. Afterwards, the students, faculty, community leaders and guests were invited to attend the President's reception.
Thanks EPIC!! "The presentations are great for the students. They gain a lot of confidence and learn how to speak, especially having the practice talk. It really shows when we take them to conferences. Our first year masters students participate in Big Collaborate, Souteast American College of Sports Medicine, then JU Sysmposium. They are legitimately experienced/confident by the 2nd year..." Jeffrey T. Wight, PhD, Assistant Professor of Kinesiology, School of Applied Health Sciences, Brooks Rehabilitation College of Healthcare Sciences
Oktoberfest on the St Johns - Faculty Speed Collaboration Event
On October 19, 2017, a group of faculty and staff participated in a Speed Collaborate event from 5-7 p.m. at the MSRI O-Deck and the Larkin boat. They enjoyed seasonal Oktoberfest food and beverages while they shared project interests with one another as they moved from chair to chair, every three minutes, looking for possible connections around campus. During the event, the Sailing Team showed off their skills before Saturday's competition. After the speed collaboration, everyone set out on the Larkin to cruise down the St Johns River with live narration by Dr. Quint White. It was a memorable event with many new colleague interdisciplinary connections created. We look forward to hearing about the next new projects!
Thank you, EPIC!
The Millar Wilson Laboratory for Chemical Research researchers would like to thank EPIC for the funding we received last summer to acquire a workhorse of the laboratory, an analytical balance. It has lived up to its promise to streamline analyses, improve accuracy and help bring the lab up to date. Thank you from all of us.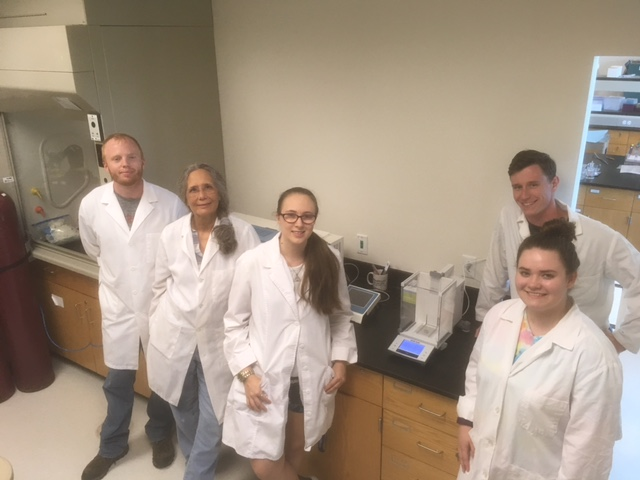 From left: James Annal - Biology undergrad, Dr. Lucy Sonnenberg - Chemistry, Alyssa McCaskey - Chemistry undergrad, (the new balance!), Taylor Parks - MSc grad student, Sarah Buckman - Biology undergrad