J Bike: Bike Share Program Ongoing Project
Jacksonville University is expanding its academic programs, its geographic footprint, and its student population. This growth has brought about a need to develop new solutions to transporting students around campus. Students from multiple disciplines formed a team to devise an eco-friendly, health conscious, and budget-minded solution. The new bike share program, named "J Bike," will be designed, implemented, and maintained by students for students.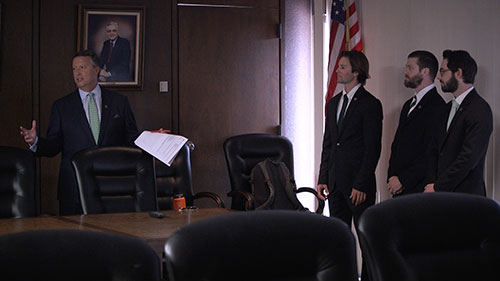 Students presenting the bike share program to President Tim Cost.
Collaboration
Engineering, Mathematics, and Aviation students formed a design team. After conducting a competitive analysis of commercially available bike share solutions and ruling out that option, the team developed its own system by which bikes will be accessed, regulated, maintained, refurbished, and acquired. This plan includes sourcing of bikes, parts, maintenance equipment, and labor needed to run the program.
Communications students are using the design team's plan to create marketing materials to promote the program around campus. They are also creating a presentation to pitch the program to the administration.
Business students are identifying sources for materials needed to launch the program. They are also developing a full business plan to allow the J Bike program to scale efficiently.
Kinesiology students are analyzing the exercise patterns of students, both before and after the implementation of the bike share program, to determine the fitness implications of J Bike upon students' physical and mental health.
Industry Involvement
Full service bike companies gave ideas for structuring the J Bike program
Peer institutions with similar programs were visited and provided best practices for design of the system
Various companies provided quotes on commercial bike share programs and on parts and supplies needed to implement our J Bike program
Professors/Disciplines Involved
Martin Luytjes, Resource Professor of Entrepreneurism
Courtney Barclay, Ph.D., Asst. Professor of Communications
Heather Hausenblas, Ph.D., Assoc. Professor of Kinesiology
Learn More
To learn more about the programs involved in this Collaborate JU project, visit: