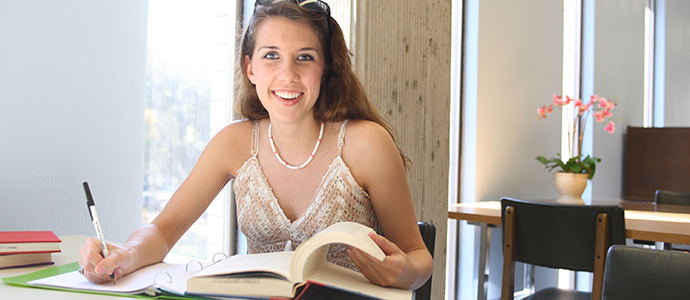 Make An Appointment with a Tutor
Need Help? Just ASC
Spring 2020 Hours
The ASC will be open during the following hours for the Spring 2020 semester (January 13 through April 22):
Monday: 10:00 a.m. to 9:00 p.m.
Tuesday - Thursday: 10:00 a.m to 7:00 p.m.
Friday: 10:00 a.m. to 4:00 p.m.
We highly recommend scheduling an appointment at least 24-48 hours in advance, as we are extremely busy with many students seeking assistance this semester. You can schedule an appointment, up to two weeks in advance.
All tutoring appointments are scheduled for 50 minutes; your appointment can last from a few minutes up to the 50-minute limit, depending on your questions and concerns.
Finals Week Spring 2020: 4/20 - 4/22
The ASC will be open during the following hours for the Spring 2020 FINALS WEEK (April 20-22):
Monday 4/20: 10:00 a.m. to 9:00 p.m.
Tuesday 4/21 & Wednesday 4/22: 10:00 a.m to 7:00 p.m.
To schedule a tutoring appointment:
Stop by the ASC (Swisher Library 3rd Floor)
Call the ASC at 904-256-7123
Scheduling online
If you choose to schedule your own appointment online, you can also look for "Tutoring Appointments" on MyJU in the Applications section (this will only work for JU students). Once you are redirected to TutorTrac, please follow the below instructions to schedule an appointment:
Click on Search Availability.
Click on the Center drop-down menu.
Choose Academic Support Center.
Select a Section (Course).
Click Search.
Select a date and time that works best for you.
Click on the arrow near Reason.
Select Tutoring.
Input the best phone number to contact you at (required).
Click Save.
When you see New appointment record saved in the top, left corner, you can click the X in the top, right corner.
NOTE: Only courses you are registered for and ones we have a tutor to help you in will show up in the scheduling program. If you want a tutor in a course that doesn't pop up, please contact us & we will try our best to find someone to help you.
Weekly Appointments
If you would like to schedule a Weekly tutoring appointment--that is, you would like to meet with the same tutor on the same day and time each week of the semester--you will not be able to do this on your own online. To schedule a Weekly, you can call or stop by the ASC, or you can let us know at the end of your tutoring session that you would like to change it to a Weekly appointment and we'd be happy to do that for you.
Tutoring and Academic Integrity
Please note that all students involved in a tutoring session (both the tutor and the tutee) are expected to abide by all policies outlined in the Jacksonville University Academic Integrity & Misconduct Policy, as well as the Green Pages Code of Conduct. Any behavior that violates these policies may result in no longer being able to utilize tutoring at the Academic Support Center. In particular, any student who offers to pay an ASC tutor to complete an assignment, test, and/or course for that student, will prohibited from attending tutoring sessions for the remainder of that semester, and possibly the entire academic year.