Faculty & Staff Directory
Directory Links
Contact
Brooks Rehabilitation College of Healthcare Sciences
2800 University Blvd N
Jacksonville, FL 32211
Mon – Fri, 8:30 a.m. – 5:00 p.m.
If there is a problem with your profile or information, or if you want to opt out of inclusion in the directory, please let us know.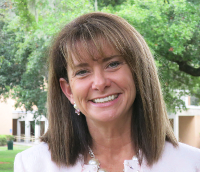 Dr. Roberta Christopher
Assistant Professor of Nursing & Acting Chair of Kinesiology
Office hours
By appointment.
Areas of Specialization
Dr. Christopher specializes in the theoretical foundations of appreciative inquiry. She is currently working to develop a universal theory of joy and the development of an institute to support research in joy and flourishing. Her dissertation research focus was presenteeism and the relationship with nurse safety, patient safety, and nursing quality. The research indicated that when there is a lack of joy in healing, quality of care is impacted. Thus, her research aims to develop a theoretical understanding of joy to foster a world where individuals, organizations, communities, and countries flourish, encompassing all aspects of their being.
​Education
EDD, University of Phoenix
MSN, University of North Florida
BSN, University of North Florida
​Professional Information
Dr. Roberta Christopher joined Jacksonville University in April 2015 as an Assistant Professor in the BRCHS Keigwin School of Nursing. Roberta has been a nurse for more than 20 years. She received both her BSN and MSN from the University of North Florida. Dr. Christopher completed her doctorate of educational leadership with a specialization in curriculum and instruction. Her doctoral dissertation research study focused on the relationship among presenteeism, absenteeism, nurse safety outcomes, and quality of care.
Dr. Christopher is an ANCC board certified nurse executive, and is board certified as a healthcare technology specialist clinician/practitioner consultant (CHTS-CP) through the American Health Information Management Association (AHIMA). Dr. Christopher is a Certified Appreciative Inquiry Facilitator.
Dr. Christopher was credentialed by EPIC in electronic health record (EMR) report writing and inpatient clinical documentation. She had further training in EPIC hospital outpatient departments, Stork (maternal child module), ASAP (emergency department module), BEACON (oncology module), research, and business intelligence reporting during her tenure overseeing a nursing informatics department and co-facilitating an EPIC EMR go live at a large academic, level 1 trauma center. Post-EMR go live, Dr. Christopher focused her efforts on report writing and data analytics to improve quality, safety, and organizational performance.
Dr. Christopher has been published in the Journal of Professional Nursing, Journal of Nursing Administration, Cochrane Nursing Care Field, Nursing Economics, International Journal Review, and Resuscitation. Additionally, she is a former member of the Cochrane Nursing Care Field. Dr. Christopher is a past president of the Lambda Rho Chapter-at large of Sigma Theta Tau. She is currently serving as the FNA representative to the Nurses on Boards Coalition (NOBC). Dr. Christopher is also an invited member of the NOBC Impact group that is responsible for researching the impact of nurses on boards. Dr. Christopher is a former member of the HIMSS TIGER Scholars Workgroup. Dr. Christopher has served on the National QSEN International Task Force, and is a former co-director of the QSEN Institute Regional Center at Jacksonville University.