Faculty & Staff Directory
Related Links
Contact
Jacksonville University
2800 University Blvd N
Jacksonville, FL 32211
If there is a problem with your profile or information, or if you want to opt out of inclusion in the directory, please let us know.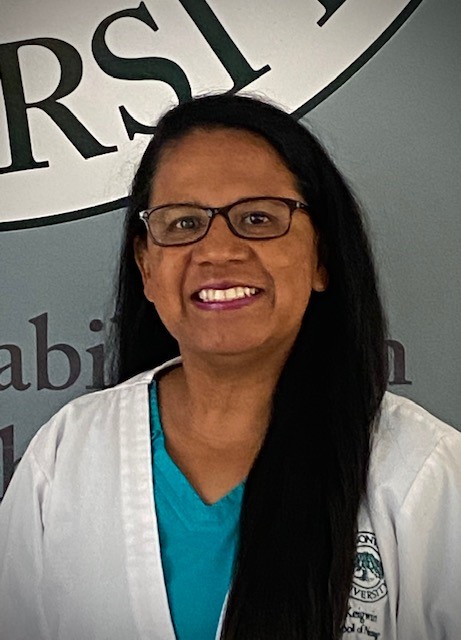 Bienvenida Doyle, MSN, RN-BCEN
Clinical Assistant Professor of Nursing
Office location
BRCHS 223
Office hours
By appointment
Education
MSN, University of Phoenix
BSN, Rutgers University
Professional Information
Bienve is a 1989 alumna of Rutgers University, Newark, New Jersey. Upon graduating with a Bachelor of Science in Nursing, she was inducted into the U.S. Army Nurse Corps as a 2nd Lieutenant and served at Fort Sam Houston in San Antonio, Texas during Desert Shield/Desert Storm. Bienve completed her tour in the U.S. Army as a 1st Lieutenant in the Army Nurse Corp. Including her service as an Armed Forces veteran, Bienve has more than 30 years nursing experience. She has worked in various roles over the years including direct patient care, home health care, and clinical nurse educator.
Bienve is an accomplished professional with over 11 years of experience as a healthcare leader in emergency nursing, as evidenced by being a Board-Certified Emergency Nurse (BCEN). Given her solid background as a high-performing member of an Emergency Department leadership team, Bienve has strong interpersonal skills with experience working in cross-functional teams. She thrives in a fast-paced environment and takes pride in a strong work ethic. Bienve is a recipient of the Spirit of Magnet Evidence-based Quality Practice from Baptist Health (2019).
Committed to the next generation of nurses, Bienve served as Clinical Adjunct Instructor at Daytona State College of Nursing where she collaborated with clinical nursing programs to coordinate, develop, and implement educational programs. Continuing her own education, she earned her Master of Science in Nursing Education from the University of Phoenix (2020).
Her favorite nursing theorist is Jean Watson. "Nursing is concerned with promoting health, preventing illness, caring for the sick and restoring health. Jean Watson's theory focuses on health promotion as well as the treatment of diseases. According to Watson, caring is central to nursing practice, and promotes health better than a simple medical cure (Gonzalo, 2019)".