2012 MFA Cohort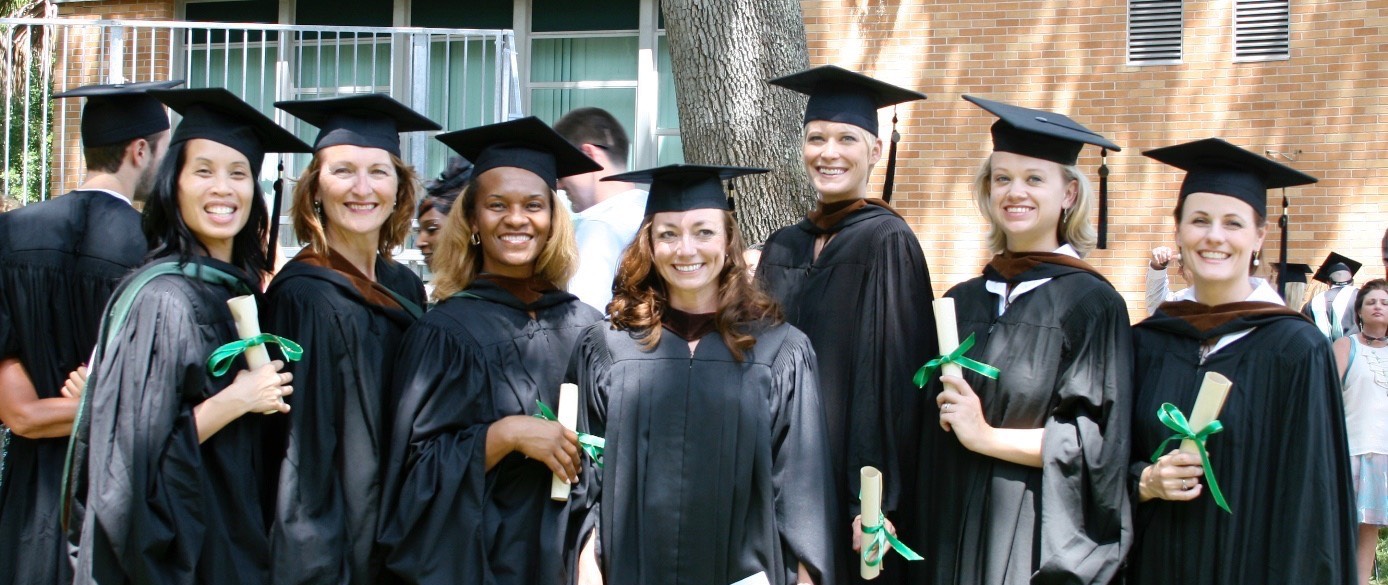 Alexia Adcock-Stanford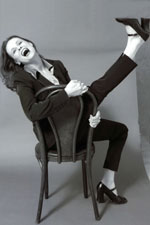 She grew up in Palm Beach Gardens, FL, and studied at the Palm Beach Ballet Center under artistic director, Joan Miller in her formal years, studying ballet from Fionna Fairre (RB) and Victoria Leigh (ABT). Alexia Adcock received her BFA, cum laude, in Ballet, from Texas Christian University; Instruction from Li Chou Cheng (Boston Ballet), David Hochoy (Graham), Susan Douglas Roberts (Limon), and Dian West (Jazz). She was fortunate to spend a summer at the American Dance Festival 6-Week Intensive Program where she was selected to participate in the Student Choreography Showcase. She studied with Ron Brown, Donald McKayle, and Chuck Davis (African American Dance Ensemble). At ADF, she was selected to perform in the Student Choreography Showcase. Upon graduation from college, she spent two years performing with the Corpus Christi Ballet under Christina Munrro, and taught for the Munro Ballet School. After leaving Texas, Ms. Alexia, pursued some of her other talents and began an acting career on the Alhambra Dinner Theater stage where she became a member of AEA. Favorite roles of hers include Elaine in Arsenic and Old Lace, Fruma Sarah in Fiddler on the Roof, Hot Box Girl in Guys and Dolls, Two Ladies in Cabaret, and Portia in Cinderella, just to name a few. She has toured the country twice in National Tour Read Me A Story as Pippi Longstocking, with guest star, Danny Glover, and North American Tour Bye-Bye Birdie as Nancy, with guest star Troy Donohue. She has also been seen on television dancing for Gwen Stefani and No Doubt for the VH1 special, Race to Erase MS. Ms. Alexia has been teaching dance of all kinds for half of her lifetime and performing for nearly 90%. She continues to perform with the Jacksonville Ballet Theatre, under Artistic Director Dulce Anaya, as a guest artist, and with her own dancers at Boleros. She also has a deep love of the visual arts and teaches Art part-time at the Grace Lutheran School. Alexia is very happy to be returning this year as a part of the faculty at The World of Dance and The Bean School of Dance and Gymnastics in Fernandina Beach and to be working on her MFA at Jacksonville University.
Ella Ben-Aharon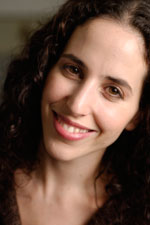 Ella Ben-Aharon (Artistic Director/Choreographer/Performer) was born in Israel, studied dance at the 'House of Arts', Kibbutz Mizra. After serving the army in the Israeli Air-Force, Ella danced with the "Kibbutz Contemporary Dance Company 2." In 2000 Ella moved to California and graduated with a BFA in Dance and Choreography from California Institute of the Arts. Upon graduation, Ella was invited to create for "Hubbard street 2" (Chicago) and her video-dance, "Im-Possible (2)," was presented at Dance Camera West Festival (Los-Angeles). Ella carries a Pilates Certification from Retrofit School of Pilates, and a Master Teacher Certification from Pilates Sport Center. Since moving to New York City in 2004, Ella co-curated "Dance Conversations" with Neta Pulvemacher and co-founded T E A Dance Company that performed, among other venues, at the FLEA Theater, Merkin Concert Hall, DTW, Danspace Project St. Mark's Church. In 2006 Ella established YelleB, a nonprofit Contemporary Dance Ensemble, which combines her passion for art and the human body. YelleB has performed in venues such Makor of the 92nd St. Y, Walpole Town Hall (NH), Ailey CitiGroup Theater, The Tank, The Puffin Foundation, Cunningham Theater, and Joyce SoHo. Ella was an Artist-in-Residence at Makor, and a guest teacher at the University of Florida. Starting the summer of 2010, Ella is an MFA candidate at Jacksonville University/White Oak.
Tiffany Sullivan Fish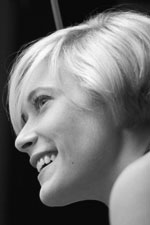 Tiffany Sullivan Fish is a performer, choreographer who has embraced her current state of constant transition. During her attendance at Jacksonville University for her BFA she was awarded Most Outstanding Performer/Southeast Region by the American College Dance Festival and Dance Magazine, which culminated in a featured performance at the Kennedy Center. Following graduation she began her professional career with the Genesis Dance Company and worked for the Genesis Foundation for the Arts doing outreach programs throughout Brooklyn, The Bronx, Manhattan and Connecticut. She then went on to perform with the Metropolitan Opera with such artists as Sean Curren, Doug Varone and Julie Tayor. She has done artistic residencies in the Jacksonville area with Jacksonville University, Florida State College of Jacksonville, Episcopal High School and Douglas Anderson School of the Arts. She most recently was in residency with The Dancers Workshop though The Center for the Arts in Jackson, WY. Tiffany is currently living in Jacksonville while working on her MFA and beginning her investigation into the world of Dance on Film in which she is actively recruiting collaborators.
Please contact her through email, TFmedia25@gmail.com to request project proposals or examples of her work.
Lana Carroll Heylock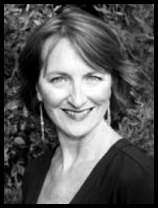 Lana Carroll Heylock, has spent her life involved in dance. Upon completion of her Bachelor of Fine Arts degree in dance from The University of Akron, Ms. Heylock served as Head of Dance Institute, the pre-professional dance program for children ages 3-18, as well as full time dance faculty at The University of Akron from 1994 - 2008. Under her direction, Dance Institute produced the first full length fairy tale "The Snow Maiden" at the Akron Civic Theater and E.J. Thomas Performing Arts Hall. She also created a valuable collaboration with GroundWorks Dance Theatre, and participated as a founding member of the Heinz Poll Summer Dance Festival. Ms. Heylock envisioned and created the Gena Carroll Scholarship Fund and was the driving force behind the annual "Pointe to the Future" Benefit that raises money for scholarships, faculty recognition, and school productions.
Ms. Heylock's extensive performing experience includes the companies of Ohio Ballet in Akron, Ohio and Pearl Lang, Peter Sparling, and Diane Gray, all in New York City. In 1980, Ms. Heylock was invited to join Jennifer Muller/The Works Dance Company where she performed as a soloist for over 14 years. As Special Projects Director of the Muller Company, Ms. Heylock assisted Jennifer Muller in the restaging of "Speeds" on The Alvin Ailey American Dance Company in New York City, "Couches" and "The Enigma" on the Kriztina de Chatel Dance Company in the Netherlands, "Glass Houses" and "Fields" on the Bat Dor Dance Company in Israel, and the full evening production of "Beach" on Tanzforum Dance Company in Germany.
Nationally and internationally, Ms. Heylock has garnered a reputation as a master teacher and rehearsal director at reputable schools such as Jacobs Pillow, Stephens College, The Martha Graham Dance Center, The Limon Institute, Alvin Ailey Dance Center, Sarah Lawrence College, Barnard College, and New York University. Among numerous other engagements around the world, she has taught workshops at the Tokyo and Osaka Schools of Dance in Japan, The Amsterdam Theatre School in the Netherlands, The National Ballet School in Belgium, The Dance Point Festival in Germany, Le Menagerie de Verre in Paris, The Dance Loft in Switzerland, The International Dance Weeks Festival in Austria, and the Opera House in Rio de Janeiro, Brazil.
Ms. Heylock has been honored by her students for several years to be listed as one of the "Best Teachers in America" in Who's Who among Americas Teachers and she is very proud to have received the "Outstanding Artist" in Dance Award from the Akron Arts Alliance in 2004.
Jamie McGreevy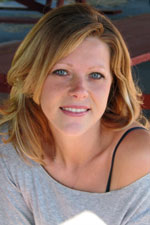 Miss McGreevy holds a Bachelor of Science in Dance from Frostburg State University and is currently enrolled in the Low Residency Master of Fine Arts in Choreography program at Jacksonville University, Jacksonville, Florida. She is currently under the tutelage of Christina Mann and Cari Coble, as well as other notable faculty at JU. She has attended master classes with NUVO, The Pulse, Mary Anthony, Ethel Winter, Ken Topping, and Jeff Shade. Jamie has studied intensively with Jill Johnson, Loppo Martinez, and Ana Sanchez-Colberg while pursuing her MFA. As an undergraduate, she performed in the reconstruction of Martha Graham's Steps in the Streets and participated in original choreography of Dena Rizzo, Zonda-flex, Tommy Alexander, and Claire Porter. McGreevy has had the honor of performing as a guest artist, teaching Master Classes and judging in MD and PA. Jamie is member of Dance Masters of America Chapter 17 as well as an alumnus of Frostburg Dance Academy.
Michelle Grant Murray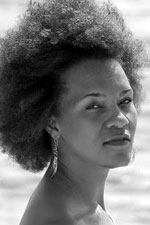 Michelle Grant Murray has been an asset to the expansion and growth displayed through each endeavor she enfolds. She has enhanced various dance programs focusing on the development and abilities of future dancers.
Mrs. Murray continues to bring forth a vast amount of expertise, variety and an advanced curriculum to the art of Dance. Currently, she is the Dance Coordinator and Adjunct Professor at Miami Dade College/Kendall Campus and is a MFA Choreography Student at Jacksonville University. Mrs. Murray has served as department chair for the Performing/Fine Arts and Director of Dance at Homestead Senior High School. In an addition, she has been an Artist-in Resident as well as an adjunct professor of African Diaspora Dance at St. Johns Community College/Florida School of the Arts in Palatka, Florida. She grasps an affluent background as former Director of Dance with PAVAC (Performing and Visual Art Center) at Miami Northwestern Senior High School. Prior to that Mrs. Murray directed/produced/choreographed Olujimi Dance Theatre in Okinawa, Japan. In 1988, she served as producer/director/teacher of the Charles Drew Middle School Magnet Dance program. She continued her career as Jason Lee Middle School in Tacoma, Washington as a Teacher/Coordinator as Washington first Performing Arts Middle School. Mrs. Murray designed wrote and implemented the curriculum syllabus in addition to recruiting, budgeting and designing a state of the art dance facility as well as choreographing, directing and teaching various techniques of dance. She was also a resident Dance Artist/Choreographer at Stadium High School in Tacoma, Washington.
Mrs. Murray has received an immense amount of training and performing with such companies as Black Door Dance Ensemble, Aluja Dance Theatre, Giovanni Luquini Performance Troupe, New View Dance Theatre, Dance Theatre of Harlem, Alvin Ailey American Dance Center, and Jacobs Pillow with Katherine Dunham, Donald McKayle, Elisio Pitta and Clyde Morgan. Working and training with such notable artist and companies has enabled Mrs. Murray to travel throughout the world to places such Brazil, Asia, South America, Canada, the Caribbean and throughout the United States. In addition, Mrs. Murray is a recipient of an Artist-In-Residency Grant from the Cultural Affairs Council (Tacoma, Washington), scholarship recipient for Jacobs Pillow Cultural Traditions with Reginald Yates and Katherine Dunham (Berkshire, Mass) and a two time recipient of the Artist Access Grant awarded by Tiger Tail Production and the Miami Dade Cultural Affairs Council. Mrs. Murray's choreography has recently been showcased at the Florida Dance Festival (2005), Miami, Florida and the University of South Florida Dance Festival (2005), Tampa, Florida. Mrs. Murray has collaborated with the Miami Dade College Cultural Affairs Council-Cultural Del Lobo, The Miami Light Project and Florida International University, Black Door Dance Theatre, Florida A&M University, Fla/Bra Festival as an educational and Community Outreach Liaison.
Ms. Murray retains a Bachelor of Science Degree in Dance Education from Jacksonville University and a Masters Degree in Cultural Studies/Pedagogy from Florida International University.
Ms. Murray understands that life is a constant journey of learning. She takes each experience, be it good or bad as a learning utensil. This life-long learning experience has enhanced her development as a Dance Artist and Community Activist/Leader, giving her the tools necessary to transform lives. Her task as a Dance Educator and Artist is a viable link to the upbringing of future artist through her nurturing and gifted abilities increasing awareness and appreciation for culture and the art forms of dance.
David Parsons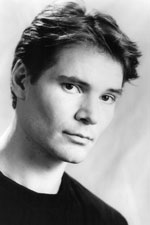 David Parsons has enjoyed a remarkable career as a performer, choreographer, teacher, director and producer of dance. Mr. Parsons was born in Chicago and raised in Kansas City. He was a leading dancer with The Paul Taylor Dance Company, where Mr. Taylor created many roles for him in works such as Arden Court, Last Look and Roses. He is a recipient of the 2000 Dance Magazine Award, as well as the 2001 American Choreography Award, for his work as a co-producer of AEROS, a production featuring the Romanian Gymnastic Federation that was featured on Bravo. Mr. Parsons has created more than 70 works for Parsons Dance. He has received commissions over the years from The American Ballet Theatre, New York City Ballet, AlvinAiley American Dance Theater, the American Dance Festival, Jacob's Pillow, the Spoleto Festival and Het Muziektheater in Amsterdam, to name a few. His work has been performed by Paris Opera Ballet, Joffrey Ballet, Nederlands Danse Theatre, National Ballet of Canada, Hubbard Street Dance and BatSheva Dance Company of Israel, among many others. In June 2007, Mr. Parsons was honored to be the very first contemporary choreographer ever to stage work at the centuries-old Arena di Verona, in Verona Italy, where he choreographed Verdi's Aida. The Arena is one of Italy's most respected operatic venues. In September 2007, he directed and choreographed Gotham Chamber Opera's production of Maria de Buenos Aires, which made its world premiere at a sold-out engagement in New York, at NYU's Skirball Center for the Arts. In the July 27, 2007 edition of The New York Times, Jennifer Dunning called David Parsons "one of the great movers of modern dance."
Amy Baker Schwiethale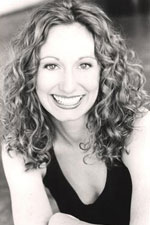 Amy Baker Schwiethale, Assistant Professor of Musical Theatre/Choreographer is honored to be a part of the faculty of The School of Performing Arts at Wichita State University. Amy received her BFA in Musical Theatre from WSU and then moved to New York City and enjoyed a professional performing career. Highlights include playing Phyllis Dale on the First National Broadway Tour of 42nd Street, performing for two years with the Radio City Christmas Spectacular, receiving her Actor's Equity card while doing Singin' In the Rain at the Westchester Broadway Theatre, and performing with MTWichita for 5 summers. She also recently performed at the Bob Audy Tap Showcase in New York City. Amy is also an established choreographer. She has choreographed Camelot and Gypsy for MTWichita. She has served as choreographer at WSU on Urinetown, How to Succeed…Trying (Certificate of Merit KCACTF), Lady Be Good!, Street Scene, Waltzing In Heaven (Certificate of Merit KCACTF), and Amahl and the Night Visitors for Opera Kansas. Currently, Amy is hard at work on her MFA in Dance-Choreography from Jacksonville University. She loves teaching tap, jazz, and music theatre dance for WSU, and is inspired by her students everyday.
Dara Swisher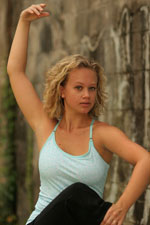 Dara Swisher, originally from Reading, PA, began dancing at the age of 3. She received a B.A. with Honors in Dance with concentrations in Performance and Teaching/Choreography from Mercyhurst College in 2008 and is currently working on her M.F.A. in Choreography at Jacksonville University. Ms. Swisher has also trained at such institutions as the Wyomissing Institute of Fine Arts, Berks Ballet Theatre, and most recently, The Rock School for Dance Education in Philadelphia, PA. She has had the opportunity to train under Bojan & Stephanie Spassoff, Christopher Fleming, Maiqui Manosa, Cherie Noble, and Tauna Hunter and has attended various summer intensives including the American Dance Festival, The Paul Taylor School, and the Pittsburgh Ballet Theatre School. Ms. Swisher has been featured in numerous classical and contemporary works, including those by George Balanchine, Bill Evans, Jonathan Phelps, Brigett Moore, Jessica Lang, and Teena Custer, and performed and collaborated as a member of SoMar Dance Works from 2006 to 2008. She has been choreographing since 2002 and her work has since been showcased by the Rock School for Dance Education, American College Dance Festival, Chautauqua Regional Youth Ballet, the Mercyhurst Dancers, and the Erie Dance Conservatory Company where Ms. Swisher served as ballet mistress, promotions coordinator, and company soloist in 2008/2009. Currently, Ms. Swisher is working as a company member and administrative director at Braided Light Dance Project and is teaching at various schools in Jacksonville, FL.
Joanna Ursal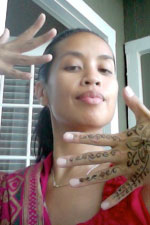 Trained in Afrocuban Folkloric Dance, Pangalay (traditional southern Philippine dance), and Modern, JoAnna Ursal has performed with professional folkloric groups in New York, Los Angeles, and San Francisco since 1994 . She earned her Bachelors of Arts in Social Sciences from the University of Michigan and her Master of Arts in Dance Education from UCLA's World Arts and Cultures in 2002. During graduate studies, she was chosen to choreograph for a children's theater dance production, the Sol Project, in Havana, Cuba and has subsequently taught dance workshops at universities, dance centers, and high schools in California, New York and Florida. She is also classically trained in piano and graduated high school from Interlochen Arts Academy as a piano major and is also studying the Kulingtang, indigenous traditional music from the Philippines. She is the mother of three beautiful children, Sheraan, Anyse and Lucien Martin-Ursal and excited develop her skills and capacities as an emerging choreographer and bring her world dance experience to the new MFA in Dance & Choreography program at Jacksonville University.