Anthony Fontana
​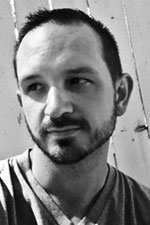 Anthony Fontana is a Learning Technologist and an Instructor of Art at Bowling Green State University in Ohio. Anthony's pedagogical research involves the importance of divergent methodologies in the classroom, such as "play", integrative teaching strategies, and educational technology applications that optimize learning outcomes by providing channels of content transfer most familiar to the student.
This work has led to the creation of QizBox, a web application which uses game mechanics to create a social learning environment. Designed to enhance the real-life classroom lecture and presentation experience, QizBox offers the presenter the ability to share slides, quiz the audience and provide real-time feedback. When enabled, the audience may discuss the lecture in a chat room, ask and answer questions, and even take notes that are accessible for review through a dashboard interface. QizBox also includes a dynamic award system that honors audience engagement with the presentation. Users can accumulate, create, and distribute awards that contribute to a collaborative and cooperative learning environment.
As an artist, Anthony has exhibited work throughout the Midwest and in online and virtual world spaces. He is the author of the graphic novel THE DOGS. His last series of work focused on expressing internet memes through a variety of mediums, such as drawing, print, and sculpture. He is currently combining Buddhist iconography with American pop cultural references.
As a designer, he has completed a number of applications on both the iOS, Android and other web platforms. For Bowling Green State University he has designed and overseen the creation of the BGSU News, BGSU Maps, and the upcoming BGSU Athletics apps. As a freelancer, Anthony has acted as the lead UI/UX designer and art director for (soon to be released): IfMine.com, QuizAgent.com, and the redesign of AgileAssyst.com.
​