Graduate Visual Arts Program
At Jacksonville University, our MFA in Visual Arts is a cohort-based program that will challenge you, immerse you in new knowledge and skills, expand on what you already know, and help fine-tune your creative energies into artistic skills. With highly qualified faculty and ample studio space, Jacksonville University's MFA in Visual Arts could be the perfect fit for you and your artistic needs.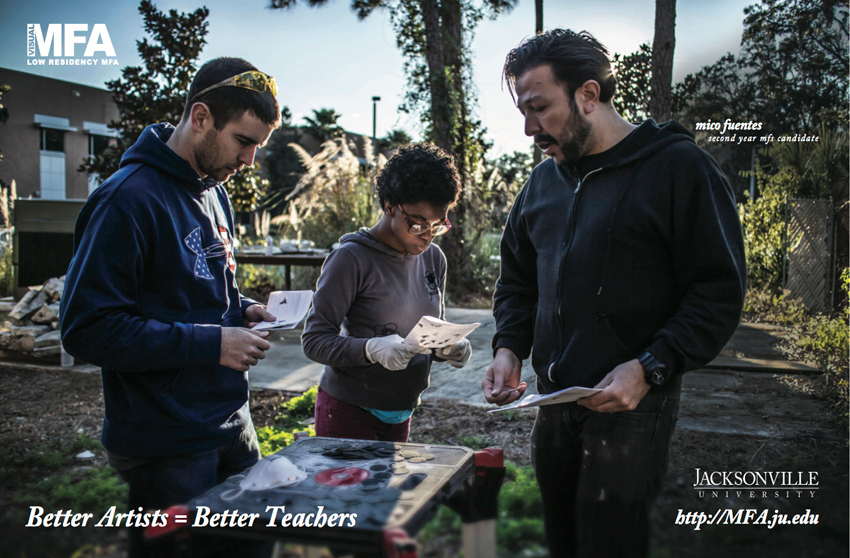 Fast Facts
The MFA in visual arts is a 2-year terminal degree program.
The program starts each summer with an intensive 4 week on-campus residency, followed by online courses for the Fall and Spring.
The MFA is a 60-credit program and allows students to focus on the medium of their choosing.
The program pricing is competitive in both the regional and national marketing for
Visual Art MFA's.
Download MFA in Visual Arts fact sheet
What Makes JU's MFA In Visual Arts Different?
We are one of only a couple of programs in the southeast and are cost competitive.
We have a summer residency that is compatible for teachers and art educators who have summer breaks.
Our cross disciplinary curriculum allows for variety in feedback from faculty in different focus areas.
We have a strong pedagogical component to the curriculum: Click Here for Courses.
Our program is set up using a cohort model, which means that the classmates you start with will go through the program with you. This plays a big part in forming peer bonds and professional relationships.
The MFA in Visual Arts can prepare you for a wide variety of careers. Many of our students go on to teach adjunct or full time at a variety of colleges and universities. Some of our recent graduates have also gone on to work as museum curators, practicing artists, nonprofit arts programmers, and educators at the K-12 level.
Students that are admitted to the MFA in Visual Arts are not limited to a specific area of study. This means that whether your desired medium is painting, photography, ceramics, glassblowing, or another genre completely, you are able to focus on what interests you most.
We only accept 8-10 students per year, as to be sure that all students have a strong relationship with their faculty mentor. Because of the selectivity of the program, we encourage all students to apply early.
You can start your application by applying online at www.ju.edu/apply.
Contact Us
Christopher Hicks
Graduate Admissions
Telephone number

(904) 256-7639

Email address

chicks10@ju.edu

Office location

Office of Admissions, 2800 University Blvd N, Jacksonville, FL 32211