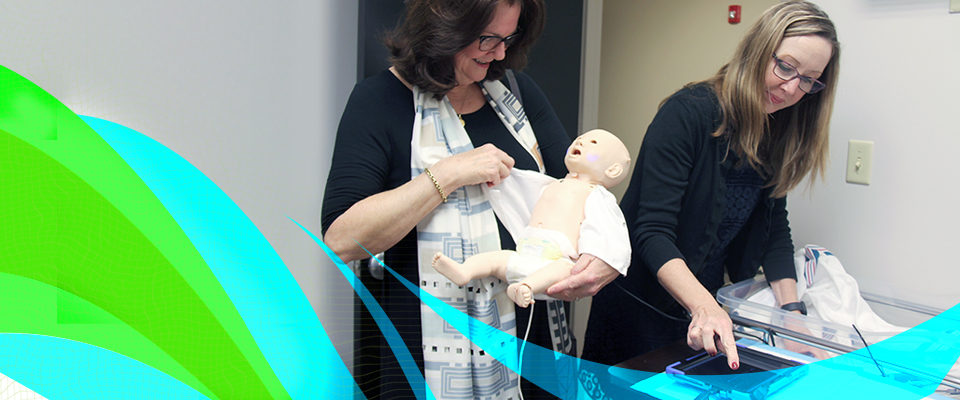 Healthcare Simulation Center Staff
Administration

Kathleen Ann Kavanagh, DMH, MSN Ed, RN
Executive Director of the Jacksonville University Brooks Rehabilitation College of Healthcare Sciences, Healthcare Simulation Center
Dr. Kathleen Kavanagh is the Executive Director of the Jacksonville University Healthcare Simulation Center. She has been a Registered Nurse since 1987 and Dr. Kavanagh's diverse professional nursing background supports the following primary research interests 1) the development and implementation of effective collaborative inter- professional simulation healthcare curriculum and simulation scenarios focused on quality and safe patient care, experiential remote learning experiences including but not limited to telehealth; 2) academic-community healthcare providers and emergency responders partnerships, effective training development, and sustained professional relationships; 3) the inclusion of medical humanities and ethics in patient care simulation training exercises; and 4) research and prototype development.
Danial "Dani" Winston
Administrative Assistant Clinical Coordinator - Healthcare Simulation Center (HSC)
"Dani", has a Masters in Psychology, and a Marriage and Family Therapy Masters with specialization in Military Families; under supervision, Dani provided private marriage and family therapy session to the families with a focus on PTSD. She is currently enrolled in the Jacksonville University Masters in Visual Arts program to continue her lifelong passion of saving marine life through her art. Dani provides administrative support to the Healthcare Simulation Center Team and serves as the Clinical Coordinator for the Practical Nurse Program. She is a proud to be the wife of a Navy Veteran and mother of two.
Staff
Japhetia "Fettie" Blackwell, MSN, RN
Simulationist - Healthcare Simulation Center (HSC)
"Fettie," a 2014 alumni of JU, previously worked as Nursing Adjunct Professor teaching Community Nursing. She has over 35 years nursing experience and has worked in various roles over the years including direct care, home health care and management in Nursing. She strengthens her professional stamina through community involvement & education, being a healthcare speaker/presenter as well as being a transformational leader. Fettie has an extreme passion for facilitating and expanding higher quality education of nursing students and new nurses so that they are prepared to be top performing health care providers across the continuum of care – including inpatient & transitional healthcare settings and services across our local community, nation & world! Fettie is a recipient of the "Great 100 Nurses of Northeast Florida" Award, Class of 2007 and has been honored in HealthSource Magazine's Celebration of Nurses in 2011 & 2014. Her favorite quote: The trained nurse has become one of the great blessings of humanity, taking a place beside the physician and the priest (William Osler).
Aimee Neeley, BSN, RN, OCN
Simulationist - Healthcare Simulation Center (HSC)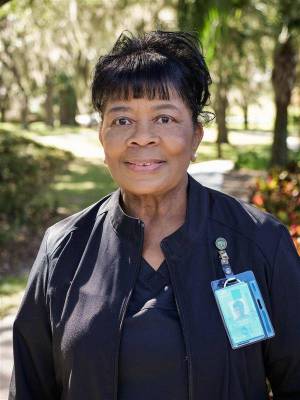 Caroline Daniels
Simulationist - Healthcare Simulation Center (HSC)
Telephone number (904) 256-77155
Email address cdaniel16@ju.edu
Caroline Daniels Directory Page (Coming)
Caroline believes that Healthcare is your journey to wellness, as we change Healthcare changes with us. Be your best with the changes Healthcare has given you. She has been a Licensed Practical Nurse for over 40 years in different capacities. She is a 2009 University of Phoenix honor roll graduate with a Bachelor of Science degree in Healthcare Administration. With over 40 years as a healthcare professional, she carries a background in Critical Care, Outpatient Pediatric and Family Medicine. Because of her passion for nursing and the changes within, she embraced the Vaccine for Children Program within the State of Florida Immunization Program 2009-2020 as coordinator for the Ascension Family Medicine Center. She is also a recipient of the Guardian Angel Award, and a nurse representative with the Florida Medical Home Program 2012-2013.
Amy Lannen
Simulationist - Healthcare Simulation Center (HSC)
Amy Lannen holds a BA in psychology and religion and is currently a Simulationist and Standardized Patient Coordinator at Jacksonville University. She holds academic rank as an Assistant Professor of Medical Education at the Mayo Clinic Alix School of Medicine. Mrs. Lannen has 11 years of experience in Simulation and is known for her ability to create, implement, and support Standardized Patient training and education. Amy is a moulage artist and has coordinated groups of victims for small and large-scale Mass Casualty Incident trainings. She loves to share her simulation expertise with community partners and youth organizations to create opportunities for underserved populations to recognize healthcare as a viable career choice. In 2020, Amy helped create a series of training modules addressing microaggressions and she has a passion for bringing diversity, equity, and inclusion communications training to all learners. Outside of work, Amy is a wife and a mother of two who loves spending time with her family and time at the beach.
Email aDirectory ent
Faculty Members
Trina Biringer, MSN, RN, PMC-HQS, CCRC
Faculty PN Program - Healthcare Simulation Center (HSC)
Nancy Robayo, MSN, RN
Practical Nurse Program Faculty - Healthcare Simulation Center (HSC)
Information Technology
Geoff Davis
Simulationist & IT Admin - Healthcare Simulation Center (HSC)
Geoff was born and raised in Raleigh, NC. He graduated from the University of North Carolina at Pembroke with a B.S. in Mass Communications. Geoff became involved with Healthcare Simulation while working at Sandhills Community College in Pinehurst, NC. His favorite part of Simulation is watching others gain confidence through the process of hands-on learning. While he has enjoyed traveling around the US training new hire nurses through Simulation, he is excited about spending time at home and working here at Jacksonville University.