Faculty & Staff Directory
Related Links
Contact
Jacksonville University
2800 University Blvd N
Jacksonville, FL 32211
If there is a problem with your profile or information, or if you want to opt out of inclusion in the directory, please let us know.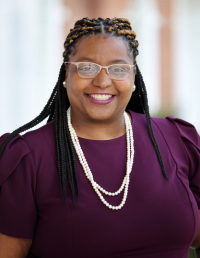 Latisha Nixon-Jones
Associate Professor of Law
Office location
College of Law
View Professor Nixon-Jones's CV
Education
J.D., Southern University Law Center
B.S.M. Management and Finance, Tulane University
Biography
Professor Latisha Nixon-Jones is a noteworthy emerging scholar in the burgeoning field of Disaster Law, focused primarily on disaster preparedness and resilience. She served as the Assistant Clinical Professor of the Disaster Law Clinic at Southern University Law Center (SULC) and teaches courses in torts, disaster law, and legal research and writing.
Professor Nixon-Jones' scholarly contributions have earned her a well-deserved reputation as an expert in the field, and in 2020, she was awarded the prestigious COVID-19 Research Innovation Award from the University of Oregon. Her research also explores the intersection of administrative and insurance law as they pertain to disasters and community resilience, with a focus on addressing the challenges faced by communities in accessing adequate insurance coverage and navigating the complexities of administrative systems in the wake of a disaster.
Professor Nixon-Jones is licensed to practice law in Louisiana and, in addition to her role at SULC, taught at Mercer University School of Law and the University of Oregon.