Faculty & Staff Directory
Directory Links
Contact
Brooks Rehabilitation College of Healthcare Sciences
2800 University Blvd N
Jacksonville, FL 32211
Mon – Fri, 8:30 a.m. – 5:00 p.m.
If there is a problem with your profile or information, or if you want to opt out of inclusion in the directory, please let us know.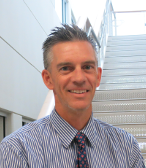 Jeffrey Wight, PhD
Interim Department Chair, Exercise Science; Associate Professor of Exercise Science
Office hours
By appointment
Area of Specialization
Shoulder Joint Flexibility​
Sports Biomechanics (Throwing Biomechanics, Running Biomechanics)
Age-Related Physical Disability Measurement, Assessment, & Prevention
Fitness Measurement, Assessment, & Advancement
Education
Ph.D. Biomechanics, University of Florida
Graduate Certificate in Gerontology, University of Florida
M.S. Biomechanics, University of Delaware
B.S. Zoology, University of Wisconsin-Madison
Professional Information
Dr. Wight is an Associate Professor in the Exercise Science Program and Director of the Human Performance Laboratory. Dr. Wight is a sport biomechanist with graduate degrees from the University of Delaware (MS in Biomechanics) and University of Florida (PhD in Biomechanics). Dr. Wight has extensive experience using motion-analysis cameras to study baseball pitching and tennis serve biomechanics. He also developed a custom biomechanical analysis to assess throwing shoulder flexibility. Recently, Dr. Wight has focused much attention on running biomechanics.