Faculty & Staff Directory
Directory Links
Contact
Davis College of Business
2800 University Blvd N
Jacksonville, FL 32211
Mon – Fri, 8:30 a.m. – 5:00 p.m.
If there is a problem with your profile or information, or if you want to opt out of inclusion in the directory, please let us know.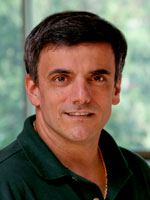 Dr. James Mirabella
Davis College of Business
Office location
Davis College of Business, 134
James Mirabella received his B.S. in Operations Research from the U. S. Air Force Academy, his M.B.A. from Auburn University, and his D.B.A. in Management from Nova Southeastern University. His teaching interests are in Operations Management, Statistics, and Quantitative Analysis. His areas of research interests include Operations Management, TQM, Human Resources, and Teaching & Learning. His experience includes nine years in the U.S. Air Force in Logistics and Analysis, nine years in the corporate sector in Marketing Research and Quality, three years in academics as a director of research, and twenty years of adjunct teaching in statistics and research.
Dr. Jim Mirabella has been with Jacksonville University since 1998 when he joined the inaugural ADP faculty as an adjunct and has since become full-time in 2008. He enjoys spending time with his wife, Karen, and his 9-year old son, Sean (whom they homeschool). Jim and his son are members of the International Brotherhood of Magicians and the Fellowship of Christian Magicians, and they both enjoy performing Gospel magic, and Jim likes to use magic when teaching. He has written and directed many plays and enjoys leading the drama ministry at his church, and loves to travel (mostly cruising) as well as playing & watching sports.
Education
DBA - Management, Nova Southeastern University
MBA - Business Administration, Auburn University
M.S. - Statistics, University of North Florida
B.S. - Operations Research, U.S. Air Force Academy
Teaching Interests
Operations Management, Statistics, Quantitative Analysis, Research Methods
Recent Scholarship & Research
Operations Management, TQM, HR, Teaching & Learning
Button, S., Arbogast, G. and Mirabella, J. (2014). "The impact of corporate average fuel economy (CAFÉ) on U.S. automakers." Journal of Management and Engineering Integration.
Barrow, L., Kolberg, S., Mirabella, J. & Roter, A. (2013). "Are Rational Self-Interested Leadership Behaviors Contributing to the Workplace Bullying Phenomenon in Canada and the United States?" American Journal of Industrial and Business Management.
Perez, J. & Mirabella, J. (2013). "The relationship between leadership practices and restaurant employee turnover." International Journal of Accounting Information Science & Leadership, 6(18).
Courses
This is not a comprehensive list.
PPOL 521: Statistics and Research Methods in Public Policy