Faculty & Staff Directory
Directory Links
Contact
Davis College of Business
2800 University Blvd N
Jacksonville, FL 32211
Mon – Fri, 8:30 a.m. – 5:00 p.m.
If there is a problem with your profile or information, or if you want to opt out of inclusion in the directory, please let us know.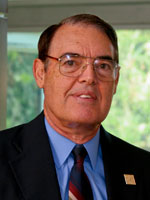 Dr. Gordon Arbogast
Davis College of Business
Office location
Davis College of Business, 115A
Dr. Gordon Arbogast is a Professor of Management in the Department of Management, Decision Sciences and Information Management (MDSIM). He was form​erly the Department Chair of MDSIM for four years and prior to that, Associate Dean and Director of Graduate Programs of the Davis College of Business for five years. A retired full Colonel of the United States Army, Arbogast commanded soldiers in Korea, the Dominican Republic, Vietnam and German​y. He also was on the Army General Staff in the Pentagon and headed the Engineering Department at the US Military Academy at West Point, NY. He led the largest computer buy in US Army history ($1 billion) and the transition of the Defense Communications Agency to the Defense Information Systems Agency. He also was a Vice President for Pacific Bell in California. He is a leader who sets realistic goals, communicates effectively, and motivates students to obtain the best possible results.
He is married to wife Dorothy and has three children, Annette, Christina and Valentine Scott.
Education
Executive Education - Information Technology - Harvard University
Ph.D. - Industrial Management - Clemson University
M.S. - Industrial Management & Electrical Engineering - Georgia Institute of Technology
B.S. - Engineering - U.S. Military Academy
Academic Experience
Associate Dean and Director of Graduate Programs, 2005-2010
Professor of Management (Tenured), Jacksonville University, 1994-present
Permanent Associate Professor and Head, Department of Engineering, U.S. Military Academy at West Point, NY, 1986-1989
Adjunct Professor of Management, Universities of Virginia and Maryland 1979-1983
Assistant Professor of Electrical Engineering, Department of Elect. Engineering, U.S. Military Academy at West Point, NY, 1970-1973
Professional Experience
Pacific Bell - Vice President, Systems Technology
CONTEL Corp - Principal Scientist & Director, Contel Technology Center R & D
Defense Communications Agency (DCA) - Associate Director of Engineering, Technology & Corporate Planning
Military – commanded soldiers at platoon, company and battalion level. Deputy Program Manager and Acting Program Manager of $1 billion computer buy; Computer Engineer in the Pentagon (Army General Staff)
Recent Scholarship & Research
Arbogast and Van Den Heuvel, "Modeling the Demand for City Water Consumption", The Journal of American Business Review Cambridge, Volume 3, Number 1, Winter 2015, ISSN 2167-0803 2014.
Arbogast and Thornton, "Factors Affecting School Quality in Florida", Contemporary Issues in Education Research, Vol. 7, No. 2, Second Quarter 2014, Clute Institute.
Arbogast and Mirabella, "Predicting Firm Performance as a Function of CEO and Economic Factors", Business Review Cambridge,Volume 19, Number 2, March 2014.
Arbogast, Button and Mirabella, "The Impact of Corporate Average Fuel Economy (CAFÉ) on US Auto Makers", The Journal of Management and Engineering Integration, Vol. 6, No. 2, Winter 2013​