Faculty & Staff Directory
Related Links
Contact
Jacksonville University
2800 University Blvd N
Jacksonville, FL 32211
If there is a problem with your profile or information, or if you want to opt out of inclusion in the directory, please let us know.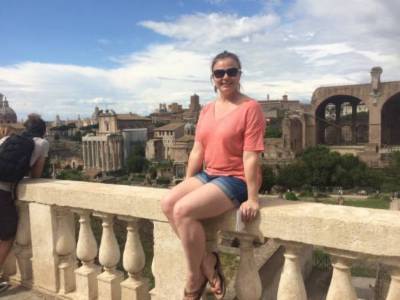 Courtney Krolikoski
Assistant Professor of History
School of Social Sciences and Education
Office location
Gooding Building 222
Education
Ph.D., History, McGill University (2022)
M.A., Comparative History: Medieval Studies, Central European University (2011)
B.A., Psychology (Major), History (Minor), The University of North Carolina at Chapel Hill (2007)
Fields of Study
Medieval History
History of Medicine
History of Medieval Medicine
Social History
Pre-Modern Italian History
Pre-Modern Women's History
Monastic History
European History
Courses Taught
History of Medieval Europe
Medieval Women
The History of Medicine
The Holocaust: History & Memory
20th Century European History
World History: 1500-Present
Selected Publications
Forthcoming: "Faking It: Thirteenth Century Bolognese Responses to Feigning Leprosy." In The Art of Illness: Malingering, Inventing, and Doubting Health Conditions, edited by Wendy J. Turner (Routledge Advances in the History of Bioethics).
Forthcoming: "By Its Spots: Leprosy as Medieval Illness." In Images, Objects, & Remains, edited by Lori Jones (ARC Humanities Press).
2023: "'Have You Come Here to Play Jesus': The Use and Misuse of Medieval Leprosy in Modern Media." In Beyond Cadfael, edited by Lucy Barnhouse and Winston Black (Palgrave Studies in Science and Popular Culture).
2022: "'No More Horrified by Them': Royal Holy Women and Lepers in the Twelfth and Thirteenth Centuries." In Living on the Edge: Transgression, Exclusion, and Persecution in the Middle Ages, edited by Delfi Nieto and Laura Miquel Milian, 59-74. Berlin: Medieval Institute Publications, 2022.
2022: "'For the good and pacific state of the people of the Commune': Healthscaping in Bologna and Siena Before the Black Death (c. 1100-1348)." In Pre-Modern Environment and Disease, edited by Lori Jones, 19-37. London: Routledge, 2022.
2021: "Kissing Lepers: Saint Francis and the Treatment of Lepers in the High Middle Ages." In Leprosy and Identity in the Middle Ages: From England to the Mediterranean, edited by Elma Brenner and François-Olivier Touati. Manchester: Manchester University Press, 2021.