Faculty & Staff Directory
Directory Links
Contact
School of Applied Health Sciences
2800 University Blvd N
Jacksonville, FL 32211
Mon – Fri, 8:30 a.m. – 5:00 p.m.
If there is a problem with your profile or information, or if you want to opt out of inclusion in the directory, please let us know.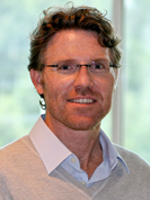 Christopher Robertson, PhD
Associate Professor of Exercise Science
Office hours
By appointment
Area of Specialization
Motor behavior and neuromechanical basis of human movement
​Education
Ph.D. Neuroscience and Human Performance, Indiana University
M.S. Motor Control, Indiana University
B.S. Kinesiology, Indiana University
Professional Information
Dr. Christopher T. Robertson is a tenured Associate Professor of Motor Behavior in the Department of Exercise Science. Dr. Robertson received his PHD in Human Performance and in Neuroscience, his MSc in Kinesiology (Motor Control emphasis), and his BSc in Exercise Science at Indiana University-Bloomington. Upon earning his PhD he accepted a post-doctoral fellowship with the Department of Veterans Affairs as a Research Health Scientist where he worked at the VA Palo Alto Health Care System's Bone and Joint Research Clinic in conjunction with the Stanford University School of Medicine and Department of Neurology and Neurological Sciences. He transferred within the VA system to the Malcom Randall VA Medical Center in Gainesville, FL where he worked at the Brain Rehabilitation Research Center in connection with the University of Florida College of Health and Health Professions and Department of Physical Therapy studying stroke and spinal cord injury rehabilitation science.
Dr. Robertson is published in the areas of motor control, neuroscience, perception & cognition, stroke, rehabilitation, and postural stability. His current research and teaching interests focus on motor behavior and movement system variability inherent in dynamical systems, perceptual expertise in coaching and sport sciences, and the neuromechanical basis of athletic performance.
Dr. Robertson serves as a member-elect of the Board of Directors for the American Kinesiology Association.