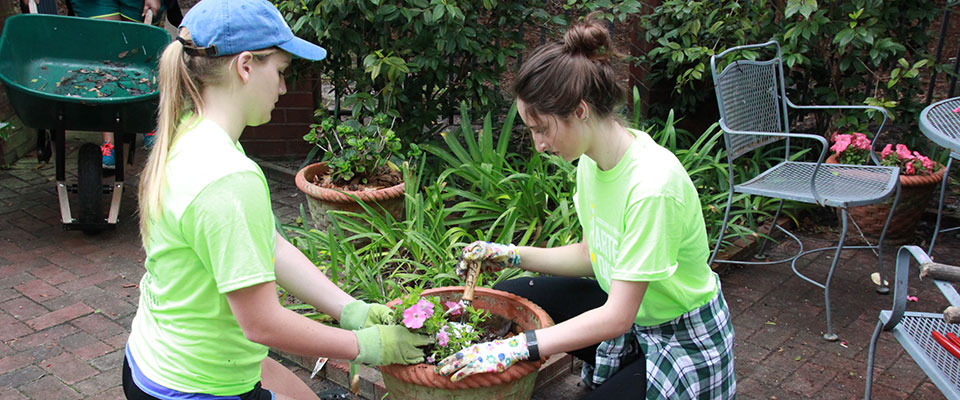 Community Relations
Related Links
Since our founding in 1934, Jacksonville University has established a tradition of stewardship for the community, ensuring that service, citizenship, and volunteerism would be found at the core of our institution's values. Thus, the Jacksonville University community is conjectured to have provided approximately 30,000 volunteer hours with an estimated economic impact of approximately $700,000 (based on the nationally accepted value of $24.69 per volunteer hour) in the 2017-2018 school year. Additionally in that time, Jacksonville University is estimated to have both sponsored and donated $150,000 in support to an expanse of charitable organizations.
Statement of Social Responsibility​
Jacksonville University will be a strong and committed partner for the people and stakeholders of our community. As a leading academic institution, we have a responsibility to give back to the community through an investment of time and resources. We are proud to be part of a Jacksonville community that values service to others and has one of the highest volunteer rates in the country. Our relationship and focus will continually evolve to ensure we are providing value to the community.
About Community Relations
The Jacksonville University Community Relations (CR) was created to lead the university's community outreach, therefore serving as the liaison between our institution and the community. This is accomplished through relationships built with students, staff, faculty, alumni, and community partners to impact the Jacksonville area.
A Fond Farewell to Carol Shircliff
Treasured friend, steadfast supporter – that is how Jacksonville University knew Carol Shircliff best. Throughout her life, Shircliff supported the local community through her numerous philanthropic efforts, raised a beautiful family and was the wife of long-time board member and …
A Birthday Surprise for Chairman of the Board Jamie Shelton
Jamie Shelton had no idea what was in store for him on his birthday this year. Based on previous birthdays the Jacksonville University trustee and chairman of the board could have easily anticipated a few presents, perhaps a fun evening …