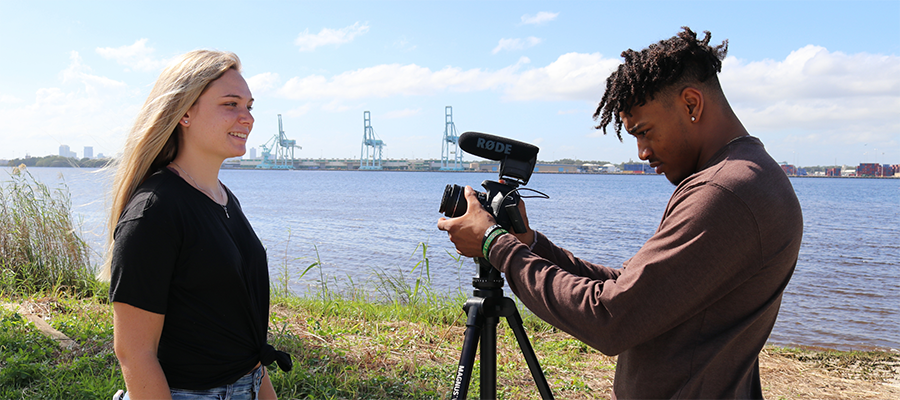 Learning Experiences
As a JU Communication student, there are many opportunities to enhance classroom learning. Students are encouraged to explore internship opportunities, join the staff of one of our student media, and become a member of student organizations.
Internships
JU COMM students are encouraged to complete at least one internship during their time at Jacksonville University. Students may complete a maximum of 12 internship credit hours. A wide variety of internships are available with Jacksonville media outlets, companies, organizations and institutions. Locally, our students have interned with organizations such as Mayo Clinic, Wingard Marketing & Advertising, WJXT-Channel 4, Jacksonville Jaguars, and Whalebone Media. Our students also have the opportunity to apply for international internships as part of the JU Signature Study Abroad Programs. Our students, taking part in the Communication, Culture, and the Amalfi Coast study abroad program, have interned with a variety of international businesses and organizations, adding global perspective to their portfolios.
Student Media Practicums
Communication students gain valuable experience as reporters, content creators, editors, photographers, videographers, producers, directors, sales representatives and business managers for student media. Multimedia journalism students find opportunities on the award-winning newspaper, The Navigator, JU Radio, and the award-winning Dolphin Channel News. Public relations and advertising students manage campaigns for real-world clients as they run their own agency, Phin Communications. Stipends are awarded to students selected as editors and managers of student media organizations.
The Dolphin Channel
Join the staff of the award-winning Dolphin Channel, Jacksonville University's student-run TV station. Learn to produce visual content for broadcast and digital platforms, including social networks.
Watch now on our YouTube Channel.
Dolphin Radio

Learn how to produce a radio segment. Start your own radio show or podcast. Manage the radio station's advertising and social media. Join the staff of Dolphin Radio to explore all aspects of the radio industry.
The Navigator
Produce multimedia news content for JU's web-based student newspaper.
Phin Communications Public Relations Agency
Join the award-winning public relations and advertising agency to work with real-world clients in Jacksonville. Learn and apply every step of the strategic communication process to manage a brand's reputation. Develop special events, plan fundraising campaigns, manage social media content, and create advertisements.
Follow our activities on Instagram.
Student Organizations
Lambda Pi Eta Honors Society
Lambda Pi Eta is the official communication honors society of the National Communication Association. This society recognizes, fosters, and rewards outstanding scholastic achievement in Communication studies. Each year the Communication faculty nominates students who are pursuing a major or minor within the department. These candidates must demonstrate academic excellence and professionalism. To be nominated, students must have a 3.0 cumulative GPA with 60 semester credit hours completed and a 3.25 GPA for communication studies courses with a minimum of 12 semester credit hours completed.
Florida Public Relations Association
The FPRA is a leading professional organization dedicated to developing public relations practitioners. As a member of the JU student chapter, you will have access to the local and state organization's wide variety of professional development resources, including scholarships, workshops, webinars, and a job board. Each month, student members are invited to attend the programs hosted by the Jacksonville Chapter and the chance to network with local media professionals.
Connect with FPRA Jacksonville on Instagram.