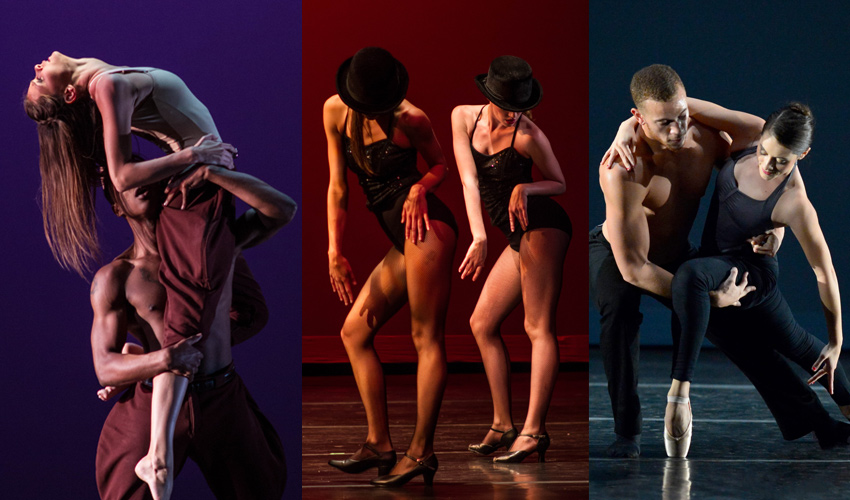 All students intending to major in Dance must meet the Jacksonville University requirements for admissions and must complete an official application with the University's Admissions office. Additionally, students applying for admission into either the BA or BFA degree in Dance must gain admission into the chosen degree program through a live audition process.
Only under special circumstances (such as international students) may students audition through a recorded process. Both methods should be registered through the Office of Admissions.
AUDITION REQUIREMENTS: All prospective dance majors are required to audition during one of Jacksonville University's scheduled audition days. Built into the scheduled events is a review evaluated by two or three of our current faculty.
The audition will consist of a short ballet barre, ballet center combination, a modern technique section and an improvisation exercise to show creative and analytical skills. Following the audition certain dancers may be asked for a short individual interview with evaluating faculty. Attire for this audition should be neat, clean, and allow for clear observation. Hair should be secured off the face and no large jewelry
We are strongly committed to making the degree accessible and affordable. Estimates of annual expenses and payment options are available from the admissions office. Scholarship recommendations will be made to Financial Aid and awards will be offered upon acceptance 
into the dance program.
Audition Dates
Click the dates above to schedule a preferred audition date.
The College of Fine Arts welcomes all applicants interested in Dance to audition. During the process, you will have the opportunity to showcase your talents and to experience firsthand our performance and art facilities.
Please note that you must apply to Jacksonville University before attending an audition or portfolio review, and that you must be accepted to the university before you can be accepted into the College of Fine Arts.
These events are designed to give prospective freshmen students the opportunity to:
Tour our beautiful riverfront campus
Meet CFA faculty and professors
Talk with current JU students
Have your questions answered at a panel Q & A
If participating in a Master class by a JU faculty member outside of Jacksonville, please confirm that it can be counted as an 'in person' audition and accompanies the required completed audition form.