Meet our Student Ambassadors
Coming Soon
Our 2017-2018 Student Ambassadors are in training now. Look for their introductions in September, at the start of the fall semester.
The Jacksonville University Student Ambassadors play a key role in representing JU to prospective students and their families. Student Ambassadors are selected based on their academic achievements, campus involvement, knowledge of the school, and leadership abilities. The JU Student Ambassadors are passionate about sharing the JU experience with our visitors. In addition to hosting campus tours, ambassadors serve within the Office of Admissions and represent the university at campus-wide events. If you would like to reach out to one of our student ambassadors, you mail email them directly at justudentambassadors@jacksonville.edu.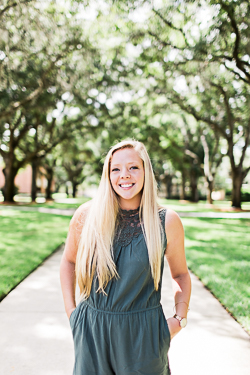 Student Ambassador
Hi, my name is Cassidy Baker and I am from Tampa, Florida! I plan on graduating in the spring of 2019 with my Bachelor of Science degree in Marine Science. I have become so involved on campus which has easily broadened my horizons and allowed me to meet such genuine and amazing people. I have also had the opportunity to work where I study which is at the Marine Science Research Institute on campus. I have been able to connect one-on-one with my professors and even get involved with some of their research projects!
Fun FactI caught a sting-ray while fishing on campus and named him Elvis.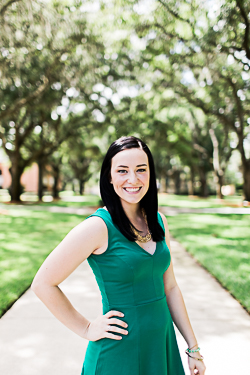 Presidential Ambassador
Hi! My name is McKenzie Bolin and I'm a Jacksonville native who loves the city so much I had to stay here for college! I'll be graduating in the spring of 2018 with a double major in Psychology and Sociology. Some of my favorite memories at JU include holding executive positions within student government and my sorority, acting as an upperclassmen mentor during new student orientation, and travelling to Iceland with a JU study abroad program. I hope to see you on campus for a tour or as a student someday!
Fun fact: I speak fluent Danish!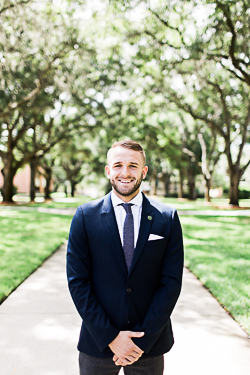 Student Ambassador
Hi, my name is Jack Burns! I'm a senior student-athlete here at JU studying Sports Management, due to graduate in the spring of 2017. Originally from Portsmouth in the UK, I came to the states in 2013 to pursue a career in soccer and attain my undergraduate degree. I've been afforded many great opportunities at JU to grow as a student, athlete, leader, and young professional. I hope to share my positive experiences with future Dolphins!
Fun Fact: I'm a huge fan of cycling and have cycled from the UK to France.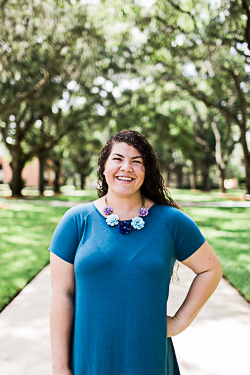 Presidential Ambassador
Hi! I'm Stephanie Frances and I'm a senior from Land O' Lakes, Florida. I'll be graduating in the spring of 2017 with a degree in Sport Business. Jacksonville University has given me so many opportunities I never thought possible. From being a Division I athlete to becoming the President of a sorority, I've been encouraged to branch out and go outside of my comfort zone which has ultimately helped me become a more well-rounded person. I couldn't imagine a better place to grow as an individual and as a part of a community.
Fun Fact: I can juggle!
Student Ambassador
Hello, and welcome to Jacksonville University! My name is Jeremy Hanlon and I am a senior Aviation Flight Operations and Management major (those are just big words for "I fly airplanes"). I am originally from Ponte Vedra Beach, Florida so I guess you could say I am a local. If you need any advice on the area, I am your man. I am in numerous clubs and organizations on campus, and I am also a flight instructor for JU. I hope you enjoy your tour on our beautiful campus and, if you have any questions, please do not hesitate to ask.
Fun Fact: I have a scholarship for being left handed.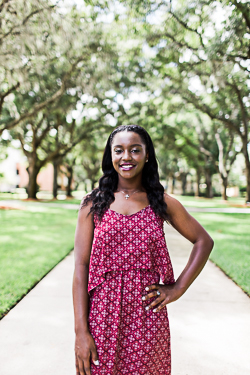 Student Ambassador
Hi! My name is Alysha Hart and I am majoring in Biology on the Pre-Med track and plan on graduating in 2018. On the first day of my freshman year, I immediately felt the love from the people at JU and instantly knew I chose the right university. I joined the cheerleading team after being convinced by a close friend and have now been cheering for three years. Being at a small college brings great opportunities to get involved no matter how shy you may think you are. I am glad that I chose to come to JU and feel blessed for all the great people I have met on my journey here.
Fun Fact: I love to travel, but have not traveled internationally yet.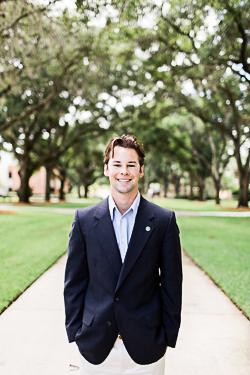 Presidential Ambassador
Hello! My name is Peter Hidley and I was born and raised in Rochester, New York. I am in my fourth year here at Jacksonville University, and I will be transferring to an affiliate institution in the spring to complete my Engineering dual-degree program. During the past four years, I have sailed in numerous regattas for the JU sailing team, gone hiking and windsurfing with different professors, been elected as vice-president of my fraternity, and made life-long friendships and relationships, all thanks to the welcoming, personal environment that makes up JU. Go Phins!
Fun Fact: I can say the alphabet backwards.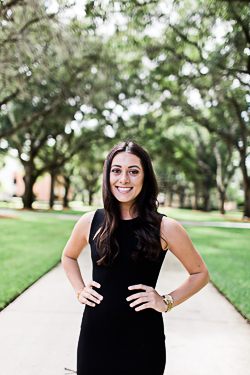 Student Ambassador
Hi! My name is Emily Holt and I was born in Jacksonville, Florida. I will be graduating in December 2017 with a Bachelor of Science in Nursing. Initially coming to JU wanting to pursue a dance degree, my experience has been amazing as I have had opportunities to perform, travel, and work with world famous choreographers. Through the variety of classes and professors I had along the way, JU has allowed me to follow another path I had never even considered or thought possible like nursing. I'm grateful to be at a university that encourages students to reach their full potential.
Fun Fact: I was once featured in a Walt Disney World commercial for Mickey's Mouse's Birthday Celebration.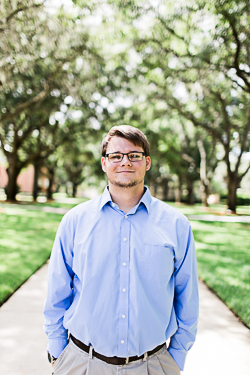 Student Ambassador
Hey there. My name is Grant Howard and I am a senior Kinesiology major. I was born and raised here in Jacksonville, and I have had a great experience thus far with my time at JU. As a student I am assisting with research alongside professors and it's incredible. I have been involved in everything from Greek life to athletics and many different aspects of the campus. If there is something that you would like to know, please feel free to ask. I don't mind having a good conversation.
Fun Fact: Aside from being a Kinesiology major, I also work with the Glass Blowing department at JU.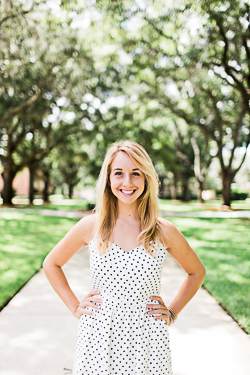 Presidential Ambassador
Hi! My name is Danielle Keeler and I was born and raised in Miami Beach, Florida. I'll be graduating in December 2017 with a Bachelor's of Science in Nursing. My experience at JU has been nothing short of incredible. I've had a wide variety of opportunities like competing at the national level for the rowing team, serving on the executive board for student government, talking about what faith looks like on campus with freshman and working hands-on with patients in a world-renown hospital. JU's a tight-knit community with enough room to grow in your own individual way.
Fun Fact: My twin sister and I are mirror twins!
Student Ambassador
Hi, my name is Stefanie Keeler. I was born and raised in Miami Beach, Florida. I am pursuing a Bachelor of Fine Arts with a concentration in Photography and will be graduating in April 2017. I love Jacksonville University because my professors are not only supportive of my studies but also of my extracurricular career as a freelance wedding photographer.
Fun Fact: I photograph engagements and weddings in my free time.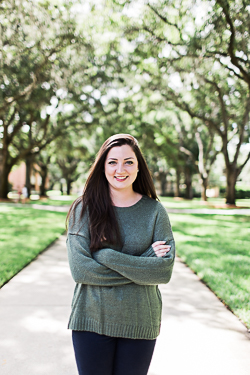 Student Ambassador
Hi! My name is Carley Levy and I was born in Philadelphia, Pennsylvania but currently live in Fort Myers, Florida. I'll graduate in spring of 2018 with a BFA in Musical Theatre. When I came to JU, I was expecting to be the same person I was in high school but with a lot less sleep. Thankfully, this school has so much to offer. Because of the opportunities given, I'm now a part of Greek life, serve as the VP of a theatre society, and work as a Student Ambassador where I give back to JU. Because I made the decision to attend this school, I am proud of the person I have grown into and I know it won't stop when I graduate!
Fun Fact: I know just about everything about sloths.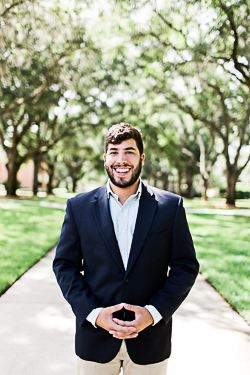 Student Ambassador
Hello, my name is Philip Michienzi and I am a current senior looking forward to graduating in the spring of 2017. At Jacksonville University, I am majoring in Marketing and Management and minoring in Professional Sales. My hometown is far from Jacksonville as I am from Boston, Massachusetts. In fact, a big reason for coming to Florida and picking JU is because of the weather. I guess you can say I needed a break from the cold Northeast winters.
Fun Fact: Many people say I look like Adam Sandler.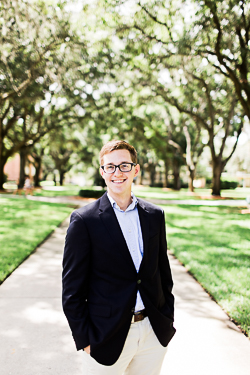 Student Ambassador
Hi! I'm Zane Miller and I'm a marine science major graduating in 2018. I traveled quite a ways from my home in Indiana and found my home away from home in JU's tight-knight community. Campus has given me so many amazing opportunities such as performing undergraduate research alongside professors, studying in foreign countries, and stepping into leadership roles in student organizations. I've had an incredible experience at JU and I hope you can do the same!
Fun Fact: I'm a certified S.C.U.B.A. diver!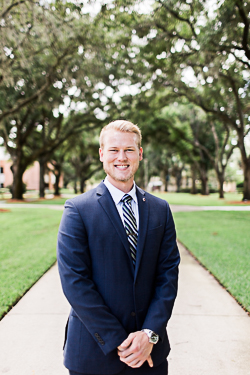 Presidential Ambassador
Hi! My name is Luke Myhree and I am currently in my senior year as a double major in Kinesiology and Psychology. As much as I love the academic rigor paired with the professor accessibility; it is not just the academic side that makes me love JU. My passion for this institution stems from my feeling of worth within the JU community. I feel valued, appreciated, and accepted within everything that I am involved in. Jacksonville University culture is one of family; every student has a place to call home. I know I made the right decision by choosing JU as my home I know you will too!
Fun Fact: I have swam in the Blue Lagoon in Iceland!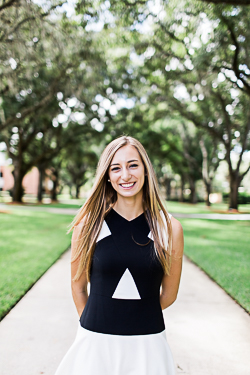 Student Ambassador
Hi! My name is Emily Myslinski and I'm a double major in Communications and English anticipating on graduating in 2019. I'm also in the honors program and on the track and field team. The best experience I've had at JU has been going through the ambassador program. Being able to show off my university and all it has to offer to potential students is an amazing opportunity. Besides this, the relationships I've built with my fellow ambassadors is truly unleveled. I've made my best friends through this experience and now have a family who support me in everything I undertake.
Fun Fact: I am obsessed with dogs and making ruff puns that usually don't sit well with the retriever of them.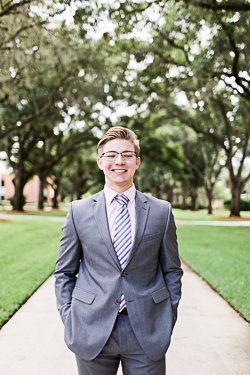 Student Ambassador
My name is Steven Pietrusza. I am graduating in 2017 with a major in Chemistry and minors in Philosophy and Humanities. There are so many reasons why I love Jacksonville University, but the most essential of them all is the intensity with which this school has supported me. When I was struggling in Instrumental Analysis, Dr. Senftleber was willing to meet on the weekend to tutor me. When I was writing my medical school applications, Dr. Freiberger was willing to critique every single one. Jacksonville University has invested in me, and it can invest in you too.
Fun Fact: I am a jazz pianist and guitarist.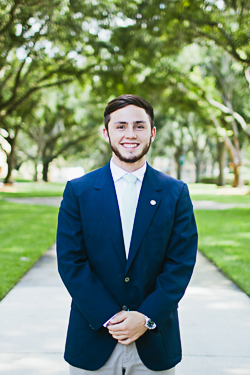 Presidential Ambassador
Howdy! My name is Travis Pulliam and I was born and raised in Orlando, Florida. I'll be graduating in Spring 2018 with a Bachelor's of Science in Mechanical Engineering, as well as a Bachelor of Science in Physics. In my brief time at JU, I've had many experiences that would have never happened at a large university. I'm proud to be a member of our men's rowing team, president of my fraternity, and a leader within my campus ministry. Most importantly, the relationships I've maintained and cultivated with our university's faculty, students, and my personal friends are what I will take with me when I graduate.
Fun Fact: I tickle a banjo... kinda.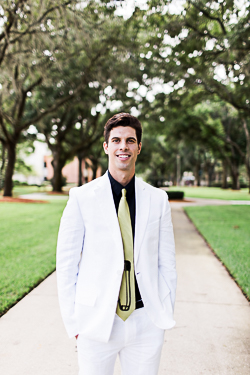 Student Ambassador
Hello and Bonjour, I am Pascal Yves Rathle. I am fulfilling my Bachelor in Communication, with minors in English and Biology as I also take the necessary prerequisites for medical school before graduation in April of 2018. I am an academic, athlete, leader and true member of this campus by the river. I have experienced maturity, growth, highs, lows, successes, failures, turning points, plateaus, realizations, friendships, too little sleep, bad choices, redemption, missing home, too much fun, late nights, early starts, game days, tests, connections, and most of all self-discovery as two years have quickly flown by at Jacksonville University.
Carpe Diem, my friends.
Fun Fact: In 2015 I trialed with FC Augsburg, a professional soccer team in Germany's first division, the Bundesliga.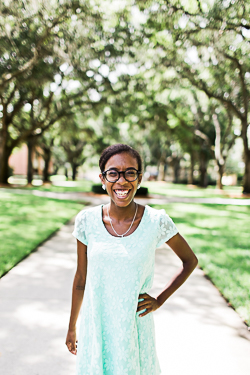 Student Ambassador
Hi y'all! My name is Mamie Lue Small, and I am from Savannah, Georgia! In the Spring of 2018 I will be graduating with a Bachelor of Music in Performance and a Bachelor of Arts in Commercial Music. These past few years at JU have been a whirlwind and I couldn't imagine having such an amazing college experience at any other university. As a music major, I have enjoyed the hands-on experience provided by professors to help me grow in my art. From playing for local events to interning at music camps, the faculty and staff provide the best experiences for students to branch out in their area of study.
Fun Fact: This summer I toured China with Jacksonville University's Jazz Combo I!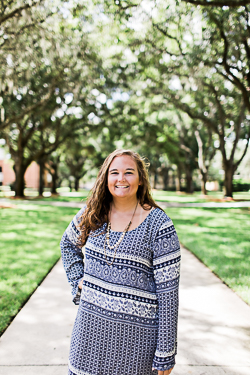 Student Ambassador
Hi! My name's Ashlyn Sparks, and I am a junior here at JU. I am majoring in English and Marketing with a minor in Writing. One of my favorite parts of attending Jacksonville University is sharing stories with my mom (class of '84). We are connected in our college experiences, like all you can eat spaghetti Wednesdays at Nero's across the street and the walk through the valley to get to class every day. Witnessing my mom's passion in sharing the school with me has inspired a drive within myself to show other's how amazing JU can be. I hope you will give our team the chance to share this feeling with you!
Fun Fact: I can count to 10 in four different languages.
Student Ambassador
Hello! My name is Kelsy Waack, and I am studying Math and Spanish here at Jacksonville University, expecting to graduate in May 2018. I am from Buffalo, New York and came to JU for the warm weather and the varsity sailing team. My team consists of my best friends, and I think it is a great example of the small community feel JU offers. My time at JU has been all-encompassing in the way that I have loved every aspect of my education here in addition to the extracurriculars. Being a part of the Honors Program has allowed me to take especially challenging classes with small class sizes, allowing me to thrive and grow as a student.
Fun Fact: I spend my summers teaching sailing on an island!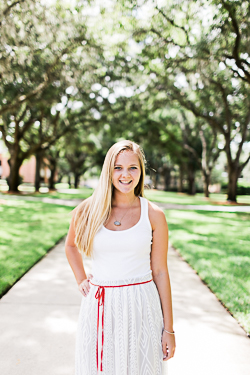 Presidential Ambassador
My name is Rachel Wassel, and I'm a senior in the nursing program at JU. The "freshman year me" and "senior year me" seem like strangers. Coming to college I approached with caution, afraid to step out of my comfort zone. Never would I imagine I would hold leadership positions, make long-lasting relationships, and perform skills as unimaginable as giving CPR to a patient in cardiac arrest during my nursing clinicals. Jacksonville University makes large obstacles appear small and impossible goals become reachable.
Fun Fact: I can make the real life dolphin noise! Flip your phins!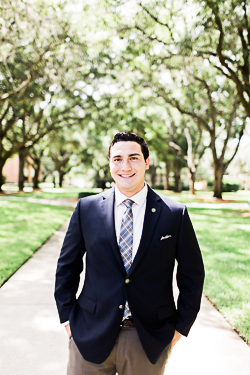 Student Ambassador
Hello all! My name is Josué Zamora, but, to make it easier on everyone, you can call me Jay. I am from Boise, Idaho and moved to Jacksonville in 2013 which is also when I started school here at JU. I am a Biochemistry major with a minor in Business Administration, and I will be graduating Spring 2017. I will admit that Chemistry is probably one of the toughest courses provided on our campus but it also is one of the best because we have some of the COOLEST teachers here!
Fun Fact: I lived in Mexico for a couple years and I love me some tacos.