Undergraduate AdmissionsWelcome Future Phins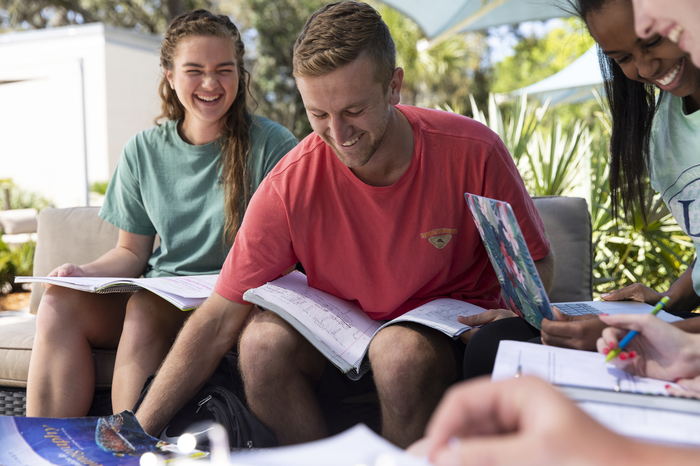 Your Campus. Your Education. Apply Today.Dive in to Jacksonville University
At Jacksonville University, our focus is on you- the student. You'll find a university that offers more than 100 majors, minors, and pre-professional programs. You'll find a rigorous Honors Program, over 100 clubs and organizations to explore, NCAA Division I and varsity sports teams, opportunities for undergraduate research, and hands-on learning experiences inside and outside of the classroom. So, get ready to start your journey. What are you waiting for?
Visit usSee Campus For Yourself
The quickest way to get to know us is to visit us! Incoming freshmen students can earn our $1,000 visit grant for attending an on-campus tour! Can't wait to see campus? Join Maddie Chin, a Marketing and Management major, for a virtual tour of Jacksonville University! We hope you have fun exploring your future home!
Grants, Scholarships, and RewardsLet's Talk Money
A college education is one of the largest financial investments that you or your family will make. In order to maximize your opportunity for scholarships and financial aid, be sure to file the Free Application for Federal Student Aid, or FAFSA, and include JU's school code: 001495. To learn more about how to file your FAFSA, view a recording of our FAFSA Information Session here.
Chat with an Admissions Counselor
Our Admissions team is excited to chat with you about the opportunities ahead of you at Jacksonville University. Please find your admissions counselor below and set up a virtual appointment. We're happy to answer any questions you have about the admissions process, financial aid, next steps, and anything else you'd like to know about JU. PHINS UP!
Explore Your Future
Your Degree. Your Way.
Jacksonville University's new app, PODs (Pathways of Distinction), makes it easier for you to start planning for your future. Use this app to check out all of the majors and minors that we offer- JU gives you the freedom to pursue your passions and the flexibility to customize your education. You can create your unique degree program by pairing one or more majors and/or minors to discover your academic and future career pathways.
Join Our Student Community
Connect with us on ZEEMEE to join other prospective students on their journey to becoming a JU Dolphin. What is ZEEMEE?
ZeeMee is the app for connecting with other prospective students and to bring your application to life with videos and photos.
Request Information
Loading...
Contact Information Office of Admissions
Frisch Welcome Center
Jacksonville University
2800 University Blvd N
Jacksonville, FL 32211
Phone: (904) 256-7000
Email: admissions@ju.edu
Quick Links