STEAM Institute Science | Technology | Engineering | Art | Mathematics
In Jacksonville University's STEAM (Science, Technology, Engineering, Arts and Mathematics) Institute, students focus on developing the skills valued most by employers — creativity, critical thinking, collaboration, communication — so they can envision and build a bright future while continuously learning and growing.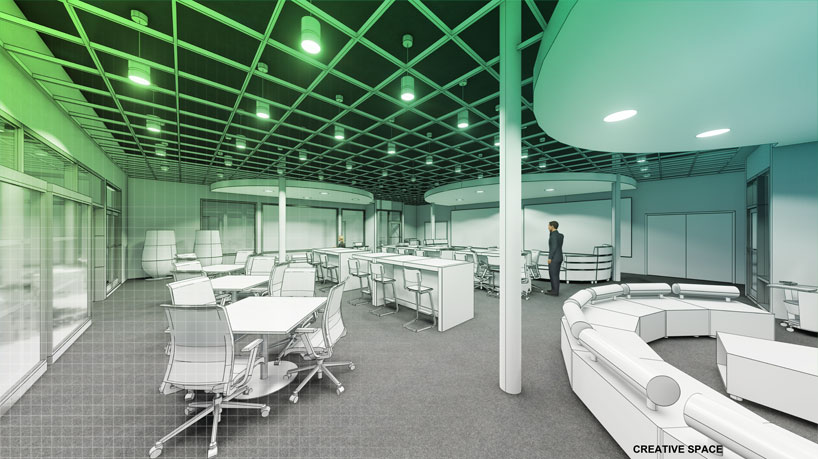 Traditional STEM education involves convergent problem-solving methods: a single correct answer to the same questions asked over and over to train students. This type of STEM education develops problem-solving skills that do not necessarily transfer to industrial problem-solving and limits the growth potential of graduates.
Students at our STEAM Institute experience creativity-infused STEM education.
We challenge engineering students every semester with open-ended design experiences, in which they must develop multiple solutions and defend their decisions. The design-integrated approach to STEAM education develops problem-solving skills that can be applied throughout a career in many applications, including product design, process innovation, and research and development.
In our new STEAM Institute, students studying engineering, animation, mathematics, film, information systems, physics, finance and communication will have space to collaborate, create, and combine their skills to learn to ask the questions that lead to fully vetted solutions that benefit our community.
Read more about the future of STEAM on Wave Magazine.
Here are the spaces that make the STEAM Institute unique:
Design Studio
A collaborative, open-format environment for designers, storytellers, and visual communicators supporting hands-on, shared learning experiences to foster independent thinking, aesthetic quality and technical sophistication in graphic design, user experience design, motion graphics, illustration, data visualization, brand systems, creative entrepreneurship, and visual communications.
Trading Room
This space will serve as a Financial Innovation Center where students from various disciplines, professors and practitioners from various disciplines will collaborate to make live investment decisions for a student-administered mutual fund. This space will bring together students from finance, mathematics, physics and computing.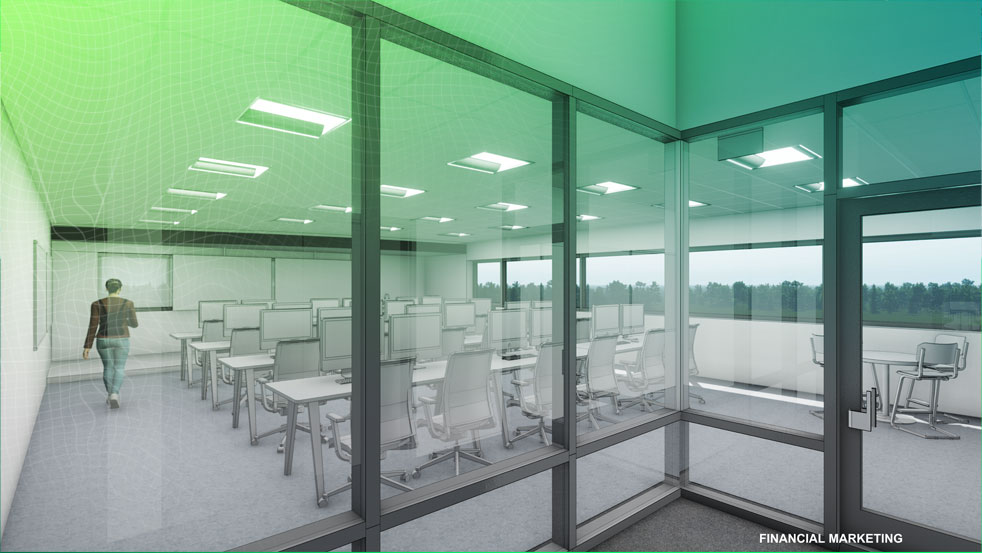 Creative Space
A collaborative workspace designed and dedicated to student design activities to communicate ideas and promote design thinking, creativity, and collaboration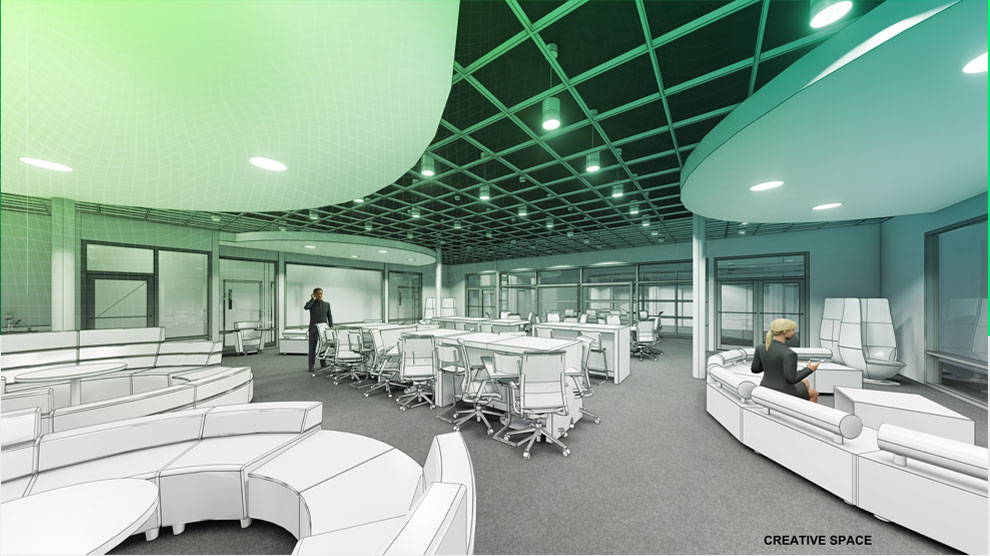 About the Creative Spaces
A space for experimenting with network security, digital forensics, intrusion detection and other cyber security applications with systems configured to facilitate computationally intensive simulations in applications such as game-theory-based security strategies, cloud-based security systems and similar optimization problems.
An instructional and post-production space where students can bring things to life using 3D modeling of both organic and technical meshes for applications including 3D printing, video games, virtual reality, marketing, medical imaging, manufacturing and motion pictures.
An interdisciplinary staging, filming, directing, and lighting space where the Media Arts will work alongside Animation, Communication, Dance, Engineering, and Theatre to produce high-quality visual and audio products in a functioning film studio.
A lending center with inventories of specialized film, video, lighting and audio equipment.
An always-open resource equipped with customized, high-end hardware and software providing the capability to export to full HD, UHD, or 4K with full color correction and mastery.
Graphic programming software with real-time manipulation capabilities, multiple headset configurations, motion-capture technologies and audio mastery including both Foley recording and spatial sound mixing/mastering for experimentation and innovation in virtual reality.
Part film theatre, part audio-mastering studio equipped with global collaboration technology to facilitate interactive, real-time learning where students, faculty and guest artists can screen films and master A/V projects.
Production area with power-driven machines, special manufacturing tools, and measuring equipment are used for making and assembling parts, including lathe, milling machine, saw, and grinding wheel to cut and shape materials like metals, wood, and plastics into real-world tactile solutions.
Area where students design and build their robots for various student competitions, and industry-sponsored projects. This space will be used by mainly engineering and computing students, in conjunction with the Machine Learning Studio to also build learning, autonomous robotic and mechatronic systems that will be used to solve a defined need.
A computer lab with Computer Aided Design (CAD) and Computer Aided Engineering (CAE) software to visualize and discuss ideas and design and analyze products.
Working space for freshman-level engineering projects with workbenches and collaborative working spaces to promote team-work and design thinking in discussing, designing, building, and testing project solutions.
Flexible computing space integrating data science, statistics, modeling, and data analysis to spur conversation, develop interesting questions and create solutions through creative problem-solving.
A centralized state-of-the-art media center and workspace for student media — The Dolphin Channel News, The Navigator, Dolphin Radio, and Phin Communications — collaboration and development of communications aimed at the University community.
A research space with an atomic force microscope, probe station, optical microscopes, and tools for preparing samples for materials characterization and applying physics knowledge to biological systems, materials science, and device engineering.