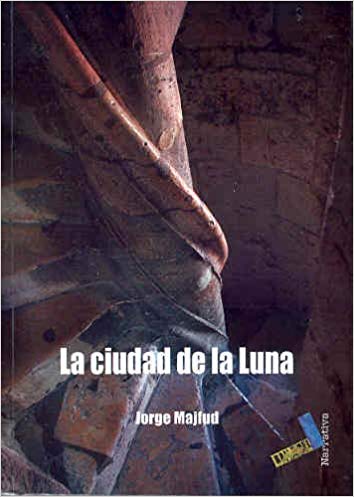 novela by Jorge Majfud
La ciudad de la Luna, publicada en 2009, es una metáfora del mundo una década después de su publicación, un mundo obsesionado con los muros, con los nacionalismos, las divisiones tribales y raciales, la política de la identidad, el orgullo de las sectas en una sociedad hiperfragmentada que abandona los valores de la Ilustración y se sumerge en un nuevo Medioevo.
La novela está ambientada en Calataid, ciudad amurallada al sur de Argelia entre 1955 y 1992. Esta ciudad, rodeada por el desierto del Sahara, probablemente fundada por un cuerpo perdido del ejército español después de la Reconquista ibérica, posee la particularidad de estar habitada casi exclusivamente por blancos europeos, en su mayoría cristianos, recluidos a un rincón silencioso y desconocido después de la independencia de Argel en 1962. Para sobrevivir, Calataid pretende cortar los últimos vínculos físicos y culturales con el mundo exterior, especialmente con el tren casi vacío que, como un fantasma, llega hasta ella una vez al mes. Uno de sus protagonistas y narradores es el hijo-monstruo de un médico argentino que ve desde su soledad la realidad de una sociedad que se considera perfecta, reserva moral del mundo en corrupción. Bajo la presunción de una sociedad libre y democrática, el moralismo religioso y el discurso social oprimen la verdadera diversidad que existe en la ciudad. A pesar de los evidentes rasgos de decadencia, ética, económica y urbanística, Calataid se resiste a cualquier cambio hasta que sucumbe a una marea de arena que vence la resistencia de sus gruesas murallas. Calataid puede entenderse como una metáfora de las sociedades contemporáneas que tanto en Oriente como en Occidente son capaces de implotar por la fuerza de su propio orgullo hasta aplastar a sus individuos antes de hundirse en la decadencia colectiva. Es la metáfora del odio y la violencia sectaria que nos manipula en nombre de nuestro propio bien y también una metáfora de la vacuidad final de todo poder humano.
Calataid termina hundiéndose en las arenas del Sahara, casi de forma inadvertida por sus habitantes que insisten en negar el peligro que amenaza sus gruesas murallas.
Parte de la narración experimenta con las perspectivas del cubismo, de forma que en una misma frase pueden confluir diferentes narradores (múltiples sujetos y múltiples tiempos verbales) con la intención de acentuar el carácter protagónico de la ciudad-sociedad.
---
"The Walled Society", narrate by Gregory Allen Siders. An English chapter from La ciudad de la Luna:
A chapter from the novel The City of the Moon by Jorge Majfud: http://www.thesquawkback.com/2011/09/...
Original in Spanish at http://www.ensayistas.org/curso3030/t... (2004) Analysis at http://www.ensayistas.org/curso3030/t...
---
Título: LA CIUDAD DE LA LUNA
Autores: Jorge Majfud
ISBN-10(13): 978-84-92528-26-4
Referencia: M-96
Fecha de publicación: 2009
Número de páginas: 286
Idioma: Español