College of Arts & Sciences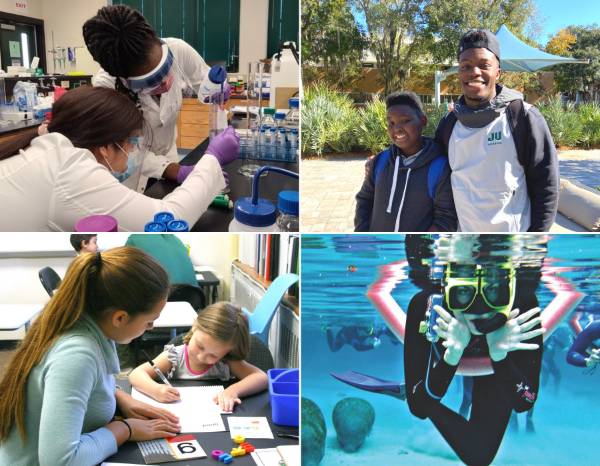 The Importance of Inquiry, Discovery and Impact
The College of Arts and Sciences is the educational core of Jacksonville University and promotes a complete experience for all JU students. Our disciplines emphasize critical thinking, scientific methods, and communication skills along with a commitment to meaningful research and service to the community and beyond. Our renowned faculty work closely with students in small classes to link creative discovery with real-life impacts in businesses, health and environmental agencies, government at all levels, and international organizations.
The College of Arts and Sciences provides students with meaningful internships, impactful faculty-student research, and rewarding service-learning and study abroad opportunities in the disciplines of the natural sciences, social sciences, education, and mathematics. These opportunities include everything from participating in a worldwide shark study on an OCEARCH vessel to engaging in community service and mentorship in our local neighborhoods.
With a diverse offering of majors, minors, and certificates, the College of Arts and Sciences is the perfect place to build a program that matches your goals and interests.
College Spotlights
Our faculty, students and alumni are active and engaged in research, service, and professional development. Our College Spotlights showcase these achievements and keep you up-to-date on developments in the college.
Dean's Update

Dean Christopher Corbo is Dean of the College of Arts and Sciences at Jacksonville University. Before coming to Jacksonville in 2022, Dr. Corbo instructed and researched at Wagner College in New York. He has a bachelor's in biology and a master's in microbiology from Wagner College and a doctorate in cellular neuroscience from the City University of New York. While at Wagner College, Dr. Corbo was the Director of the Wagner College Electron Microscopy Center, the Director of Wagner College Planetarium, the program director of the microbiology graduate program, the faculty grants coordinator, chair of the Department of Biological Sciences, and assistant provost and dean of graduate studies. He received academic awards and honors and has attracted grant funding in areas of biological science. His work has been featured in more than 20 publications and journals, including the Journal of Biological Chemistry, Frontiers in Molecular Neuroscience, Scientific Reports, and NeuroSci.
Faculty Spotlight

Dr. Daniel McCarthy, professor of Biology and Marine Sciences, directs lab projects researching reef communities and better techniques for reef restoration. Dr. McCarthy recently co-authored a book offering a comprehensive examination of nearshore hardbottom reef systems along Florida's Atlantic coast, Islands in the Sand: Ecology and Management of Nearshore Hardbottom Reefs of East Florida. This book that fills gaps in biological and ecological understanding for scientists, managers, divers and fisherfolk while remaining accessible to interested laypersons including beachfront residents, beachcombers, and water-users.
Student Spotlight

Hayleigh Palotti is a double major in Psychology and English. As a cross country and track and field athlete, Hayleigh excels on the track and in the classroom. She loves the community feel at JU, especially the small classes and individual feedback from professors. In 2021, Hayleigh completed an internship with Dr. Lynette Kennison at the Artistic Psychiatric Associates Practice in Jacksonville, FL. The internship, which she combined with job shadowing at other facilities around Jacksonville, helped Hayleigh better understand the ins and outs of being a mental health professional. She plans to go to graduate school and is considering a career in counseling.
Alumni Spotlight

From Jacksonville University to Rising Star among Florida's Super Lawyers, Christopher Horton is quickly ascending as a board-certified construction attorney. Christopher is a cum laude graduate of the Class of 2008 who earned his bachelor's degree at JU in history and political science, with a minor in business management. Christopher continued his education at the University of Miami School of Law and is currently a partner in the Ft. Lauderdale law office of Smith, Currie & Hancock where he specializes in construction law. Christopher credits his time at JU—and as quarterback of the football team—with honing his leadership skills, and personal and professional growth. He is proud to have been honored as a Top Up & Comer from 2020 to 2021 by the South Florida Legal Guide and is a 2021 recipient of Florida's Design Build Institute of America's "Delivering Expertise Award."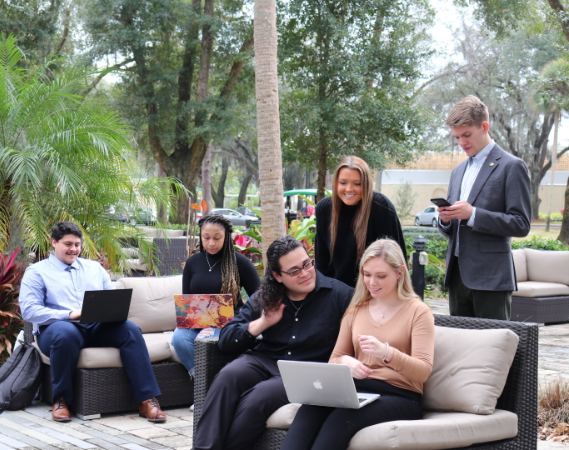 The JU Advantage Pre-Professional Programs
We support your professional goals. If you're interested in attending law school or working in the health professions, we offer you opportunities to join student organizations, gain relevant experience, and personalized advising. Working in cooperation with our academic programs, the pre-law and pre-health programs help you prepare for the step you take after JU.
College of Arts and SciencesIn the Dean's Office
Dr. Christopher Corbo
Dean, College of Arts & Sciences
About Dean Chris Corbo
Dr. Laura Chambers Atkins
ms. Wendy parrish
Executive Assistant, College of Arts & Sciences

Contact Information College of Arts & Sciences
College of Arts & Sciences
Jacksonville University
2800 University Blvd N
Jacksonville, FL 32211
Phone: (904) 256-7100
Email: coas@ju.edu
Quick Links